News
10 Best Pencil Sharpeners for Back to School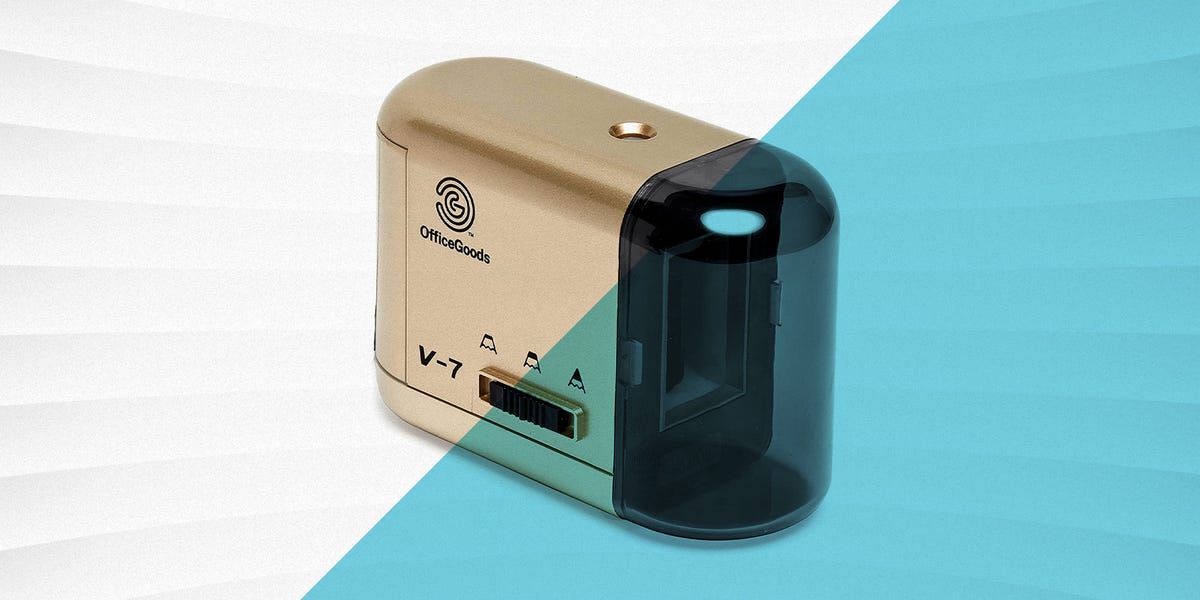 Staff, Courtesy of OfficeGoods
Pencil sharpeners are an essential tool for students of all ages, artists and pros in a wide range of technical fields. A dull pencil can doom good work, but thankfully, that's not a fate any worksheet needs to suffer with the range of pencil sharpeners out there. There are several options that will work and are suitable for all types of pencil users.
What to Consider
A sharp pencil can make a simple task just that. Too often though, pencil sharpeners break tips, wear out quickly, or aren't suitable for your pencils, turning everyday tasks for students, teachers, artists and professionals into ordeals. If you keep the below in mind, you'll end up a much happier customer.
Pencil sharpeners can be manual, plug-in or battery powered. This will also determine if it is portable. For artists and students on the go, a manual or battery-powered option will be your best bet.
A basic pencil sharpener will normally only fit a generic pencil. If your pencils vary in size, you'll want to go with a sharpener that can accommodate multiple sizes.
You'll also want to take into account if the sharpener catches all the shavings. All of our models have reservoirs to make clean up a snap!
How We Selected

We reviewed hundreds of options, and read dozens of professional and consumer reviews before narrowing down our choices. Our selection below includes only highly rated options from reputable companies, with sharpeners that will be suitable for anyone who needs a sharp pencil, fast.
Advertisement – Continue Reading Below
1
Best for Everyone
POWERME Electric Pencil Sharpener
POWERME
amazon.com
$18.88
This pencil sharpener is a go-to for artists, students, teachers and others who need sharp graphite. The sharpener is equipped with a high-grade stainless-steel blade that sharpens pencils in 3 seconds. It also features an auto-stop safety feature that prevents it from being used if the lid is removed, making it safe for little fingers. The shavings reservoir can be emptied and cleaned easily. 
This model comes with a six-month satisfaction guarantee. The sharpener requires four AA batteries. One reviewer praises the sharpener, saying it's "lightweight, compact and mobile."
2
Best Individual for School
STAEDTLER Compact Pencil Sharpener
STAEDTLER
amazon.com
$7.50
This premium pencil sharpener is small enough for kids to carry in a pencil case. The 2-inch manual sharpener comes in an assortment of bright colors, and is outfitted with a screw-on lid to prevent accidental opening. 
The sharpener is small but mighty, requiring a mere twist of the wrist to get a fully sharpened pencil. One user says the STAEDTLER "sharpens pencils crazy good," and another says "this sharpener met all our expectations in quickly sharpening pencils with little effort to a needle point without breaking the lead."
3
Best Clean Sharpener
Bostitch Metal Antimicrobial Manual Sharpener
Bostitch Office
amazon.com
Everyone is a little more germ-conscious these days, and this sharpener can give them a little more peace of mind. The all-metal manual sharpener features an ergonomic anti-microbial crank handle coated with germ-killing disinfectant. The sharpener also features dual-cutting blades that are replaceable, and an eight-hole dial that will accommodate pencils of all different shapes. It can be mounted on the wall, or rest on a desk. 
One reviewer dubs it a "great little sharpener," while another raves that "it sharpens the living hell out of all my pencils! Every brand, size, texture—all sharpened to a deadly stiletto point."
4
Ideal for Desks
TGHCP Pencil Sharpener with Holder
This plug-in electric pencil sharpener comes with a built-in storage unit for pencils. The sharpener itself features a durable helical blade that sharpens pencils in 3-5 seconds. This sharpener works well with #2 pencils, colored pencils and charcoal pencils. The unit has an auto-stop feature if the lid is opened, protecting small fingers. 
TGHCP guarantees the product and will replace the sharpener at any time for quality issues. Some reviewers say the sharpener works "great" with regular pencils, but not as well with colored pencils. Another says they "love it! It's easy to use and does its job."
5
Most Durable
X-Acto School Pro Classroom
This heavy-duty electric pencil sharpener is designed to withstand serious use and abuse, and is ideal for classrooms. The unit also has a quiet electric motor, with a flyaway cutter system that stops automatically when the pencil is sharp. It is adjustable for six pencil sizes, has a large receptacle that makes cleanup easy and safety modes so that the machine stops if it's opened. 
The X-Acto comes with a 10-year warranty. One reviewer says "this sharpener is AMAZING! Ideal for bulk sharpening pencils. I sharpen about 40 a day and it works great!"
6
Best for Colored Pencils
Electric Pencil Sharpener for Colored Pencils
OfficeGoods
amazon.com
$24.95
This pencil sharpener works well with standard pencils, but earns rave reviews for its sharpening of colored pencils. It is small and compact, and sharpens pencils in about 10-15 seconds. There is a safety feature that stops the sharpener if the cover is removed. It can be powered with a standard electric plug, an AC adapter or four AA batteries. 
One reviewer writes that "this electric sharpener works great on regular graphite / colored pencils," while another praises the  "types of power sources" and "sharpening points."
7
Best Compact Sharpener
Aogwat Portable Pencil Sharpener
This compact electric pencil sharpener has a roomy transparent shavings holder, which means you'll know when it's reaching full capacity. It's easy to clean and is transportable, making it a great option for artists, students and professionals who need pencils shaved fast. The sharpener takes on standard, colored and round pencils. It runs on two AA batteries. 
One reviewer says "this mighty sharpener sharpens the old and the new to a nice tip," while another raves about its "compact" size, saying it "works wonderfully."
8
Best for Pencils and Crayons
Swordfish 3 Hole Canister Pencil Sharpener
Swordfish
amazon.com
$11.07
This small but mighty sharpener can take on pencils and crayons, with three holes suitable for 8 mm, 11 mm and 16 mm pencils and crayons. This sharpener is ergonomically designed for small fingers and features tamper proof screws that will protect fingers from blades. It's also small enough to fit in a pocket. 
Reviewers say it "works great on jumbo Crayolas," and that it's "easy for an adult to open and dump, but little hands probably wouldn't be able to independently. No messes!"
9
Best Design
Bostitch Quiet Sharp Electric Sharpener
Bostitch Office
amazon.com
$24.99
This electric sharpener is a great option for people who need to sharpen pencils at their desk, without sacrificing style. The sleek sharpener works 70-percent faster than regular sharpeners, getting to the pencil point in just four seconds. It also has an extra hardened helical cutter that makes for a longer life, a quiet mechanism that turns the screech of sharpening into a whisper and a safety switch to ensure little fingers can't open it up when the motor is running. There are also six holes, making it possible to sharpen a variety of pencils, including oversized ones. 
One reviewer says they "sharpen 15-25 pencils in one sitting," while another says it's "so fast. Pencils come out neatly sharpened and in just a couple of seconds."
10
Best Vertical Sharpener
School Smart Vertical Sharpener
If you want a powerful sharpener that won't take up a lot of real estate, this one may be for you. It features a large, transparent shavings receptacle with a safety lock in place, and a powerful heavy-duty motor with long-lasting helical steel blades. The electric sharpener also offers a non-slip base so the sharpener will stay in place when it's in use. 
One reviewer says, "I am a high school math teacher and I have finally found a pencil sharpener that will last more than a year," while another writes that "it's quick and gives long, sharp points."
This content is created and maintained by a third party, and imported onto this page to help users provide their email addresses. You may be able to find more information about this and similar content at piano.io
Advertisement – Continue Reading Below
Most Related Links :
reporterwings Governmental News Finance News