News
All the Amazon Fire Tablets, Reviewed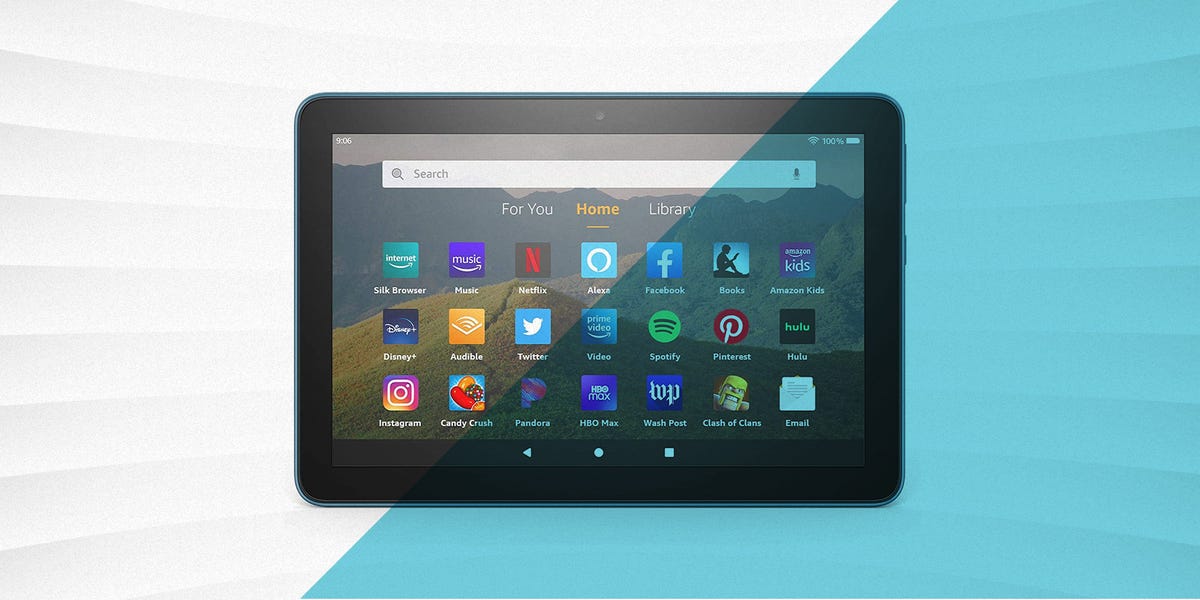 Staff, Courtesy of Amazon
Amazon offers, perhaps, the best value in tablets as long, as you are willing to live with some compromises. The Fire series boasts more than acceptable specifications for light web browsing and movie watching. The tradeoff for the low prices is that the available software is somewhat limited, but that shouldn't be a problem for most users.
Specs to Consider
One of the benefits (or drawbacks depending on how you look at it) of buying a Fire tablet is that Amazon makes it easy to choose which model you want. There are really only two necessary specifications to consider: screen size and storage.
The Fire tablets come in a choice of 7-, 8-, or 10-inch displays. The smallest size is fine for quick emails and reading books, but I recommend upgrading to the 8- or 10-inch model if you plan to watch movies or TV.
As for storage, most of the models come in a choice of 32 or 64 GB, which is on the low end. I own the 8- and the 10-inch Fire tablets and use them primarily for streaming, so it isn't a significant consideration for me. However, if you want to download movies or games, keep in mind that the storage space will quickly fill up. If you plan to use your tablet as a daily driver, opt for the higher-end (but not much higher priced) model.
Even More Tablets: The Best Tablets of 2021 | The 8 Best Tablets for Drawing
What You Should Know About Ad-Supported Models
The cheapest Fire tablets come ad-supported, which means that you are opting for a constant stream of messages from Amazon. I enjoy getting the little notifications and don't find them too intrusive. However, if you suffer from information overload, you might want to spring for the one-time $20 fee to remove the ads from your device. You can also remove them after your purchase through the Amazon website, if you change your mind later.
How We Evaluated
As a technology writer with 20-plus years of experience, I'm always on the lookout for the latest and greatest when it comes to tablets. I've owned Amazon tablets for more than a decade and currently have several models in my drawer. I spent a dozen hours looking through reviews and experimenting with Amazon's Fire series for this article. I considered screen size and quality, storage space, and cost while sifting through the lineup.
Advertisement – Continue Reading Below
Latest and Greatest
Amazon Fire HD 10 (2021)
Amazon
amazon.com
$149.99
• Display: 10.1 in. 1080p full HD
• Storage: 32 GB
The HD 10 is a capable device for its price. The display is bright and crisp, and the processor is fast enough to keep apps running briskly. The 10-inch screen is the largest size available in the Fire lineup, and it's big enough to enjoy watching movies from Amazon's video service, but you can also download apps for competing platforms like Netflix.
Largest screen of the Fire series
Fast processing
Most Affordable
Amazon Fire 7
• Display: 7 in. 1024 x 600
• Storage: 16 GB
The Fire 7 is a tiny tablet with an incredibly low price. If all you want to do is play a few casual games or read an e-book, this model is perfectly suitable. It weighs just 10 ounces, and the diminutive size slips into most pockets. The 1024-by-600 display seems low resolution on paper, but it's more than good enough for most uses in practice.
Budget friendly
Small and lightweight
Best for Binge-Watching
Amazon Fire HD 8
• Display: 8 in. HD
• Storage: 32 GB
The Fire HD 8 is 30 bucks more than the Fire 7, but it's well worth the slight splurge. The 1-inch boost to display size is enough to make the HD 8 a serious contender as a tablet that can be enjoyable for binge-watching sessions. The HD 8 doesn't fit as easily into a pocket the way that the Fire 7 does, but it's still small enough to not be noticeable in a handbag.
Best Value
Amazon Fire HD 8 Plus
Amazon
amazon.com
$109.99
• Display: 8 in. HD
• Storage: 32 GB
This tablet is an excellent compromise between low price and capability. It can easily handle tasks such as checking email or using Alexa to play music or videos. The screen is surprisingly bright and crisp, even though the 8 Plus is among the most economical tablets on the market. And speaking of cost, it's affordable enough to replace should your first go-round get badly damaged.
Some people might want a larger screen
Best for Productivity
Amazon 2021 Fire HD 10 Bundle
Amazon
amazon.com
$269.97
$219.99 (19% off)
• Display: 10 in. HD
• Storage: 32 GB
Amazon bundles together several accessories in this package that transforms the Fire from a consumption device into a tablet that can be used for work. A Bluetooth keyboard allows for easy typing, though you might not want to compose a novel on the cramped size (compared to a laptop, that is). It also comes with a one-year Microsoft 365 Personal subscription, giving you access to the full suite of Office products, including Outlook and Word.
Includes a keyboard and one-year Microsoft 365 subscription
Best Budget Option for Kids
Amazon Fire 7 Kids Pro
• Display: 7 in. 1024 x 600
• Storage: 16 GB
Children can be tough on electronics, but Amazon has you covered with this ruggedized version of its cheapest tablet. You get a one-year subscription to Amazon Kids Plus that provides access to more than 20,000 age-appropriate apps, games, books, videos, songs, and Audible books. The web browser comes with built-in controls designed to help filter out inappropriate sites and let parents add or block specific websites at any time.
Rugged construction
Includes one year of Amazon Kids Plus
Best for Kids
Amazon Fire HD 8 Kids Pro
Amazon
amazon.com
$139.99
• Display: 8 in. HD
• Storage: 32 GB
This upgraded model of the Fire Kids tablet adds a larger, higher resolution screen and doubles the memory. It's a rugged tablet with a plastic case that can withstand whatever mistreatment children can dish out. Like its smaller sibling, it comes with a two-year warranty and a subscription to Amazon Kids Plus, a service that lets kids access games, music, and books.
Respectable screen quality
Protective case
Mid-range processor isn't as capable as the Fire HD 10 Kids
Kid-Friendly with a Built-In Stand
Amazon Fire HD 10 Kids
Amazon
amazon.com
$199.99
• Display: 10.1 in. full HD
• Storage: 32 GB
If your child prefers a bigger tablet, Amazon has you covered with the HD 10 Kids. It includes an eight-core processor, 3 GB RAM, a sharp 1080p full HD display, and a one-year subscription to Amazon Kids Plus. The screen is made with strengthened glass and is wrapped in a rugged plastic case that has a built-in stand.
Largest screen in the Fire series
Fast processing
This content is created and maintained by a third party, and imported onto this page to help users provide their email addresses. You may be able to find more information about this and similar content at piano.io
Advertisement – Continue Reading Below
Most Related Links :
reporterwings Governmental News Finance News