Automobile
10 Accessories to Buy for Your Ford Bronco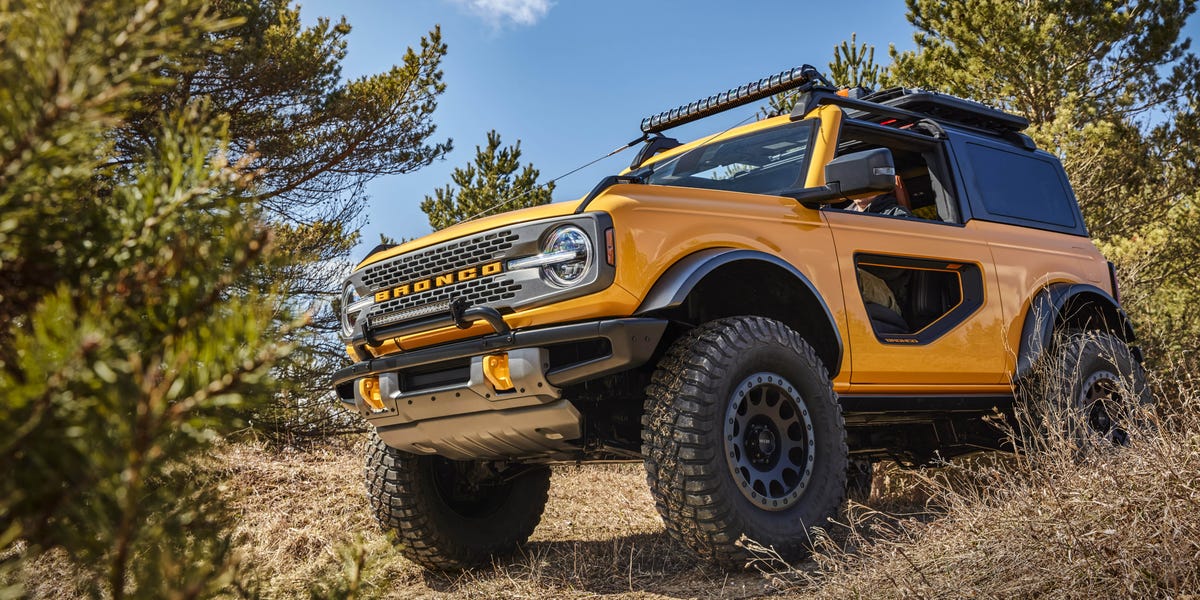 If you play around on the Ford Bronco configurator, you'll see that there are many, many add-on Bronco parts that you can get straight from Ford. The list runs the gamut from wheels and tires to bumpers and roof-top tents. I myself just spent a few minutes clicking buttons on a base Bronco and wound up adding $12,765 worth of optional extras and I must say my virtual base Bronco looked pretty cool.
But as anyone who has ever attended a SEMA show can tell you, there's a lot more available out there than what you can get straight from the factory. Here are a few partsmakers and their respective parts, because, while parts is parts in the McNugget commercial, they ain't just parts when you're setting up your beautiful new Bronco.
1
Smittybilt Overlander Tent
Does the spouse refuse to go camping because "icky bugs will crawl into the tent"? Well, show them these fine palatial digs. You will be sequestered high above all insect activity and zippered closed in this Smittybilt home away from home. It even comes with its own floor-length (and -width) foam mattress. The spouse may never want to leave.
2
Warn Zeon Platinum Winch
When you're way out there and you really need a real winch, you are going to be glad you have this Warn 10,000-pound puller. Sure, it won't be you who gets stuck; you'll probably be saving some city slickers who go in over their heads. With this, you can save 'em all day. When it comes to winches, it's best not to skimpsches.
3
Smittybilt Snatch Strap
Another place not to skimp is with snatch straps. This one stretches from 17 feet to 30 feet and can haul 17,000 pounds out of the muck.
4
ARB Recovery Gear
If you've ever been out in the wilderness with a wheel spinning in the sand grabbing for traction and you're out there stuffing twigs, branches, and floor mats under the tire tread, you will appreciate the value of these. Just put 'em under each driven wheel and voilà, you're back to wheelin'. Worth their weight in plastic.
5
Hi-Lift Jack
How can you tell the real four-wheelers out on the trail? They have one of these strapped to the outside of their rig somewhere. Hi-Lift has been making quality jacks forever, and this cool red model will raise your rig and your spirits 48 inches when you need it most. Get the optional base pad for it, too. 
6
Cooke Hydraulic Off-Road Jack
If you have unlimited budget, or maybe sponsorship, then go whole hog and get one of these. It adds dimensions of versatility to your recovery and repair jobs out on the trail. Check out those off-road wheels in place of the loud steel wheels usually found on these. That'll mean you can jack up your rig and maybe even slide it over two feet so you can escape. Then you can use it back in the shop just as easily as out on the trail.
7
Nilight Spot Flood Combo
Stuck out on the trail when the sun goes down? Want to throw more light on the job when doing a late-night repair out in the wilderness? Or just want to look cool cruising around the campground? This set of Nilight LEDs will light up your world. One of the many good things about the Bronco is that it comes from the factory with mounting points for things like these all over the body. Illuminating, wouldn't you say?
8
Method Race Wheels
Method Race Wheels are on many of the best Trophy Trucks in Baja—and they can be on your Bronco, too. This one is a nice bronze finish, but Method makes many models. They're so lightweight and strong, you will worry less about rock bashing with these underneath you. Plus, you may be the nicest-looking rig on the Rubicon.
9
Maisto 1/18 Die-Cast Model, 2021 Ford Bronco
Can't afford the real thing? This 2021 Bronco retails for just $32.99, approximately 1/100o the price of the real thing. Play with this on top of your desk while earning big money to make the full-size purchase. We all got dreams, man!
This content is created and maintained by a third party, and imported onto this page to help users provide their email addresses. You may be able to find more information about this and similar content at piano.io
Most Related Links :
reporterwings Governmental News Finance News