Automobile
Car Insurance in Dallas, Texas: Everything You Need to Know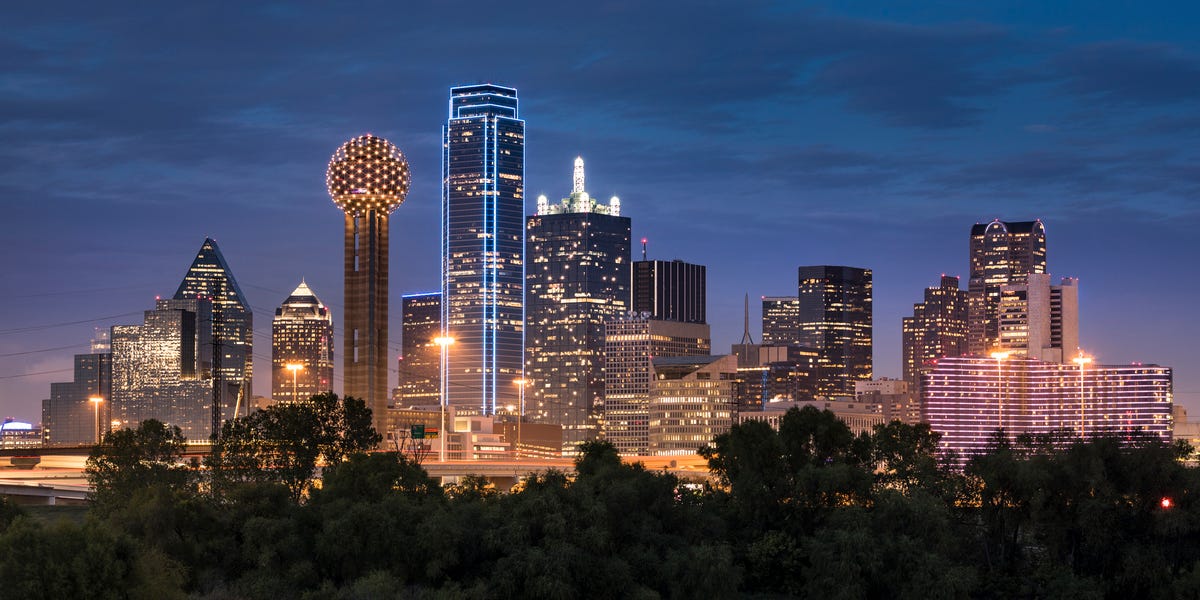 Driving in Dallas means purchasing the Texas minimum required liability insurance. The state mandates at least $30,000 per person and $60,000 per accident in bodily injury liability, which pays for the medical expenses of injured parties if you cause a crash. You also have to have at least $25,000 per accident for property damage liability. This type of coverage pays for other drivers' property damage if you have an at-fault accident. This guide provides everything you need to know about car insurance in Dallas, Texas.
Average Dallas Auto Insurance Cost
The finance website MoneyGeek reports that drivers in Dallas pay an average auto insurance premium of $1461 for annual coverage, about 2.6 percent higher than drivers across the U.S. and 11 percent more than drivers across Texas.
Most Affordable Minimum Coverage in Dallas
Buying minimum coverage allows you to drive legally in Texas. However, it does not provide additional financial protection beyond your coverage limits, which means another driver can sue you if you cause an accident. These are the companies offering the most affordable average minimum coverage policies for Dallas drivers, according to data from auto insurance website ValuePenguin:
Allstate: $1831
Chubb: $1108
Dairyland: $1145
Fred Loya: $727
GEICO: $1080
MetLife: $2125
Nationwide: $1045
State Farm: $680
USAA: $532 (available only to the families of current military members and veterans)
Most Affordable Full Coverage in Dallas
If you want to purchase full coverage insurance, MoneyGeek reports that these companies have the cheapest annual premium rates:
Allstate: $5575
Chubb: $3047
GEICO: $2454
Dairyland: $4218
Fred Loya: $1247
Nationwide: $2769
State Farm: $1494
MetLife: $5733
USAA: $1464
Full coverage includes minimum Texas liability coverage as well as comprehensive and collision coverage. These policies pay for damage to your vehicle in collision and noncollision incidents, regardless of fault.
Most Affordable Coverage in Dallas after an Accident or Violation
Insurify reports that drivers in Dallas who have clean driving records pay about $269 per month for auto insurance on average. Your rates will increase to $315 on average for speeding, $318 for running a stop sign, and $325 for causing an auto accident.
ValuePenguin reports that Fred Loya, State Farm, and GEICO offer the most affordable rates for Dallas drivers who have speeding tickets, which they note raise average annual insurance costs by about $228. Drivers will see policies increase by about $1791 per year after an at-fault accident and $2201 per year after an arrest for driving under the influence of drugs or alcohol. MetLife charges the highest rates for drivers who have speeding tickets in the past three years.
ValuePenguin lists the average annual policy cost after a speeding ticket by company:
Allstate: $5575
Chubb: $3047
Fred Loya: $1247
GEICO: $2962
Dairyland: $4990
MetLife: $5733
Nationwide: $3351
State Farm: $1494
USAA: $1655
Most Affordable Coverage in Dallas for Drivers Who Have Poor Credit
ValuePenguin found that Fred Loya offers the most affordable premiums for drivers with low credit scores. If you fall into this category, you'll pay about $3859 per year for insurance on average. You'll find the cheapest prices from the following insurance providers, with these average annual rates for drivers who have poor credit:
Allstate: $5095
Chubb: $3974
Dairyland: $4775
Fred Loya: $1247
GEICO: $3489
Nationwide: $3142
State Farm: $2312
MetLife: $8466
USAA: $2233
Most Affordable Dallas Auto Insurance Rates for Married Drivers
Insurers often charge lower premiums for married drivers because of their statistically lower accident rates. Compare.com reports single drivers pay about 10 percent more for car coverage than their married counterparts. The website lists the average annual premiums for married drivers by company:
Chubb: $3047
Dairyland: $3946
GEICO: $2565
Fred Loya: $947
Nationwide: $2550
State Farm: $1494
MetLife: $4561
Allstate: $4922
USAA: $1263
Average Insurance Rates in Dallas by Driver Age
Insurify reports that 60-to-70-year-old drivers have the lowest average Dallas insurance rates of $215 per month. After 70, drivers pay about $253 per month. Rates are much higher for drivers in their 20s, who pay a monthly average of $332 for car insurance. Drivers in their teens have the highest rates by far, paying an average of $630 per month. Dallas drivers in their 30s pay about $257 per month and in their 40s pay an average of $250 per month. The average monthly cost for drivers in their 50s is $273.
Young drivers who need full coverage insurance will find affordable rates from these companies, according to data gathered by NerdWallet:
GEICO: $2314 per year
Houston General: $3132 per year
State Farm: $2959 per year
Texas Farm Bureau: $2084 per year
Nationwide: $3149 per year
If you're in your 20s and want to save by going with only state minimum coverage, consider one of these firms with the lowest average annual cost:
Allstate: $1006
GEICO: $872
Houston General: $1044
State Farm: $1226
Texas Farm Bureau: $836
Average Insurance Rates in Dallas by Zip Code
Dallas drivers pay different rates based on their neighborhoods, according to data from MoneyGeek. More population density and higher crime correlate to increased risk and higher premiums. Those in 75098 pay nearly $300 more than those who live in 75398. The website lists the respective rates for minimum and full coverage by Dallas zip code:
75098: $1076, $2839
75201: $1122, $3136
75202: $1157, $3233
75203: $1177, $3296
75204: $1109, $3087
75205: $1119, $2978
75206: $1103, $2970
75207: $1165, $3239
75208: $1121, $3091
75209: $1094, $3004
75210: $1204, $3320
75211: $1139, $3153
75212: $1170, $3190
75214: $1112, $3000
75215: $1206, $3311
75216: $1193, $3269
You must show proof of auto insurance in Texas after an accident, at law enforcement's request, and to register your vehicle.
Check this out if you need additional information, resources, or guidance on car insurance.
Sources:
Best Cheap Car Insurance in Texas for 2021 | nerdwallet.com
Compare the Cheapest Car Insurance Quotes in Dallas, TX | moneygeek.com
Who Has The Cheapest Auto Insurance Quotes in Dallas, TX? | valuepenguin.com
Cheap Auto Insurance Quotes in Dallas, TX (2021) | insurify.com
Dallas, TX Car Insurance | compare.com
Car Insurance | caranddriver.com
Non-Owner Car Insurance in Texas: Everything You Need to Know | caranddriver.com
This content is created and maintained by a third party, and imported onto this page to help users provide their email addresses. You may be able to find more information about this and similar content at piano.io
Most Related Links :
reporterwings Governmental News Finance News