Automobile
Car Insurance in Delaware: Everything You Need to Know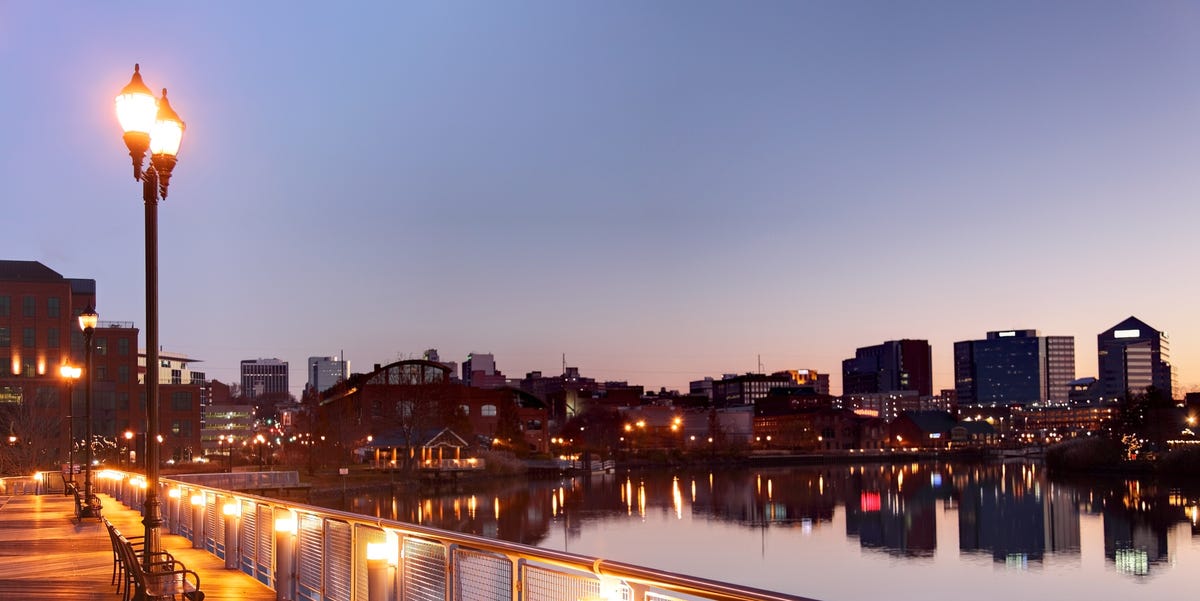 DenisTangneyJrGetty Images
The average cost of minimum auto insurance coverage in Delaware is $1048 per year, according to auto insurance website The Zebra. This means Delaware drivers pay nearly 60 percent more for legal minimum insurance than the average U.S. driver. You will pay an additional $1543 to add comprehensive coverage with a $1000 deductible. Review this guide to providers and rates to help you find the best car insurance in Delaware.
Minimum Car Insurance in Delaware
Delaware requires all drivers to have at least the minimum state liability and personal injury protection (PIP) coverage. Liability pays for other people's injuries and property damage if you cause a crash. PIP covers medical expenses when you and/or passengers in your vehicle suffer auto accident injuries, regardless of who caused the collision. The minimum coverage requirements in Delaware include $25,000 per person and $50,000 per accident in bodily injury liability; $10,000 per accident in property damage liability; and $15,000 per person and $30,000 per accident in PIP coverage. You might want to purchase more than the minimum coverage so you do not have out-of-pocket expenses after an accident, according to Insurify.
Delaware drivers can also choose optional car insurance policies such as collision, comprehensive, roadside assistance, uninsured motorist bodily injury, rental car reimbursement, and loan or lease payoff (sometimes called gap insurance).
Best Car Insurance Companies in Delaware
The Zebra ranked the largest Delaware auto insurance companies based on financial strength ratings from AM Best and claims satisfaction ratings from J.D. Power and Associates. The site reported these findings:
Atlantic States, Cal Casualty, Donegal Mutual, and National Grange Mutual were not rated by J.D. Power but have Excellent financial strength ratings.
Allstate, GEICO, MetLife, State Farm, Travelers Insurance, and Progressive have claims satisfaction ratings of 3 and financial strength ratings of Superior.
Liberty Mutual and Titan have claims satisfaction ratings of 3 and financial strength ratings of Excellent.
Sentry was not rated by J.D. Power but has a Superior financial strength rating.
Nationwide has a claims satisfaction rating of 4 and a financial strength rating of Superior.
USAA (available only to military members, former military members, and their families) has a claims satisfaction rating of 5 and a financial strength rating of Superior.
ValuePenguin reviewed the best auto insurance companies in Delaware based on claims satisfaction data from the National Association of Insurance Commissioners. USAA offers the highest level of claims satisfaction; drivers who do not qualify for coverage through USAA but want outstanding service should consider Nationwide or State Farm.
Most Affordable Delaware Auto Insurance Companies
Insurify ranks the most affordable average yearly auto insurance premiums in Delaware by company:
Allstate: $3591
Donegal Mutual: $1801
Cal Casualty: $1319
MetLife: $1710
Nationwide: $1551
Travelers Insurance: $1073
USAA: $1001
State Farm: $1860
Progressive: $2307
Sentry: $4815
Car Insurance in Delaware by Age
You'll pay the highest auto insurance rates in Delaware from ages 16 to 19, followed by ages 20 to 25. Delaware has among the highest premiums in the U.S. for teen drivers, with an average annual insurance cost of $6683 per year compared to an average of about $4983 for all American teens.
Insurify reports these average car insurance rates by age for teens in Delaware when purchasing a policy alone or with parents, respectively.
Age 16: $8357, $7311
Age 17: $7094, $7065
Age 18: $6232, $7188
Age 19: $4276, $5943
GEICO tends to offer the most affordable rates for teen drivers, providing about a 29 percent discount with a policy cost of $6561 annually on average. These are the average rates by company for minimum and full coverage for teen drivers:
Allstate: $4928, $14,803
GEICO: $3034, $6561
Nationwide: $5414, $11,586
Progressive: $5891, $12,004
State Farm: $3086, $6799
USAA: $2050, $4002
Car Insurance in Delaware Based on Driving Record
You will receive lower auto insurance quotes if you have a driving record free of tickets and violations. According to Insurify, you can save about 35 percent compared to the average cost for a driver who has a recent claim. You might also qualify for a safe driving bonus, with savings of up to 10 percent from many insurance companies. Drivers with no traffic tickets in Delaware save about $378 on coverage or 18.44 percent on average.
ValuePenguin reports that Delaware drivers with previous at-fault accidents will find the lowest rates from State Farm. With this insurer, you'll pay about $2508 per year, compared to a $4132 average cost for a driver with a history of claims. In comparison, you'll pay about $3514 per year from Progressive, $4485 from Nationwide, and $7925 from Allstate.
State Farm also offers the lowest average rates for Delaware drivers who have previous DUI arrests. In general, car insurance rates go up by 54 percent after an arrest for driving under the influence. ValuePenguin reports that State Farm treats a DUI the same as other accidents and violations when setting its rates.
Cheapest Auto Provider in Each Delaware City
Insurify reported the following data about the most affordable average monthly auto insurance costs in major Delaware cities:
Bear: $165 per month from Allstate
Claymont: $73 per month from Progressive
Dover: $120 per month from State Farm
Georgetown: $60 per month from Progressive
Hockessin: $228 per month from American Family
Middletown: $217 per month from Nationwide
Milford: $189 per month from Travelers Insurance
Newark: $141 per month from State Farm
Seaford: $60 per month from Progressive
Smyrna: $128 per month from State Farm
Wilmington: $212 per month from State Farm
Delaware drivers can save significantly by shopping around for auto coverage.
Check this out if you need additional information, resources, or guidance on car insurance.
Sources:
Cheap Auto Insurance Quotes in Delaware (2021) | insurify.com
Cheap Delaware Car Insurance | thezebra.com
Best Cheap Auto Insurance Rates in Delaware (2021) | valuepenguin.com
Car Insurance | caranddriver.com
Your Guide to Finding the Cheapest Car Insurance | caranddriver.com
This content is created and maintained by a third party, and imported onto this page to help users provide their email addresses. You may be able to find more information about this and similar content at piano.io
Most Related Links :
reporterwings Governmental News Finance News