Entertainment
A 'Schitt's Creek' Book Is Coming Out Soon and You're Going to Want to Order It ASAP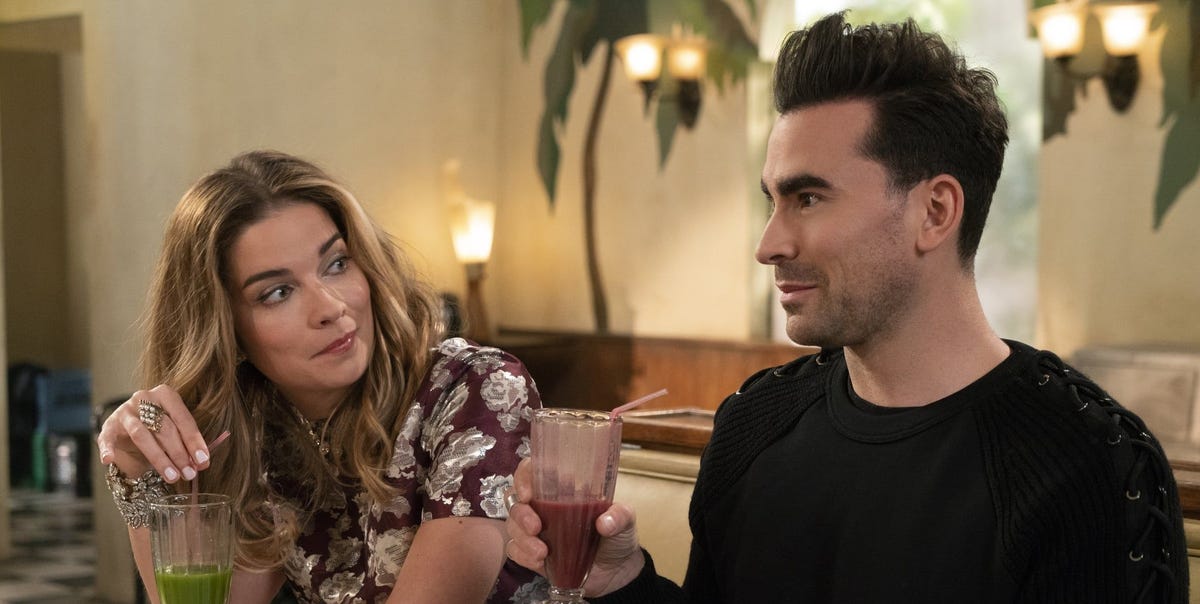 Online shopping can be overwhelming, especially when all you've got to go on is, like, a TV show that someone really likes. But have no fear! Send best wishes and warmest regards with these gift ideas for Schitt's Creek fans, whether you are a fellow SchittHead (tehehe) or a newbie who doesn't know Stevie from Twyla. But also like… if you haven't watched Schitt's Creek yet… what are you even doing with your life? Eww! I would say we can't be friends but that would totally go against Schitt's Creek and its wholesome message of thoughtfulness, community, and laughing through the pain.
Housewarming gifts? I got you. Father's Day? Johnny would approve. Birthday? You betcha.
1
"Best Wishes, Warmest Regards: The Story of Schitt's Creek" by Daniel Levy and Eugene Levy
Black Dog & Leventhal Publishers
bookshop.org
$36.80
Just when you thought you were done crying over the Schitt's Creek finale, Daniel and Eugene Levy dropped a major surprise when they announced a new book all about the series. It's filled with major behind-the-scene secrets, so you're going to want to get your hands on it when it drops on October 26.
2
Alexis' Initial Necklace
Hide your diamonds, hide your exes, and buy yourself (or your someone) a little bit Alexis. Whether you get her initial or another letter is totes up to you! 
3
Rose Apothecary Candle
Beekman 1802 has this whole line of Rose Apothecary content (Perfume! Lip balm! Body milk! Body cream! Soap!) that's perfect for a gift basket—but if I had to pick one, I'd go with the candle. You can't go wrong with a candle.
4
David Rose Sweatshirt
Let's be real, all of David's signature black and white lewks are iconic… but the lighting bolt has gotta be at the top of the list. It's also versatile as hell, and therefore a perfect gift for anyone and everyone. 
5
A Little Bit Birthday Card
Speaking of birthday cards, Paper Source has an adorbs Alexis card. The only downside is that you'll have this banger stuck in your head for the rest of the week… oops! Sorry not sorry!
6
Ew, David Sticker
If the big version of the sweatshirt is out of your budget, why not a sticker version? Perfect if you just wanna stuff something small in a birthday card and/or if your friend loves putting their fandom all over their laptop, bike helmet, guitar case, etc. 
7
Schitt's Creek July 2021-June 2022 Calendar
Moira-ize your vocabulary with this calendar full of some of the Schitt's Creek matriarch's favorite bits of verbiage. If your giftee has a bébé, perhaps this calendar could hang in bébé's chamber!
8
Rosebud Motel Keychain
Schitt's Creek Shop
$8.00
The official Schitt's Creek shop has tons of fun gift ideas, but I've picked out a few faves. First is this keychain, simple and classy, that'll make you feel like you're checking into the Rosebud Motel every time you get home. 
9
Rose Apothecary Indoor Planter
For the plant moms and dads out there, try this super cute lil' planter. You can put a fake plant in there if watering's not really your jam, I won't tell a soul. 
10
Schitt's Creek Rosebud Motel Cap
This distressed hat is good for the fan that likes to keep it lowkey. Also, you can grab it at Target so it's like… super accessible for last-minute gift shopping. Not that you'd ever put anything off. 
11
Fold in the Cheese Poster/Print
Every home needs cheeky artwork in the kitchen area. (My grandmother's said, "Keep this kitchen clean, eat out" — can you even?) If you're looking for housewarming gifts, this graphic representation of one of Schitt's Creek's funniest scenes is parfait.
12
Sunglasses from Dan Levy's line
Now that Schitt's Creek is over, one of the best ways to support the show is by supporting its creator. Unfortunately, the Moira Rose-inspired tie-in style is sold out at the moment, but watch this space in case it ever comes back! 
13
Noah Reid's Latest Album
Speaking of supporting the show's stars, any Schitt's Creek fan would love to own Noah Reid's album Gemini as well—even though no, unfortunately, his cover of "Simply The Best" is not on there. 
14
"The Unofficial Schitt's Creek Drink Cookbook: 55+ Amazing & Easy Drinks Recipes Inspired by 'Schitt's Creek'"
Cookbooks are over. Cocktail guides are everything. (Don't quote me on this. I have no power over anything.) Turn your kitchen into Café Tropical with this unofficial book of concoctions. 
15
Rose Apothecary Tie Dye Tote – Pink
Schitt's Creek Shop
$16.00
NGL, this list was almost 100 percent Rose Apothecary products. They're all so cute!! This is also from the official Schitt's Creek store. The pink tie-dye just gets me. 
16
Moira Rose Wig Tee Shirt
The classiest and sassiest Schitt's Creek-inspired tee shirt out there, because it's a gorgeous tribute to Moira's closest friends and dearest confidants: her wigs. 
17
Bundle of Schitt's Coloring Book & Pencils
Make sure the person you're gifting wants more adult coloring books—I know I have so many now that I'm stressed I'll never fill them in, thus defeating the purpose of an anxiety-reducing activity. But if you know for a fact that your person doesn't have a pile of coloring books mocking them from a corner, or if they're a child, go for it! The custom pencils are a major bonus. 
18
Rose Video Mug
Schitt's Creek Shop
$16.00
For the "if you know you know" Schitt's Creek fan out there, this vintage-inspired coffee mug from the official store is the perfect drink receptacle that doubles as an inside joke. 
This content is created and maintained by a third party, and imported onto this page to help users provide their email addresses. You may be able to find more information about this and similar content at piano.io
Most Related Links :
reporterwings Governmental News Finance News