Entertainment
Just 25 Thoughtful Gift Ideas for Your 10th Wedding Anniversary That'll Probs Make Your Spouse Happy-Cry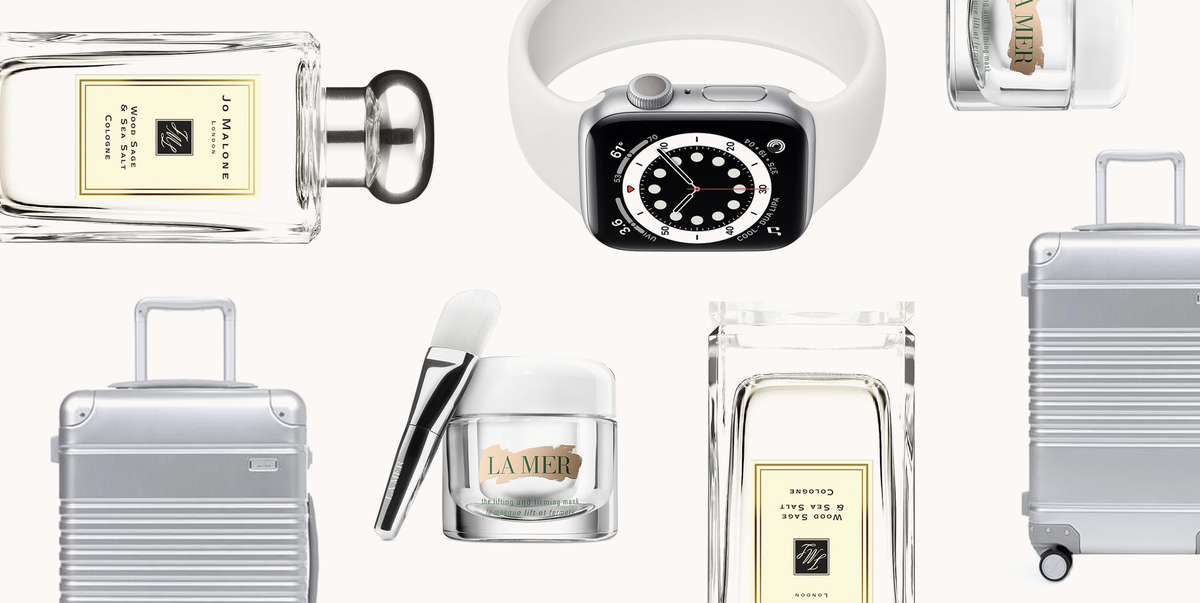 Well, holy moly. You've made it 10 years together. CONGRATS!!!!!! If you're looking to celebrate this milestone with a sweet and thoughtful gift but find yourself feeling pressured to find The Perfect Present—don't fret. Sure, you'll want to give your S.O. something that'll nicely commemorate your decade of marriage together, but no need to break into a sweat about it—especially when we're here with a list of 10th-anniversary gift ideas to help you out.
And okay, you could go for the regular bouquet of flowers or a sparkly piece of jewelry. But if you feel like stepping it up a notch this year (it is your 10th anniversary after all), then why not give a themed gift? Traditionally, 10th wedding anniversaries are marked by tin and aluminum. Something about how both materials represent the flexibility and durability needed to have a solid and loving union, and so a gift featuring either of these materials would be on par (cue: shrug).
Tin may not be the chicest sounding gift in the world, but there are loads of metal-like presents you could definitely give to your lover. So go on and have your pick—oh, and happy anniversary, lovebirds!
Advertisement – Continue Reading Below
1
this fancy shaving kit
Chrome-Plated Three-Piece Shaving Set
Mühle
mrporter.com
$186.00
Why not upgrade their facial shaving sitch with this chrome-plated kit that'll look oh-so-fancy on le bathroom counter?
2
this luxe face mask set
The Lifting & Firming Mask
LA MER
nordstrom.com
$75.00
Or if they're alllll about a luxurious face mask, then you can't go wrong with the ever classic La Mer.
3
this incredible scent
Wood Sage & Sea Salt Cologne
Jo Malone London
nordstrom.com
$105.00
Switch up their scent game with this fresh yet sultry cologne.
4
this nice cheese board
Shimmer Round Aluminum & Wood Cheese Board
Mariposa
nordstrom.com
$149.00
If you're a couple who loves to charcuterie (yep, using that as a verb), then this shiny aluminum and wood cheese board is *chef's kiss*.
5
this coffee game-changer
The Original Phin Kit (Filter + Coffee)
Nguyen Coffee Supply
nguyencoffeesupply.com
$28.00
If your lover is obsessed with coffee almost as much as they are with you, then treat 'em to this kit of delicious Vietnamese drip coffee.
6
this watch that does everything
Apple Watch Series 6
This aluminum case smartwatch will certainly change your partner's life for the better. Whether they're into working out or just like to stay on top of their notifications without always being on their phone, an Apple Watch would be the perfect gift.
7
this cute frame
Hearts Design Mexican Tin (Hojalata) Picture Frame 7″ x 6″
Pop your favorite photo of the two of you into one of these frames for a simple yet sentimental gift.
8
this pair of statement earrings
Tulla Outline Threader Earrings
These two-tone oversized earrings are chic enough to go with nearly any outfit in their wardrobe.
9
this durable suitcase
The Frame Carry-On Max: Aluminum Edition
Arlo Skye
arloskye.com
$575.00
If you're already planning your next trip together (you know, once it's safer to hop international borders), go ahead and grab your spouse one of these best-selling carry-ons.
10
this bougie scent
Petit Grain 21 Vintage Candle/6.9 oz.
Le Labo
amazon.com
$103.99
I mean, how much more literal do you wanna get? This candle tin is not only super on-theme, it smells amazingggg, too.
11
this metal chain bracelet
Woven Chain Bracelet
Emanuele Bicocchi
farfetch.com
$499.00
Get 'em something they can wear every day (and be reminded of you every minute). 
12
this delicious tea set
The India Tea Couture Set of 3 Loose Leaf Tea Caddies
VAHDAM TEAS
nordstrom.com
$39.99
International travels may be restricted ATM, but a set of these three loose leaf teas (in cute tin containers) could transport your lover to India, if just for a moment.
13
this fan-favorite tote
Lucent PVC tote bag
Bao Bao Issey Miyake
matchesfashion.com
$427.00
If your partner is in need of a new everyday bag, then might I introduce you to this metallic one?
14
this super sentimental gift
Custom 10th Anniversary Star Map
ModernMapArt
etsy.com
$59.99
If you feel like making your spouse cry tears of nostalgia, get them this star map that shows what the sky looked like on your wedding night.
15
this fancy coffee machine
'50s Retro Style Espresso Coffee Machine
SMEG
nordstrom.com
$514.95
This is as much a gift for you as it is for them. Invest in this (super aesthetic) espresso machine for a happily caffeinated morning every. Single. Day.
16
these ceiling tile stick-ons
Ceiling Tile in Silver
American Tin Ceilings
wayfair.com
$2.20
Remodel the kitchen. That's your gift. Remodel the kitchen with these super easy-to-use stick-on "tin" tiles.
17
this bucket of candy
Chocolate Lovers Gift Bucket
DYLAN'S CANDY BAR
nordstrom.com
$75.00
Perfect if the love of your life has a raging sweet tooth. And hey, that tin bucket means it's on-theme. SOLD.
18
a romantic getaway
Tin Roof Cottage: Picturesque Cottage In The Heart Of Leiper's Fork
If you're both more into experience gifts, then take 'em on a romantic getaway to a cabin somewhere with a tin roof.  
19
these creative dice
Tin Date Night Dice
Anniversary Gifts
amazon.com
$16.99
Ten years is a lot of years, and you've likely exhausted all the date night ideas by now. Take the tough decision-making out of it with this pair of dice that'll plan out your date night for you.
20
this everlasting rose
Tin Anniversary 10 Year Everlasting Rose
Here's a romantic (and definitely on-theme) anniversary gift that they'll have forever.
21
this custom sign
Sound Wave Art 10th Anniversary Gift
ArtsyVoiceprint
etsy.com
$59.02
If you both have a song (or just really dig the one you had your first dance to on your wedding night), get it commemorated with this custom artwork.
22
this shiny cookware set
10-PieceStainless Steel Cookware Set
Cuisinart
amazon.com
$190.20
If your spouse loves to cook, upgrade your kitchen with some stainless steel cookware that'll definitely be in use every day.
23
a high-tech hair dryer
Supersonic™ Hair Dryer
Dyson
nordstrom.com
$399.00
If they almost never let their hair air dry (or you just feel like spoiling them with a fancy, new hair tool), then grab 'em this Dyson hair dryer that's designed to protect against extreme heat damage.
24
this mug that's always warm
Temperature Control Smart Mug
If you're married to a work-from-home warrior, gift them this self-heating mug so they won't have to leave their desk to reheat their coffee anymore.
25
this modern-looking electric kettle
Stagg EKG Electric Pour Over Kettle
FELLOW
nordstrom.com
$149.00
In addition to the sleek design, this electric kettle has a one-hour "hold" feature that'll keep the water still boiling hot, in case your S.O. isn't ready to use it all yet. And IDK about you, but that's worth hitting "add to cart" for me!
This content is created and maintained by a third party, and imported onto this page to help users provide their email addresses. You may be able to find more information about this and similar content at piano.io
Advertisement – Continue Reading Below
Most Related Links :
reporterwings Governmental News Finance News