Entertainment
Tonssss of Cute Gift Ideas for College Students Right This Way…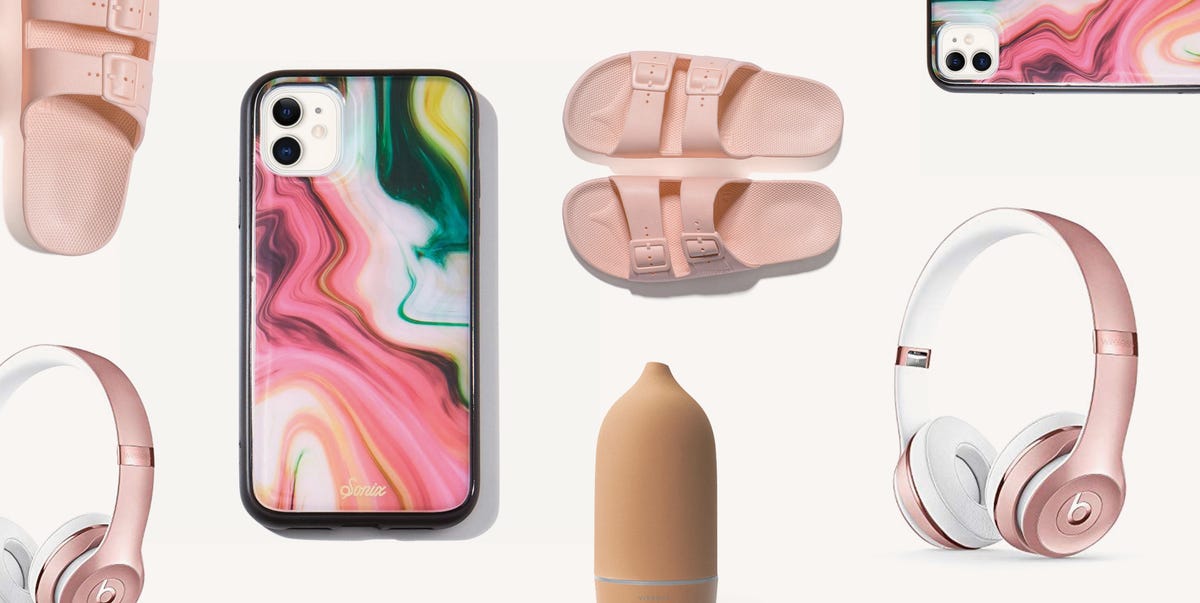 No doubt, college can be overwhelming under "normal" circumstances. But throw a global pandemic into the mix and, yeah, things are complicated! Since the college experience and guidelines vary from school to school, many students are learning remotely while others might still be attending smaller in-person classes or it might be a combination of both. There's also the stress of papers, tests, and possibly a part-time job on top of a pandemic. It's all understandably a hell of a lot to manage. While these gift ideas won't solve all their problems and worries, they can at least help a little and let them know that you're thinking of them with something nice.
Small gestures can go a long way! Consider upgrading their mini-fridge or gifting them a cookbook full of easy and fast recipes. You could also surprise 'em with a coffee maker that'll help them save money or a desk organizer to keep their space tidy and cute. There are tons of great gift ideas for college students, and we've got 47 of them, below. Whether they're on campus or attending class via Zoom, have a peek at our list. And if you want more resources, click to read student's experiences on a college campus during COVID and some advice from health experts about how to stay safe in your dorms.
Advertisement – Continue Reading Below
1
if they're big on interior design
Retro Mini-Fridge with Dual Door True Freezer in Blue
Galanz
homedepot.com
$269.99
Finally, a mini-fridge that won't ruin the room's aesthetic.
2
if they could use some rest
In the Wild Throw Blanket
BAREFOOT DREAMS
nordstrom.com
$180.00
They'll loooove snuggling up in this comfy blanket in between classes.
3
if they love fitness
Tie Dye Seamless Bra (Regular & Plus Size)
GOOD AMERICAN
nordstrom.com
$29.40
A cute sports bra they'll wanna wear even on their off days.
4
if they love baby pink
BABY Slides
Freedom Moses
freedomoses.com
$45.00
A pair of slides they can easily slip on and off is perfect for dorm life.
5
if they could us a calming mist
Herbal Mint Focusing Mist
Inside Outer Beauty Market
iobeautymarket.com
$17.95
This aromatherapeutic room spray is designed to help calm nerves. Show me a college student who wouldn't want that.
6
if they wanna feel secure
Portable Safe
Master Lock
amazon.com
$26.59
This lil portable safe will keep their valuables, uh, safe while living away from home.
7
if they love to snack
Microwave Popcorn Popper
Ecolution
amazon.com
$19.99
Whether they're pulling all-nighters or doing movie nights, having something to snack on is key. And this microwavable popcorn popper will change the game.
8
if they wanna tune out the world
Beats Solo3 Wireless On-Ear Headphones
Beats
amazon.com
$199.95
$126.66 (37% off)
Treat your giftee to a set of seriously high-quality headphones. They're great for walks to class, focusing in the library, or just relaxing in the dorm.
9
if they love breakfast
Mini One-Slice Toaster Oven
DASH®
bedbathandbeyond.com
$34.99
Imagine how clutch having a tiny toaster oven within arm's reach would be.
10
if they love a good-smelling room
Stone Diffuser
Vitruvi
vitruvi.com
$119.00
Is it just me or is this scent diffuser gorgeous??? 
11
if sitting at a desk isn't their thing
Home Office Lap Desk with Device Ledge
LapGear
amazon.com
$29.99
Here's a must-have for working and studying from bed. And, yes, it even has a place for their phone!
12
if they maintain their curls
Briogeo Curl Charisma Rice Amino Avocado Leave-In Defining
Briogeo
amazon.com
$20.00
This leave-in cream will rejuvenate and define their curls, and it's paraben-, sulfate-, and silicone-free. 
13
if they're into self-care
Matte Gold Sensitive Skin Razor
THE SINGLE
ouithepeople.com
$75.00
A bougie gold razor will give them the smoothest. Skin. EVER. 
14
If they need a care package
Beauty & Self-Care Subscription Box
Cocotique
amazon.com
$25.00
They'll never run out of essentials if you gift them a monthly subscription like this one filled with everything from deodorant to razors to makeup.
15
if they run on caffeine
K15 Coffee Maker
They'll be forever grateful for a Keurig that makes a fast cup of Joe when they're cramming for an exam. Plus, the mini size is perfect for a college dorm or smaller room.
16
if they need organization
Rose-Gold Desk Organizer
They won't have a cluttered desk thanks to this rose-gold tray that fits all sorts of office supplies.
17
if they love changing their case
Agate iPhone Case
The ones who change their cell phone case as often as they switch their nail color will love adding this adorable marbled case to their collection.
18
if they finally have their own kitchen
12-Piece Aluminum Cookware Set
Rachael Ray
amazon.com
$159.99
Cooking can be a hassle when you have a shared kitchen, but if they're in their own apartment, they'll definitely use a cookware set—especially one in a gorge blue shade.
19
if they have lots of thoughts
CEO Notebook
CopperandBrassPaper
etsy.com
$10.00
A journal is a great present where they can take time away from their busy schedules, self-reflect, and write down their goals.
20
if they want a break from the bakcpacks
Oroo Tote
AAKS
garmentory.com
$324.00
A pretty bag that can hold their laptop and books will definitely come in handy when they're making trips to the library.
21
if they're into athleisure
Workout Tank Tops
icyzone
amazon.com
$23.99
Workout tanks are ideal for any kind of activity, whether it's running, lifting, or yoga. This set includes three pieces that are so comfy, they'll wear them even when they're not working out. 
22
if they like to be cozy
High-Waist Yoga Pants
Speaking of being comfortable, a pair of leggings is the perfect present for students. It has a convenient phone pocket and lots of stretch, so they can wear it everywhere.
23
if they hate doing laundry
Febreze Fabric Refresher, Odor Eliminator Extra Strength + Unstopables, Fresh Scent, 2 Count
Febreze
amazon.com
$11.99
Laundry day in college = lugging it to a washing machine in the basement or a laundromat five minutes away. A quick spritz of these guys, and lightly worn clothing will smell like new—so they can procrastinate just a bit longer on washing their things.
24
if they want color in their room
Mini White Ceramic Succulent Planter Pot Set
StarPack Home
amazon.com
$15.97
Rooms can be uninviting when the walls are stark white and there aren't any decorations. Liven theirs up with a trio of baby succulents!
25
if they want a nice sheet set
Percale Sheet Set
Riley Home
rileyhome.com
$99.00
Sometimes a fresh set of crisp sheets and pillowcases makes a world of difference. This percale set will make them feel like they're in a luxurious hotel and not sharing their space with a roommate.
26
if they're always freezing in bed
Down Comforter
Brooklinen
brooklinen.com
$249.00
A plush down comforter will be a game changer in their lives, especially in the wintertime.
27
if they need functinal shoes
Tree Dashers
Allbirds
allbirds.com
$125.00
A pair of super-comfortable, bouncy sneaks definitely makes any trek easier.
28
if they want more storage
Matte Black Double Hook
You can't get through the dorm room experience without a plethora of Command hooks. They save floor space, they're easy to use, and some styles are upgraded with matte metal or brass so they look polished. This black double hook is perfect for scarves, keys, or whatever else they wanna hang up.
29
if they have heavy textbooks
Metro Convertible Backpack
A soft quilted backpack will make carrying all their sh*t so much more manageable, and this style will last even beyond college.
30
if they love tunes
One SL
A WiFi, portable speaker is basically a must-have when they wanna turn up their favorite song.
31
if they're sentimental
Everyday Photo Book
Artifact Uprising
artifactuprising.com
$59.00
A stylish photo book they can keep their most prized pics in makes a great gift—and it happens to look so good on any table.
32
if they love to lounge
Silky Satin Pajamas Short-Sleeve Set
Serenedelicacy
amazon.com
$25.99
Give them a comfy striped pj set for those late-night study sessions or just for when they don't want to leave their room.
33
if they like to take pics
Instax Mini 9 Instant Camera with Film Twin Pack Bundle
Polaroids aren't going away anytime soon! They'll love having this mini Instax around to document their college years. 
34
if they walk everywhere
Women's Ballet Flat
Amazon Essentials
amazon.com
$21.20
A flexible pair of metallic flats is ideal for long days spent on their feet around campus, but they're pretty enough to wear out too.
35
if they like a polished mani
Salon Gel Polish – Starter Kit
Sally Hansen
ulta.com
$59.99
An easy way for a college student to save money is doing their own nails. Give them the gift of an at-home nail salon with a kit that includes an LED lamp, nail file, acetone remover, gel nail polish, and more.
36
if their phone is always dying
Gold MIXIT Metallic COLORMATCH Charge K
With a car charger, wall charger, and external charger, they can make sure their phone is on 100 percent at all times.
37
if they're a lil homesick
Scented Candle, Illinois
Give them a little piece of home with a candle from their state. Each one includes distinct scents representative of each place; this one features notes of "honeysuckle, lavender, and violets with hints of grain fields."
38
if tea is their thing
Porcelain Tea Mug with Infuser and Lid
Coffee not for them? A pretty mug made for sipping hot tea will be their go-to whenever they need a little pick-me-up.
39
if they're super spirited
Tailgate Women's UNC Tar Heels Colorblock Sweatshirt
They love representing their school, so get them a shirt with their college colors, like a cute striped sweater. 
40
if they're low on time
Nutrient Extractor
NutriBullet
amazon.com
$54.93
They might not have a lot of time to grab something, but a lightning-fast blender gives them a healthy smoothie they can take on the go.
41
if they want a durable shoe
Women's Cate Bootie
Whether it's raining or snowing or just plain chilly, you can't go wrong with a classic black ankle boot that's waterproof and holds up through anything.
42
if they want to cook
Recipes Every College Student Should Know
An easy cookbook that has recipes for healthy snacks, meals, and desserts will get their culinary skills goin'.
43
if they want to treat themselves
Coconut Coffee Scrub
frank body
ulta.com
$18.95
For their self-care Sundays, a kit that includes an exfoliating coffee scrub is one they'll use consistently.
44
if they need a pick-me-up
Colour Therapy Set Enamel and Gold-Tone Bracelets
Roxanne Assoulin
net-a-porter.com
$150.00
A stack of colorful bracelets they can wear all together or separately will help cheer them up. 
45
if they're cooking up a storm
18 Piece Glass Food Storage Containers with Lids, Glass Meal Prep Containers, Glass Containers for Food Storage with Lids, BPA Free & Leak Proof (9 lids & 9 Containers)
A college student can NEVER have too much Tupperware, and if they usually meal-prep, these blue-accented glass ones will keep them organized.
46
if they like a touch of gold
Love Language
Humans Before Handles
humansbeforehandles.com
$45.00
Heart-shaped lock earrings are a simple yet cute gift for anyone who's into gold jewelry. 
47
if they forget to hydrate
Motivational Glass Water Bottle
HydroMATE
amazon.com
$19.98
Downing eight glasses a day is a little harder than you think, but a water bottle like this makes sure even the busiest college student gets proper hydration.
This content is created and maintained by a third party, and imported onto this page to help users provide their email addresses. You may be able to find more information about this and similar content at piano.io
Advertisement – Continue Reading Below
Most Related Links :
reporterwings Governmental News Finance News