Entertainment
Wow, Um, Paris Hilton's Net Worth Is About to Be Even Higher Than Her Parents'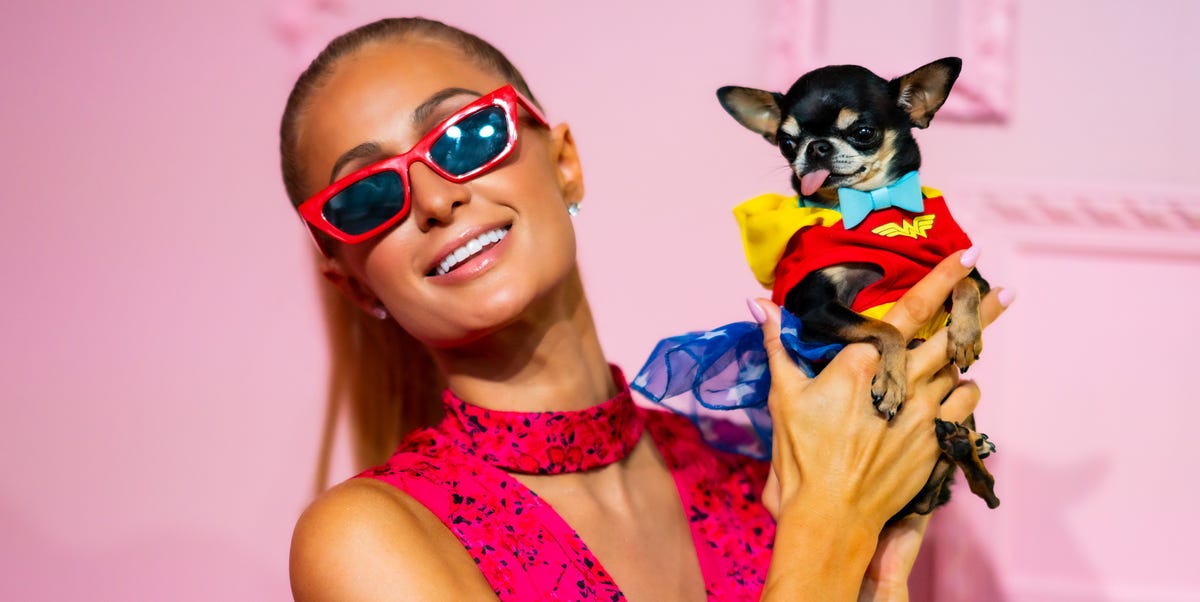 Things I've learned from Paris Hilton: always cook your bacon on a scalding hot iron, watch out for your closet organizer because she WILL get more famous than you, and it's probably a good idea to launch a casual DJ career because it might help you become a multi-millionaire.
Which brings us to Paris's truly astounding (and entirely self-made, FYI!) net worth. While this legend is, duh, an heiress to the Hilton hotel fortune, she's also a straight-up entrepreneur who has earned her own income instead of coasting on her family's money. And thanks to her extreme hustle, Paris is sitting on almost as much wealth as her crazy-rich parents. How did she do it, you ask? Perfume, tbh. But also a ton of other stuff, so let's dive in.
First, Let's Brush Up on the Hilton Family Fortune
In case the last name wasn't a tip off: Paris is the great-granddaughter of Conrad Hilton, founder of the Hilton hotel chain. And this dude was, like, RICH rich. Conrad had a net worth of $1 billion when he passed away, and left most of the money to his foundation. However, his son Barron (Paris's grandfather!) contested Conrad's will and ended up getting four million shares of the Hilton hotel enterprise.
But plot twist: In 2007, Barron casually revealed that he'd be leaving the majority of his massive multi-billion fortune to his foundation, low-key cutting heirs including Paris and her sister Nicky Hilton (not to mention their parents) out of the bulk of the inheritance.
This is obviously a lot of money, but the thing is—even without Grandpa Barron's wealth, Paris's family is still incredibly rich thanks to her father Richard Hilton forming a super successful real estate business that earned him millions. He and his wife, Real Housewives of Beverly Hills icon Kathy Hilton, have earned themselves a total net worth of $350 million—which Paris and her siblings stand to inherit.
But again, Paris doesn't even need their money 'cause….
Paris Has a Perfume Empire
I know, right? Who knew. Not moi. But Elle reports that, as of 2020, Paris's many, many fragrances have generated over $2.65 billion in gross revenue, accounting for the majority of her massive net worth.
Her Brand Just Surpassed $4 Billion in Revenue
It's not just perfume. Over the years, Paris has had her own clothing, accessories, and even pet toy lines. Back in 2011, she told Piers Morgan that she was earning over $10 million from her various products, saying, "Having the last name Hilton, people think everything was handed to me and I've never had to work a day in my life. But in reality, I've worked so hard, I've done this all on my own, I don't take anything from my family, I've done this all by myself."
More recently, Variety reported that Paris's brand (which consists of 45 stores, 19 product lines, and 27 fragrances) has surpassed $4 billion in global revenue. The outlet also notes that in addition to all that $$, she has brand partnerships, a podcast, a production company under Warner Bros. and an upcoming reality wedding show. Not to mention her current cooking show with Netflix!
This content is imported from YouTube. You may be able to find the same content in another format, or you may be able to find more information, at their web site.
Paris Also Makes a Ton of Cash for Appearances
TBD on what Paris made for all five seasons of The Simple Life, but we know she commands a high fee in general. In 2012, she was paid $1 million for appearing in a Kim Jang Hoon music video. And speaking of appearances…
This content is imported from YouTube. You may be able to find the same content in another format, or you may be able to find more information, at their web site.
She Was the Highest-Paid DJ of 2014
Back in her DJ heyday, Paris was paid massive amounts to play, and confirmed to the New York Post that she sometimes earned as much as $1 million per appearance:
"I don't want to be bragging, but it's great to be paid well for what you love doing. My mother always told me it's not polite to discuss money, but it's true. I'm very proud. I've worked hard."
But even before she DJ'd, Paris was paid to party. "It started when I was 16 and first moved to New York City, and I just started getting offers to go to different events," she told Ocean Drive. "Then, all of a sudden it was like, 'We're going to pay you a million dollars to come to Japan'… and my sister and I started going around to different events and parties…And then from there, George Maloof called me. He said, 'Paris, I'm opening the new Palms Hotel in Las Vegas, and I would love to fly you down in a jet, and I want you to wear this million-dollar dress. It has a million dollars' worth of the Palms' gambling chips on it, and I will pay you to come.'"
And reader, she did:
No, She Didn't Profit from Her Sex Tape
Paris's ex-boyfriend Rick Salomon released an unauthorized sex tape without her consent, which is disgusting and should never have happened. He earned millions from selling the tape, and some people have incorrectly assumed that Paris got a cut of profits. Not so much. "[I] never made a dollar," Paris told TMZ. I make enough money in nice ways. My fragrance makes enough, I don't need to worry about that."
She Owns Some Super Expensive Real Estate
Just a casual mansion worth millions, no worries!
This content is imported from YouTube. You may be able to find the same content in another format, or you may be able to find more information, at their web site.
So, What's Paris Hilton's Total Net Worth?
That'd be $300 million, according to Celebrity Net Worth, which is literally almost as much as her parents' fortune and they've had twice as long to make their money. Said it once but shall say it again louder for the people in the back: She! Is! Sliving!
This content is created and maintained by a third party, and imported onto this page to help users provide their email addresses. You may be able to find more information about this and similar content at piano.io
Most Related Links :
reporterwings Governmental News Finance News