Entrepreneurs
4 Work Conversations That Are Infinitely Better Over Zoom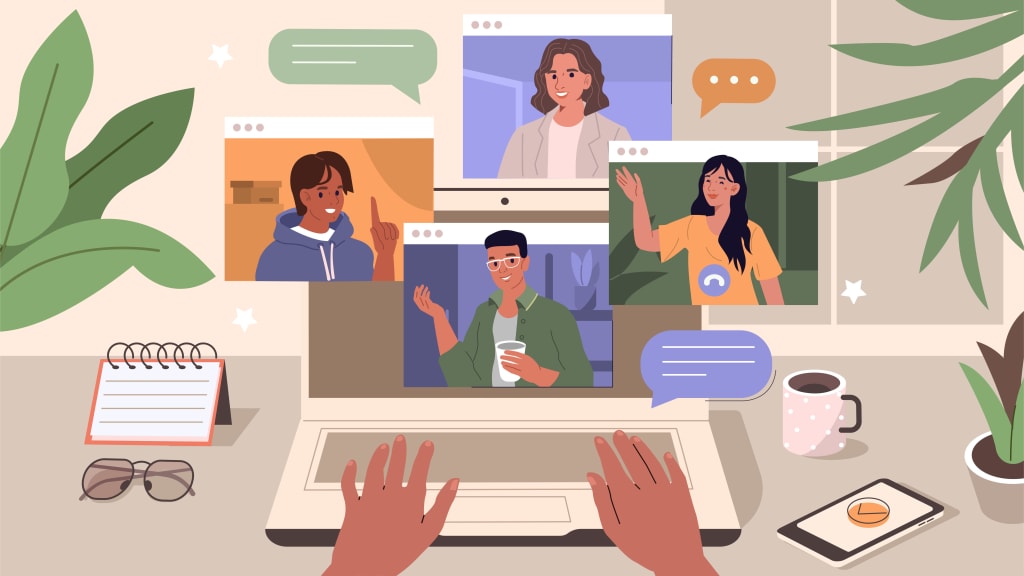 Our first product was supposed to be made for our times: digital business cards allowing people to share what they could offer new contacts, and what they could provide in return. We'd just quit our jobs at Google to pursue this dream and moved to Colorado to begin TechStars Boulder. Cue the terror.
It seemed unfathomable that we were going to build a company built around connection while isolated in individual Boulder apartments, but we saw an opportunity as culture forged toward a remote workforce operating over Zoom, and expanded in reaction to a new world. Not only did we decide to build software that would make it easier to build connection over video chat with Warmly, but we also saw firsthand how some conversations could be infinitely better done virtually. That's right — not just good enough, but better over Zoom.
Here are four such conversations. 
First-time Meetings: Mispronunciation Mishaps 
How many times have you been nervous before meeting someone for the first time, because you're unsure how to pronounce their name? If a new contact's name is not in your original language, you might find yourself Googling, researching and just hoping you don't bungle that first impression. The same feeling might arise if you're unsure of a person's pronouns, and don't want to act like you're simply making assumptions.
In a virtual world, imagine popping into a first meeting with someone new, briefly muting your call, and playing an audio clip of the name pronunciation before speaking it aloud for the first time. Well, it's real; we built that feature into Warmly. In our next iteration of the product, we plan to have a person's phonetic pronunciation and pronouns in the corner of your screen on Zoom, as well, so you never have to second-guess yourself. 
Team Meetings: Chatty Charles
During team meetings, it's common for those people in positions of power — often white men — to dominate the airtime. They speak the most and loudest, which is reflected in the culture and leads to a less-diverse set of ideas. 
The concept of "meeting equity" is something I'm extremely excited about. Today, apps like Macro can capture the conversation in each meeting, and then recap which people spoke the most and least during the interaction. In the future, I imagine a technology where you can get this information in real time, and you'll be prompted — for instance, "Donna hasn't spoken much; why don't you ask her what she thinks?" — when it's time to create space for someone to speak up. 
Fundraising Pitches: Stale Salesmanship Standards
If you've ever raised a round of funding as a founder, you probably know the standard formula for pitching: Create a deck, and walk the investors through about 15 slides covering the big vision, business model, total addressable market, and fundraising stats. As a first-time founder who raised a seed round over Zoom, I was nervous to chart my own course here. But then I realized, why do these rules even exist? I adapted the formula by shortening the slide deck and focusing more building rapport with my investor audience instead of throwing out statistics. I even discovered companies like mmhmm, which make Zoom presentations vastly more fun and interesting with custom backgrounds and unique animations. We built Warmly especially with rapport-building in mind. The product pulls background information on every new person you meet, helping manage back-to-back meetings or pitches with ease.
Hiring Interviews: Technical Difficulties
In five years, I think everyone will be interviewing virtually, as advancing technology will allow the interviewer to combine soft skills and technical knowledge into one smart process. For example, one of the biggest problems in the hiring process today is that many companies don't trust their technical leaders to interview candidates; they hire great engineers because they know how to code, not because they know how to best represent the company to potential new hires. That said, HR leaders don't really have the technical knowledge to ask the best questions of these candidates.
With smart technology and recorded virtual interviews, an AI Personal Coach could instruct each interviewer on what to say — whether they need to remind them to explain the company culture and values, or to ask the right engineering questions that will give the team a sense of their technical skills. If the person's already been asked how they'd architect a depth-first search versus a breadth-first search, they don't really need to be asked again, right? Products like Luma allow for a smarter process; interviewers can catalog the types of questions that have already been asked of the interviewee and recorded, allowing the process to be more efficient and less repetitive. 
Can Conversations Really Be Better Remotely? Absolutely
As Covid vaccine efforts accelerate, we're excited to see the world opening up again. There are some conversations and relationships that are better developed in person, like happy hours with colleagues with whom you've been working on a company remotely for over a year — something our team at Warmly is excited to do again. But if Covid taught us one thing, it's the infinite potential of a hybrid remote workplace with different forms of interaction. For instance, at Warmly, we've deemed hiring onsites a thing of the past; we never plan to interview in person again.
Most Related Links :
reporterwings Governmental News Finance News