Entrepreneurs
Move Over Gatorade. This Family-Built Brand Is Winning in the $33 Billion Sports Drink Market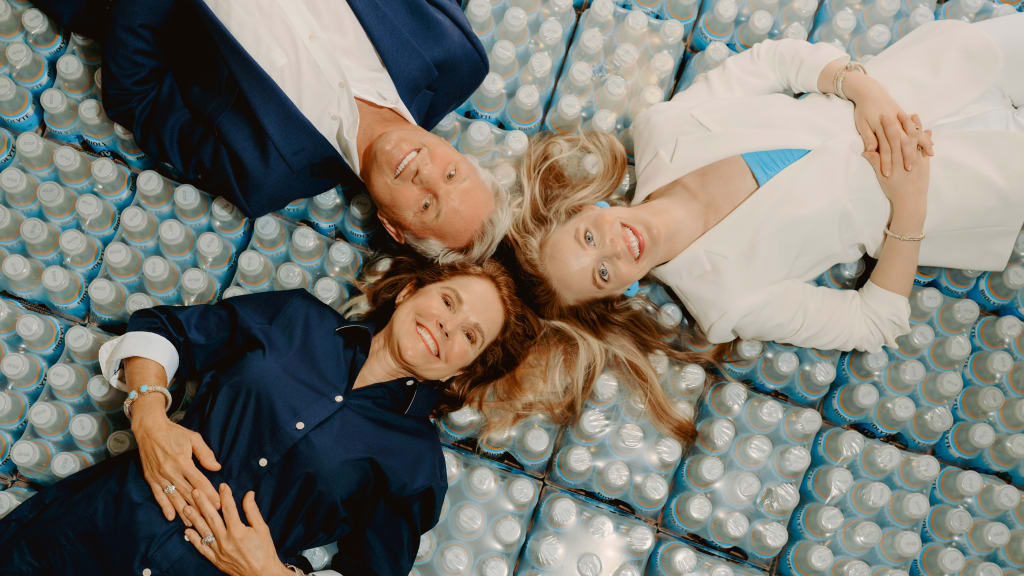 In 2012, to help her mother through chemotherapy, Jesslyn Rollins's father began developing a hydration drink meant to work like an over-the-counter IV. Now, 10 years later, Biolyte, of Marietta, Georgia, is booming, having booked nearly $17 million in sales in 2021. It's well poised to keep growing, too: The global electrolyte drinks market is projected to reach $56 billion by 2030, up from $33 billion in 2020, according to Allied Market ­Research. Here's how Rollins, 30, went from selling out of the back of her car to landing major retail deals across the country. –As told to Brit Morse
My mom learned she had breast cancer in 2005. As she was going through her chemo treatments, our family tried everything to keep her hydrated–sports drinks, children's hydration products, electrolyte powders–and nothing was working well enough. She kept having to get IV bags.
My dad is a physician–an anesthesiologist and pain specialist. He had all these years of experience tailoring his patients' IVs with nutritional supplementation. His concoction seemed to help my mom, so he took about $750,000 of his own money and created a product that would be like an IV in a bottle. It would have electrolytes and liver detoxifiers–without all the sugar–to relieve the headaches, fatigue, and nausea of dehydration that can arise from medical treatments or too much alcohol or simply not drinking enough water. To put it in perspective, you would have to drink close to seven bottles of the leading sports drink to equal the amount of electrolytes in one bottle of Biolyte.
I didn't know about what he'd done until four pallets–5,184 bottles–arrived at my parents' house in July 2016. My dad had been working on the project in secret. At the time, I was selling tickets at the Laughing Skull Lounge, a comedy club in Atlanta, and he told me to try the product for myself after a night of drinking. So that's exactly what I did. I went out with my friends, drank way too much, and woke up the next morning feeling nauseous with a very bad headache. Dad told me to pour one bottle of Biolyte over ice, drink it all down, and set a 30-minute timer on my phone.
No joke–down to the wire at 28 minutes, my nausea and headache started to subside. That's when I knew we might have something. I was concerned that my data might be flawed: Of course I wanted my dad's drink to work, and maybe I was biased. So my next step was getting other people to tell me that it worked.
I loaded some of it up in my Toyota Highlander and went to the local high school. I talked to the athletic trainer and suggested he give it to players on the football team. He gave a bottle of Biolyte to 10 guys who habitually cramped up, and for the first time, he said, nine of them did not cramp at all during a game. That's when I realized how popular the product could be. From there, I drove around and sold it to teams all across the Southeast.
A few months later, my brother-in-law, who works in the wine industry, told me that if I really wanted to grow the business, I'd need to get a distributor. He introduced me to someone at Savannah Distributing who set up a meeting with Randy Waters, head of the all-natural division for Kroger Atlanta. I showed up with a rolling cooler of Biolyte and three copies of my 10-page sales presentation.
My pitch was that Biolyte was the natural evolution of recovery. I had this chart mapping the evolution of man: The cave man was your average sports drink and Biolyte was the fully evolved human. There were plenty of opportunities for him to try Biolyte, but he never did, so I thought I bombed. At the end of the presentation, he told me he was going to put the product in hundreds of Kroger stores in various states. I thought I didn't hear him correctly, so I said, "Wait, Randy, just to confirm–you like Biolyte?" He said, "Yes! I'm going to put it into Kroger!"
That first year, when I sold Biolyte out of my car, we did $157,000 in revenue. When we started to expand, I saw that we needed true hierarchy and leadership. My dad was CEO but he was not performing the typical duties–he didn't have the time. I wanted to lead Biolyte, so over the course of two years, I pitched my parents on why I would be a great fit. They turned me down multiple times, but I finally earned the title in 2019. We're now in almost 20,000 retail locations.
As for my mom? She is thriving and in remission–and our family has never been stronger. This feels like a mission we built together, and I hope it stays that way.
From the September 2022 issue of Inc. Magazine
Most Related Links :
reporterwings Governmental News Finance News