Health
Excess Fertilizer Causes a New Challenge: Low Crop Yields During Drought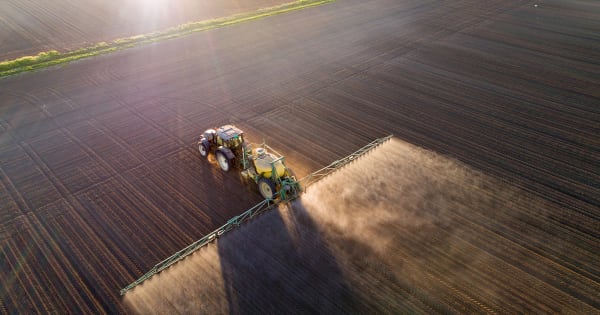 "They only hit it one or two times a decade. I was watching these guys borrow a million dollars for cattle and plants that can die," says Haney. "They can't really control how much money they spend on equipment, or almost anything, but they still control how much fertilizer they apply."
On most conventional farms, fertilizer is a necessity that allows farmers to maximize their yields year after year. But historically, their use has also created problems: fertilizers have facilitated large-scale monocultures, disrupted ecosystems, and largely minimized the need to monitor long-term soil health. And, on a practical level, over-fertilizing crops can lead to unintended consequences.
A growing body of research suggests that in addition to downstream "dead zones" and algae blooms, excess fertilizer can often also hurt crop yields, especially grass crops like wheat and corn, during droughts because of soil eutrophication—a buildup of nutrients that lets plants grow so quickly, they can choke themselves out.
Now, a new study published earlier this year in Global Change Biology provides further evidence that excess fertilizer applied during a drought year can create a boom-and-bust season because of the crops' struggle for water. The study is part of an international collaborative experiment called the Nutrient Network (NutNet for short), which comprises a patchwork of 130 carefully monitored and managed grasslands across six continents. The project allows hundreds of ecologists, soil scientists, and agronomists to track ecosystem responses to climate change under different conditions around the world.
Does Fertilizer Help or Hinder Crops During Drought?
Most Related Links :
reporterwings Governmental News Finance News