Health
In New Mexico communities dependent on aquatic recreation, worsening drought could be disastrous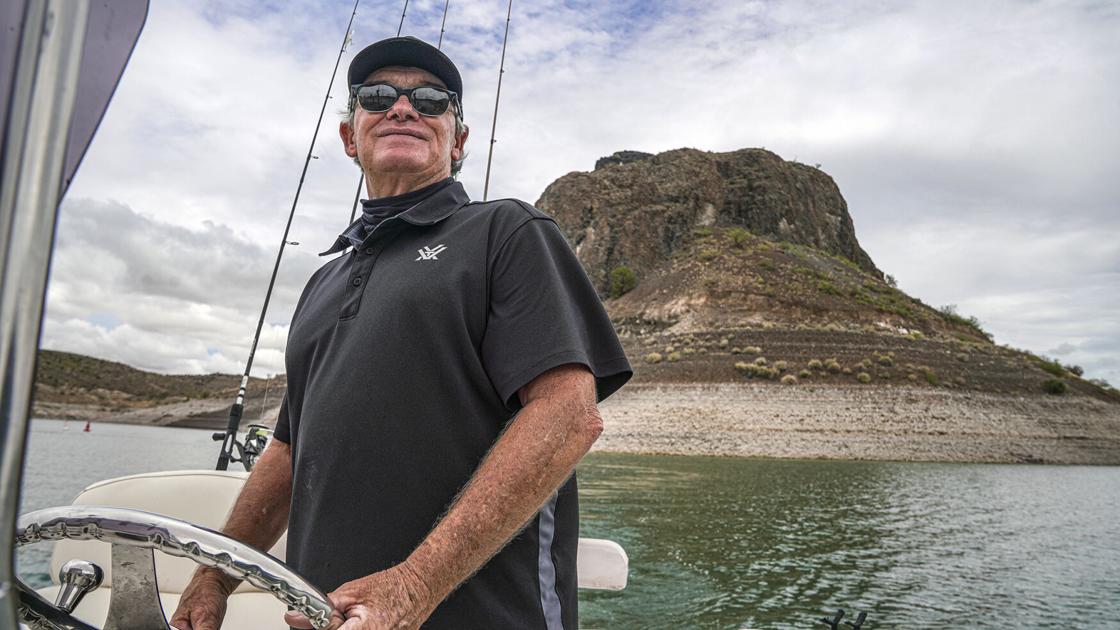 From the base of Elephant Butte Dam, the scale of the reservoir's decline is evident.
The high-water mark — visible way up on the gray concrete wall — shows the last time the lake reached full capacity, in the late 1990s, when a surplus of water would periodically rush through the spillway into the Rio Grande below.
"We used to drive over the dam and then dive into the lake," Billy Jack Miller said as he piloted his boat away from the dam and toward the lake's namesake — an elephant-shaped butte. "If you jumped now, you'd die," he said of the treacherous drop to the water below.
Miller, 67, is a fifth-generation New Mexican who has been coming to Elephant Butte Lake since he was a boy. He moved here permanently from Santa Fe in 1999 to start a fishing company, Rio Grande Guide Service, and live out his life on the water.
"The lake used to be 44 miles long," Miller said, expertly maneuvering the boat between the green and red buoys that guide boaters through shallow areas. "Now it's six or seven, as the crow flies."
Mary Carlson, a spokeswoman for the U.S. Bureau Of Reclamation, which manages Elephant Butte Lake and other reservoirs throughout the state, said it is now filled to just 7 percent or 8 percent of its capacity.
By August, she said, the lake is projected to be at 1 percent.
"It's this drought," Miller said. "It just keeps going."
In New Mexico and across the Southwest, a two-decade drought has led to low water flows in streams and rivers and dramatically shrinking reservoirs. The steadily dropping supply of surface water has put a strain on communities that tap into it for household and business use and farmers who rely on the release of stored water to irrigate their fields.
The declining lake levels also have created concerns of recreational tourism dwindling in lake-dependent communities.
"The impact to our county is almost immeasurable," Rio Arriba County Manager Lucia Sanchez said of the thousands of summer visitors at lakes in her sprawling county, including Heron, El Vado and Abiquiú.
"People come to hunt, fish, camp and raft. They are visiting our convenience stores, our farmers markets," Sanchez said. "Fewer locals and visitors on the water equate to less economic activity."
Carlson said all of the New Mexico reservoirs managed by the Bureau of Reclamation are at 20 percent of capacity or less. "The primary cause," she said, "is continued drought."
The effects of climate change — declining snowpack and higher temperatures — have reduced reservoir levels in the Colorado River Basin over the past 20 years, which subsequently reduces flows to New Mexico, said Los Alamos National Laboratory hydrologist Katrina Bennett. "That water isn't being replenished. That is a huge concern."
Cody Johnson, a spokesman with the New Mexico Tourism Department, said boating and other lakeside activities are a small percentage of the state's overall tourism, but they are crucial for the economies of certain communities.
"It certainly means a great deal to communities like Elephant Butte and Truth or Consequences that rely on that nearby lake recreation," Johnson said.
Neal Brown, owner of Marina Del Sur at Elephant Butte, made similar remarks. "I don't think there is anyone else in the state as dependent on the water" as those two towns, he said.
Elephant Butte is a town tied to its reservoir. When the dam was completed in 1916, it was the largest in the world. Today, Elephant Butte Lake remains the largest body of water in New Mexico and a significant source of tourism for Sierra County and the state.
Evaristo Giron, southwest regional manager of New Mexico State Parks, estimated the number of people who flock to the popular Elephant Butte State Park, which lies along the lake: "Roughly 1 million visitors a year."
"Three-fourths of my clients are out of state," he added.
Hundreds of recreational vehicles were parked near the water one day last week in preparation for the Fourth of July, with campers taking advantage of new real estate around the lake created by the declining water levels.
"They will be four deep by the weekend," Miller said of the RVs.
Brown noted the economic importance of the holiday weekend: "It's our Christmas," he said.
Elephant Butte Lake — vast, shallow and subjected to Southern New Mexico's arid heat — has the highest evaporation rate of any significant reservoir in the state.
"We don't have that problem," said Nicole Bridge, manager of Sims Marina at 400-foot-deep Navajo Lake, near Farmington in Northern New Mexico. "Last time I checked, we were above 60 percent."
Jeff Marks, an Albuquerque resident who likes to go to nearby Cochiti Lake to escape the summer heat, said, "I think they should keep the water in the northern lakes. Deeper and cooler make more sense."
Many in the southern part of the state see the problem not as where to store the water but how to manage it.
State Rep. Rebecca Dow, a Republican from Truth or Consequences, said watershed restoration, vegetation management and infrastructure need to be improved to enhance water delivery throughout the state.
"Water is life. What happens at Elephant Butte will soon be happening to a lake and reservoir near you if we do not do large-scale interventions," Dow said.
Elephant Butte Mayor Edna Trager, speaking from City Hall about the root causes of the reservoir's decline, said she wonders at "what point is something going to be done to mitigate it."
The mayor and local business owners like Brown have been proponents of a "minimum pool" in the lake — a set amount of water to ensure it doesn't fall to the 1 percent projected later this summer.
"I would propose around 400,000 acre-feet," Brown said. "We need to come up with a plan on how to deal with it and not be a victim to it."
John Fleck, director of the University of New Mexico's Water Resources Program, boiled down the difficulty of keeping reservoirs filled to a higher capacity.
"If you shut down all the irrigation in the Middle Rio Grande Valley for a single year, that might save roughly 200,000 acre-feet," Fleck said. He noted the area includes the heavily populated Bernalillo County as well as Sandoval, Valencia and Socorro counties.
The water savings would not be enough to get Elephant Butte to 400,000 acre-feet, he said.
"We want to blame the problem on some upstream water management. … The reality is that we are all going to have to use less water," he said. "Ultimately, everyone has less water to work with."
It's a disappointment for Ed Crawford, a former track and field coach at New Mexico State University who said he moved back to the town of Elephant Butte three years ago to be near the water.
"I love to fish and was looking to be in warmer weather," he said, casting a lure from a small island that recently emerged as lake levels fell. "Now I'm like, 'What the hell was I thinking?' I came back to an empty lake."
For Miller, whose grandfather started visiting Elephant Butte in the 1930s, the lake is essential, even if it is low.
"Even at 7 percent, that's still a lot of water," Miller said, gliding in his boat past a few other fishermen toward the site where he said a "near-perfect" mastodon fossil was found years back.
"I'm out here 300 days a year," said Miller, a former civil engineer who retired early to be by the water.
"If I'm off the lake for three days, I start having withdrawals."
Most Related Links :
reporterwings Governmental News Finance News