News
Keep Your Outdoor Space Pest-Free With These Top-Rated Citronella Candles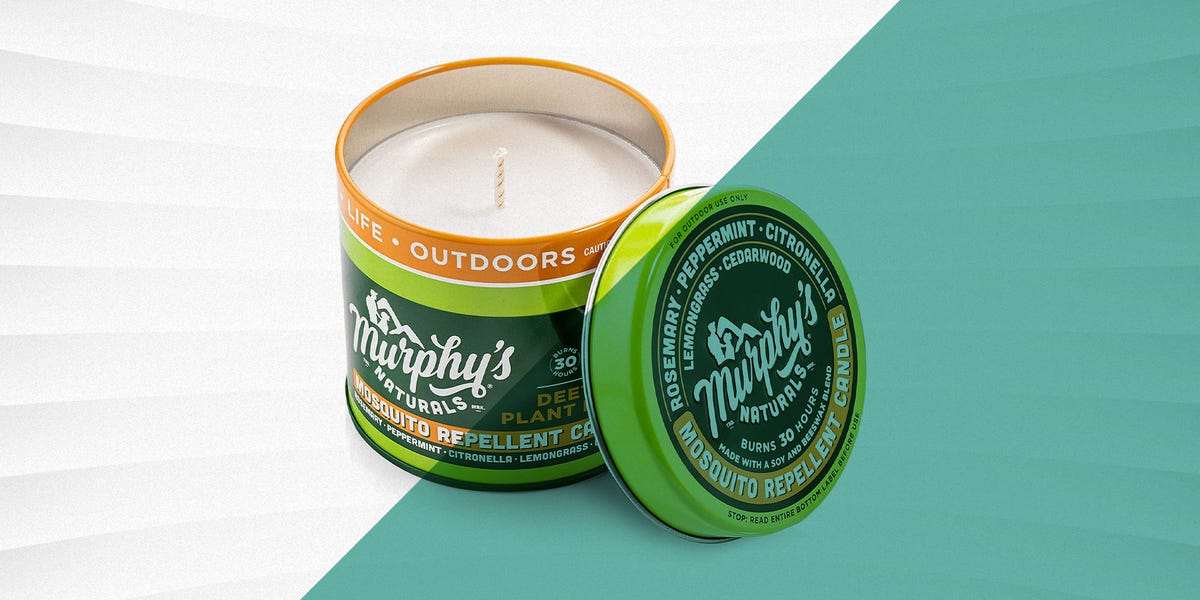 Staff, Courtesy of Murphy's Naturals
Whether you're dining under the stars, relaxing around the fire pit, or sitting on the beach at dusk, nothing kills the fun more than getting attacked by mosquitos, forcing a retreat to the house. While a bug zapper may get the job done, if it's ambiance you're after, a citronella candle is the way to go. They provide a lovely, soft glow, fresh smell, and keep the bugs away. Plus, even the priciest options are still relatively inexpensive, which means you can buy more than one—and you should—to get the best results.
Read on for our top recommendations, plus essential citronella candle info and advice before you shop.
What to Consider
Before focusing on a candle's size, burn time, and attractive packing, consider ingredients used to ward off bugs. Pure citronella is a natural essential oil that can help deter pests, though candles may only contain a small amount of it—like 3%, for example—with the other 97% labeled as "other" and not listed on the packaging.
Some candles have potentially harmful chemicals and must be used outdoors—and that doesn't include porches, semi-enclosed areas attached to the house, and certainly not inside tents. But there are also citronella candles made of all-natural ingredients, often beeswax or soy-based, and free of deet, parabens, artificial dyes, and other additives.
With that out of the way, aim to place candles roughly between 18 inches and 3 feet apart around the perimeter of your space, plus additional candles on tables and areas where people will be gathering and eating. Think of it as you would "layering" lighting inside a house: You'll want citronella candles of different sizes, and at different heights, for the most effective coverage. Also, while burn time generally increases with a candle's size, it isn't an absolute, because other variables can be at play. For example, a 16-ounce candle may have a burn time of one that's nearly twice its size.
How We Chose

There's certainly no shortage of citronella candles on the market to consider that suit a variety of uses—from camping to backyard barbecues to quiet evenings reading on the porch. All the ones we feature have an average customers ratings of four stars or more, and we cover candles across a range of styles and price points. You'll find a mix of basic, functional candles in addition to others with an eye toward style. We also include a mix of standard candles from names like Repel and Coleman and those made with all-natural ingredients.
1
Best Basic
Repel Citronella Candle
Key Specs
• Dimensions: 6 x 6 x 4 inches
• Size: 20 ounces 
• Burn Time: Up to 40 hours 
It's tough to beat the price of this 20-ounce, triple-wick citronella candle, which costs less than $7 at the time of this writing. 
It's cheap enough to buy several, and the smart, effective strategy is to do just that, and create a perimeter around your outdoor dining or lounge area. The candle is said to provide up to 40 hours of protection from mosquitoes and other flying insects, made with real citronella oil and has three wicks.
The candle has a rustic, woodsy look, and a metal handle to move it around once it's cooled. 
2
Best Value
Mainstays Citronella Candle (2-Pack)
Mainstays
walmart.com
$9.98
Key Specs
• Dimensions: 7 x 7 x 5 inches
• Size: 30 ounces 
• Burn Time: Up to 50 hours 
This two-pack of charming ivory citronella candles, housed in painted farmhouse metal buckets, are simple, elegant, and an excellent value, coming out to roughly $5 each. They also have a lip to prevent wax from dripping. with a burn time of up to 50 hours. Each candle has three wicks to shed plenty of light, and placing several candles throughout your space is recommended for the best results. 
These aren't as natural as some other options, containing only 3% natural citronella oil. The candles are also available in black and silver pails.
3
Best Votive Set
Candle Charisma Citronella Candles (Set of 72)
Candle Charisma
amazon.com
$25.49
Key Specs
• Dimensions: 1.3 x 1.3 x 1.2 inches 
• Size: ~1 ounce 
• Burn Time: Up to 10 hours 
Set several of these pretty yellow citronella votives on tables for intimate dinners for two or for larger parties to create ambience while keeping bugs at bay. There are 42 scented candles per box, roughly 1 inch tall with a burn time of up to 10 hours. They're also deet-free—a major plus. Keep in mind that the glass votive holders shown in the photo aren't included.
4
Best All-Natural
Murphy's Naturals Citronella Candle (3-Pack)
Murphy's Naturals
amazon.com
$29.46
Key Specs
• Dimensions: 4.5 x 1 x 1 inches
• Size: 9 ounces 
• Burn Time: 30 hours 
Each of the all-natural candles in this set provide "30 hours of bite-free bliss," according Murphy's Naturals, the North Carolina-based sustainably minded company. 
Their deet-free mini 9-ounce soy-based travel candles are one of their best-sellers, infused with four plant-based repellent oils in addition to citronella, including rosemary, cedarwood, peppermint, and lemongrass, plus they have all-cotton wicks. 
The candles also lack harmful dyes and perfumes, so they're safe to use around kids and pets—plus their tins are made from recycled materials.
5
Best Design
Candle by the Hour Citronella Candle
Candle by the Hour
amazon.com
Key Specs
• Dimensions: 13.5 x 5 x 5 inches
• Size: 11 ounces (candle only) 
• Burn Time: Up to 80 hours
We can't say enough about this all-natural citronella beeswax candle. For starters, its exceptional design—glass hurricane and copper-tone metal base included—is next-level in comparison to options. 
Also, considering its high-quality, upscale look and effective performance, its price point is shockingly reasonable. It offers an impressive burn time of up to 80 hours and is dripless when used properly, plus there's an extinguishing clip attached to ensure the flame is completely out.
6
Best for Camping
Coleman Citronella Candle Lantern
Coleman
bedbathandbeyond.com
$7.99
Key Specs
• Dimensions: 6.5 x 4 x 4 inches
• Size: 6.7 ounces (candle only) 
• Burn Time: Up to 50 hours 
This camping lantern from Coleman has a vintage look and a burn time of up to 70 hours. It features a long metal handle to easily carry it around the campsite (and to the bathroom at night), which doubles as a hook for hanging the lantern from trees to shed extra light for dinner  around the campfire. There's also a reusable cap to protect the candle from rain, pine needles, and other debris. 
While it's great for camping, it works just as well for backyard cookouts or early evening park potlucks on picnic tables. 
7
Best for a Camping Vibe
Coleman Tin Citronella Candle (3-Pack)
Key Specs
• Dimensions: 3 x 3 x 2 inches 
• Size: 6 ounces  
• Burn Time: Up to 25 hours 
For those who won't be sleeping in a tent anytime soon—but wish they could—lighting this set of citronella candles will transport you to the woods. They're infused with fave camping scents (think: s'mores and pine) to bring the great outdoors to your backyard, plus ward off biting insects They even feature special crackling wooden wicks to create the atmosphere of sitting around a campfire.
Get out the marshmallows, graham crackers, and chocolate bars and settle in for a cozy evening around the fire pit. 
8
Best Handcrafted
Farm Raised Candles Citronella Candle
Farm Raised Candles
amazon.com
$18.49
Key Specs
• Dimensions:
• Size: 16 ounces
• Burn Time: 80-plus hours 
This charming citronella candle looks fresh from a farmers' market stall—and for good reason. The 16 ounce all-natural candle is handcrafted, made with soy wax and infused with a plant-based blend of essential oils, including citronella, lavender, mint, and citrus, which all have properties to control bugs and pests. 
It doesn't contain parabens, petroleum, or other harmful chemicals like deet, plus is free from artificial coloring and dyes. For its size, the candle has an impressive burn time of roughly 80 hours. Plus, you can't beat its adorable packing and authentic Mason jar. 
9
Best Color-Changing
Coleman Color-Changing LED Citronella Candle (4-Pack)
Key Specs
• Dimensions: 3.3 x 3.2 x 3.7 inches
• Size: 8 ounces 
• Burn Time: Up to 25
To add some pizzazz to your campsite or backyard fete, this color-changing LED citronella candle is your best bet. It comes in a four-pack, so you can spread fun lighting around your space, and each 8-ounce candle burns for up to 25 hours. 
With no flame, they're safe to use around kids, and ideal for keeping the bugs away at outdoor birthday parties. The candle is set in embossed glass and comes with a wire handle. The pack is also a great value, with the candle coming out to roughly $5 each. 
10
Most Elegant
La Jolie Muse Citronella Candle
Key Specs
• Dimensions: 4.3 x 4.3 x 4 inches
• Size: 14 ounces
• Burn Time: Up to 50 hours 
This summery candle is a lovely accent for a bedside table or set on a tray next to an outdoor sectional. The 14-ounce natural wax paraben-free candle is made with 100% pure citronella oil extract, housed in a charming bright blue tin, with a lovely floral motif and handsome navy cover topped with a silver knob. The candle burns up to 50 hours and features lead-free cotton wicks, perfect for indoor or outdoor use.
This content is created and maintained by a third party, and imported onto this page to help users provide their email addresses. You may be able to find more information about this and similar content at piano.io
Most Related Links :
reporterwings Governmental News Finance News