News
Protect Your Vehicle's Interior With These Top-Rated Car Seat Covers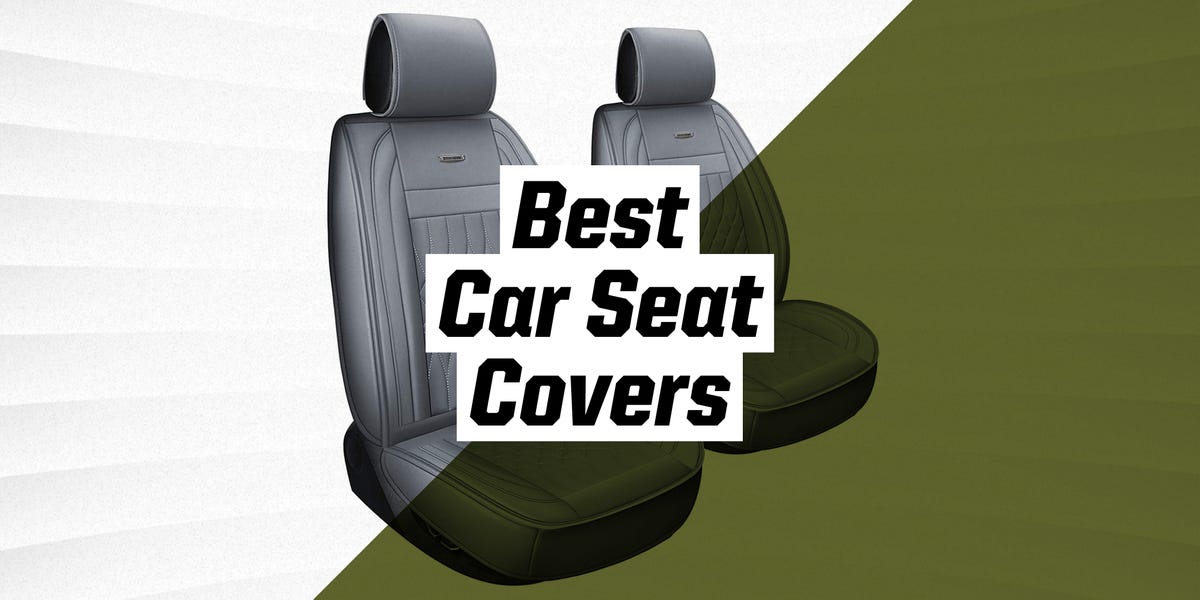 Whether you want to hide stains or prevent them, car seat covers are investment that can save you money and hassle in the long run. Sure, they may not look as good as the luxurious black leather you splurged on last-minute at the dealer, but there are options on the market that come close—plus you'll rest easy knowing there won't be an expensive repair job in your future or nasty surcharge at the end of your lease. Do yourself a favor now that will pay for itself later, and read on for our top recommendations.
What to Consider
The main considerations when buying a car seat cover boil down to material and aesthetics. Fabric options include polyester blends, faux leather, vinyl, and neoprene, and you can choose a cover that either blends in with your car's interior or accents it. There are styles that slip over the seat and others that strap around the back and attach to the headrest, plus some are specifically made to go under a child's car seat and to protect the backseat from your pet's sharp nails. Expect to find car seat covers sold singly or in sets of two or four.
How We Chose
Our selection includes the most popular car seat cover styles, all with ratings of four stars or more. Unless otherwise noted, most have a universal fit and work with the majority of cars on the road, plus they're designed for safety, so they won't interfere with seat belts or airbags. The car seat covers we feature below span a range of price points, from value to high-end, and we also highlight color options and mention if covers are available in sets.
Advertisement – Continue Reading Below
1
Our Value Pick
Pic Auto Car Seat Covers
PIC AUTO
amazon.com
$34.99
This set of high-back car seat covers look sharp and are a solid value, priced at $35 at the time of this writing. They're made from a polyester and elastic fabric, with three separate panels for a tight fit, plus mesh side panels on the seat and back for breathability.
The covers are said to be compatible with all side airbags, stitched in a way that won't interfere with them deploying. Bonus for easy cleaning, too, as the covers are washing machine. They come with elastic straps and hooks to install, and are available in three other color options.
2
Our Premium Pick
Oasis Auto Car Seat Covers
Oasis Auto
amazon.com
$99.99
If you're in the market for higher-end car seat covers, these are a smart bet. They're made from a soft, durable woven material and come in several two-tone color options with a sporty, retro '70s look, plus basic beige and black.
They're sold in sets of two and four, and front seat covers have slip pockets on the back. The covers work with seats that have detachable headrests and are said to be airbag- and armrest-compatible. Several buyers say that they're comfortable, fit well, and are easy to install.
3
The Faux-Leather Cover
Luckyman Club Car Seat Covers
Luckyman Club
amazon.com
$119.99
The attractive diamond quilting and sleek style of these faux-leather seat covers will elevate the overall look of your car's interior. 
They work with most sedans, SUVs and trucks, with the exception of the Toyota Tundra and Nissan Titan, and are said to be airbag- and seat belt-compatible. The front covers have two back pockets and separate pieces for the headrests, held in place with straps that tuck underneath, and there are also two straps on the back to keep the cover in place. You can't go wrong with black, but the gray is equally appealing.
4
The Eco Cover
Suninbox Buckwheat Hull Car Seat Covers
This set of ribbed car seat covers are designed to provide support and keep you cool and comfortable, as they absorb sweat and dissipate heat. They're filled with odorless, eco-friendly buckwheat hulls, with memory foam for cushioning and a breathable, linen-cotton blend fabric used for the covers. 
Silica gel beads on the back will keep them in place and there are separate pieces for the headrests, seats, and backs. The covers are said to work with 96 percent of cars on the road and come in gray, black and beige, plus they get an average 4.6 stars from nearly 450 customers. 
5
Best Waterproof Cover
Gorla Gear Car Seat Cover
These covers are the answer for anyone who throws an old towel on their car seat to mop up sweat after a gym workout. They're made from neoprene, a fabric that whisks away perspiration and stays cool, and they have an anti-slip backing and straps to prevent them from sliding down. Neoprene seat belt covers are thrown in as an extra and the covers work with bucket or bench seats. 
They're a customer favorite, with an average 4.6 stars from 4,675 reviewers, and they're available in four other colors and patterns in addition to black. 
6
The Ergonomic Cover
Black Panther Lumbar Car Seats Covers
Black Panther
amazon.com
$75.99
With built-in, non-removable lumbar support cushions, these ergonomic covers are designed to help relieve pressure on your back for long drives. 
They're made from faux leather, with luxe quilting on front, and their sideless design won't interfere with seat belts or airbags. They also have a rubber backing to prevent them from moving around. The seat covers are sold in black and gray in addition to the beige that's shown, and they're sold in sets of two and four.
7
Best for Infants
Munchkin Brica Elite Seat Guardian Car Seat Cover
Customers rave about Munchkin's Brica Elite Seat Guardian, with an average 4.8 stars from more than 5,400 reviewers. The covers are easy to wipe down, made from a single piece of vinyl, and they feature a rear-facing kick mat, a guard ring around the base to catch snack crumbs, and grips designed to keep your child's car seat from shifting around. There's also a high back panel that works with taller car seat models and an adjustable headrest attachment.
8
Best for Kids
Lebogner Car Seat Cover
These covers are excellent for kids in booster car seats, with five pockets to hold juice bottles, toys, and snacks, plus a slip case for an iPad or android tablet. The polyester seat cover's entertainment center clasps to the front seat's headrest, and the back cover has vinyl corners on the seat to keep your child's booster from shifting. There's also a mesh slip pocket attached to the back seat cover to keep things kids want most in close reach.
9
Best For Dogs
Active Pets Car Seat Cover
This durable, well-designed seat cover for dogs converts into a hammock so your pup can ride safely. It features four layers of fabric, including 600-denier oxford cotton, a waterproof polyurethane coating, and a nonslip rubber backing. The cover attaches to the back and front headrests and has side flaps to prevent your dog's nails from scratching your car's upholstery or leather seats. 
It's easy to wipe clean—you can even hose it down—and it works in most cars, trucks, and SUVs. Customers give it high marks, with an average 4.6 stars from more than 22,500 reviewers.
This content is created and maintained by a third party, and imported onto this page to help users provide their email addresses. You may be able to find more information about this and similar content at piano.io
Advertisement – Continue Reading Below
Most Related Links :
reporterwings Governmental News Finance News