Tech
Make Work More Enjoyable With the Best Standing Desks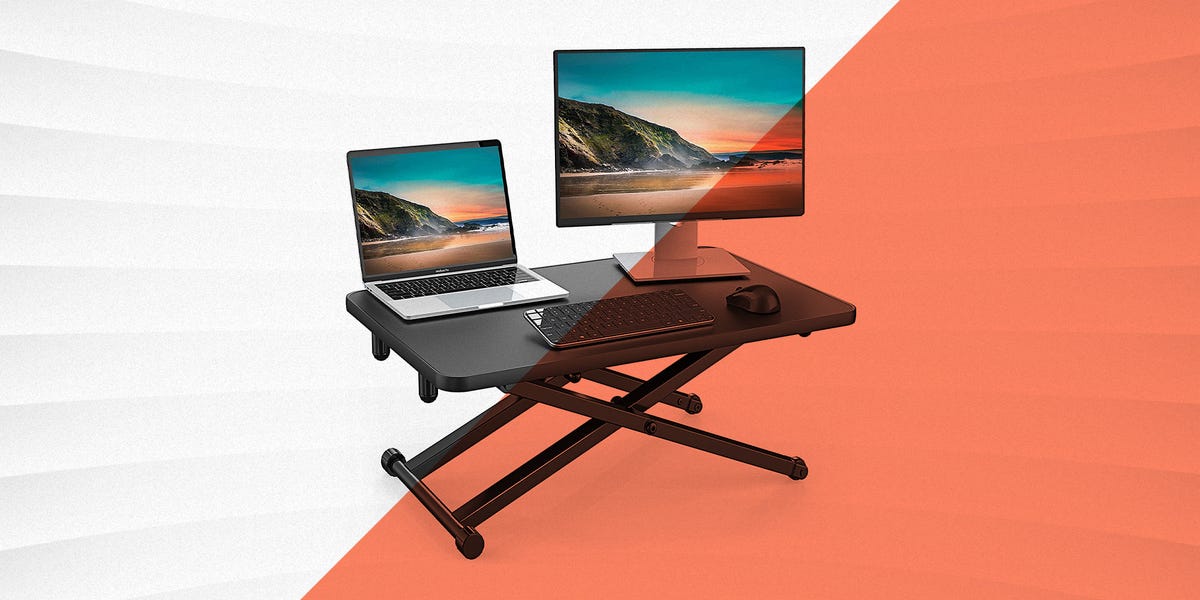 Staff, Courtesy of Fitueyes
Working in an office or working from home is about as safe as a job can get, but that doesn't mean it doesn't take a toll on your body. Sitting all day, almost every day, is pretty bad for your health. It can cause a myriad of health issues down the line. Standing all day isn't feasible either, as you're likely to get tired before the day ends. That's where standing desks come in. With a good standing desk or standing desk converter, it's easy to switch comfortably to sitting and standing positions, keeping your body comfortable and giving you more energy overall. We've put together the best standing desks out there right now to make your office job more enjoyable.
What to Consider
When choosing your standing desk or standing desk converter, there are a few things you'll want to keep in mind to get the best one for your needs. Here are a few factors to think about:
Manual Versus Electric
First, you'll want to decide between a manual or an electric standing desk. Electric desks are typically more expensive, but it makes it much easier to switch the positions of the standing desk throughout the day. Manual desks are less expensive, but you have to adjust the height yourself.
Height Range
You'll want to make sure the height range of the desk has comfortable options for both sitting and standing. If you're taller or shorter, you may need to consider an option that has a higher range, one way or the other.
Size of Desktop
The size of the desk surface is going to be a crucial consideration. If you only have one monitor or laptop, obviously you won't need as big of a setup. If you have multiple monitors or a gaming setup, you'll need more room for all of your important devices.
Organization
Many options come with cable management, places to set a keyboard, and other convenient functions. This isn't usually as important as the other factors, but it is something to consider if you're waffling between two similar options.
How We Selected
Choosing the right standing desk isn't an easy task. There are plenty of options on the market, so we looked for options to meet a variety of needs and budgets. We also only included options that had at least four stars or more on Amazon and Wayfair. These standing desks were also highlighted in other reputable publications like Gear Patrol, Wirecutter, Tech Radar, and more. If you're ready to make your office work experience more comfortable, scroll through our list and find the best standing desk that works for your office space.
Advertisement – Continue Reading Below
1
Best Motorized Overall
Vari Electric Standing Desk
If you want a great all-around standing desk that does it all, then go with our choice for best overall, the Vari Electric Standing Desk. This desk comes in a variety of finishes to match your office space, a large surface area of 60 by 30 inches (or 72 by 30 inches if you want to go bigger), and 25- to 50.5-inch height adjustability. 
The Vari lets you program your favorite height settings so you can just push a button to automatically switch things up. It's the perfect standing desk for any standard office space.
Electric motor for easy adjustments
Programmable buttons
25 to 50.5 inches of adjustability
Large surface area
Expensive
Organizational accessories sold separately
2
Best Budget Electric Desk
SHW Electric Standing Desk
If you want a great standing desk with electric adjustability, but you're not ready to drop the cash for our top option, the SHW Electric Standing Desk will work just fine.
There are various surface area sizes to choose from, starting at 40 inches and going up to 55 inches. The motorized adjustment allows you to shift anywhere between 26 and 46 inches. The programmable presets also allow you to press a button to change from standing to sitting quickly. 
This desk also comes in a few different finishes to match your office aesthetic.
Affordable price for an electric desk
Programmable
Various finishes to choose from
Wire organization and under-desk basket
Smaller surface area than our top option
Less height adjustability than our top option
3
Best Manual Option
Win Up Time Manual Standing Desk
Win Up Time
amazon.com
$249.99
If having a motor to adjust your desk height isn't a priority for you, the Win Up Time Manual Standing Desk is a great manual adjustment option. This desk uses a simple crank system to change the height from anywhere to 29 to 45 inches. 
A fairly generous surface area of 47 by 24 inches gives you space for your supplies, while the wheels on the bottom of the desk provide you with some added mobility. The desk comes in a few different finishes, so you can choose one that fits your workspace.
Affordable
Good amount of work space
Wheels make desk easy to move
Adjustment takes longer with manual crank
Adjustment range isn't as wide as other options
4
Best for Compact Spaces
Ergobond Compact Adjustable Standing Desk
ERGOBOND
wayfair.com
$299.99
A standing desk is great to have, but not everyone has the room to fit one in their office environment. If that's the case, the Ergobond Compact Adjustable Standing Desk should do the trick. This compact desk is only 24 by 32 inches. Although this limits your surface area, it's perfect for minimal work setups. 
This standing desk also forgoes the electric motor and crank in favor of a pneumatic lift system. This makes adjustments fairly easy and allows you to switch the desk position to anywhere between 29.5 and 47 inches. The cable organization accessories also help to keep things tidy.
Compact and saves space
Easy to adjust with pneumatic lift
Cable organization accessories
Limited surface area due to compact nature
5
Best Standing Desk Converter
Flexispot Standing Desk Converter
FLEXISPOT
amazon.com
$139.99
If you already have a nice desk in your work area, it can be hard to justify buying a brand new desk to replace it. Instead, you can buy a standing desk converter like this one by Flexispot. Converters not only let you keep your current desk, but they also tend to be much less expensive than full standing desks. 
This standing desk converter has a two-tier surface, with the top layer measuring out to a decent 28 by 16 inches. The bottom tray is 12.1 inches in depth. There are also options that go all the way up to 42 inches. The desk uses a gas spring system to allow you to adjust between 4.7 and 19.7 inches.
Don't need to replace current desk
Very affordable
Two-tier system for keyboard or laptop
Surface area is limited
Less precise height adjustment when compared to standalone standing desks
6
Best Budget Standing Desk Converter
Fitueyes Standing Desk Converter
FITUEYES
amazon.com
$55.99
If you're not sure whether a standing desk is the right choice for you, you can always go with a super cheap option to see if you'll use it or not before spending more money. This standing desk converted from Fitueyes is about as affordable as it gets, coming in at under $60 for the 30-inch surface area. 
This converter switches up between 2.2 inches and 16.1 inches with a gas spring riser system. This option is about as barebones as it gets, but it does allow you to give standing desks a try, and it's sturdy enough for you to use for a while if you like the way it feels.
Super affordable
Low commitment for standing desk skeptics
Easy to transport
Surface area is limited
Functions as a work surface but not much else
7
Best with Large Surface Area
ApexDesk Elite Series Standing Desk
ApexDesk
amazon.com
$600.89
If you need your standing desk to have plenty of space to work, the ApexDesk Elite Series Standing Desk is your answer. This desk has a huge surface area of 71 by 33 inches. This gives you plenty of room for multiple monitors, a printer, and anything else you might need for your work area. 
This huge desk is also easy to adjust to anywhere between 29 to 49 inches with its electric motor. Four programmable buttons let you choose your favorite heights. Cable organization features and a tray also help you to keep things clean.
Huge surface area
Cable management features
Multiple finishes
8
Best for Laptops
Symple Stuff Rylie Standing Desk
Symple Stuff
wayfair.com
$78.99
If you just need a simple standing desk for your laptop, then the Symple Stuff Rylie Standing Desk will fit the bill. This standing desk is just big enough for a laptop and a mouse, coming in at 18 by 25 inches. The desktop also has a separated section that lets you angle your laptop comfortably. 
A simple gear unscrews and screws back in to let you adjust the height to anywhere between 28 and 37 inches. The rolling swivel base also allows you to take this desk anywhere in your home or office.
Perfect size for laptops
Rolling base to move the desk anywhere
Very affordable
Limited surface area
Limited height options
9
Best Corner Standing Desk
Fezibo L-Shaped Standing Desk
FEZIBO
amazon.com
$369.99
If you prefer an L-shaped desk or if you're needing to fit your desk in the corner, this L-Shaped standing desk by Fezibo is a great solution. The L-shaped surface gives you 48 inches of area to keep all of your supplies and devices on, and a small wooden stand on the side can be used as a shelf. 
The electric lift system comes with three programmable buttons and the ability to switch to anywhere between 27.6 and 47.3 inches. The swivel casters let you easily move your desk to where it fits best. 
Also, the cable management tray and set of desk hooks help you keep everything in its right place.
L-shaped design
Cable management, desk hooks, and wooden shelf
Swivel casters
Expensive
Awkward unless it's set up in a corner
10
Best Luxury Option
Fully Jarvis Standing Desk
Jarvis
amazon.com
$844.00
The Fully Jarvis Standing Desk is one of the best options out there, making it our luxury pick. The quality of these desks has a price to match, making it by far our most expensive option as well. The Fully Jarvis Standing Desk adjusts from a wide range of 25.5 inches to 51 inches, making it great for people of most heights. Four programmable presets allow you to switch positions in seconds. 
The eco-friendly surface is made of bamboo and is easy to clean. This desk is also plenty sturdy, with steel legs that don't wobble. The 60-inch surface area gives you plenty of room for your equipment, and the built-in cable grommets let you keep things neat and tidy.
Wide height-adjustment range
Sturdy steel legs
High-quality materials
11
Best for Gamers
Eureka Ergonomic Adjustable Gaming Desk
EUREKA ERGONOMIC
amazon.com
$475.99
Just because you're gaming doesn't mean your desk shouldn't be ergonomic. With this adjustable gaming desk from Eureka Ergonomic, you can make sure your long gaming sessions don't mess up your back in the meantime. 
The huge 63-inch surface gives you plenty of room for your gaming setup, while the RGB lighting effects give your desktop a sleek aesthetic. The one-click height adjustment comes with four programmable buttons and the ability to switch to anywhere between 29.92 to 48.43 inches. 
This desk also comes with plenty of features specifically designed for gaming, including a controller rack with USB charging ports, a cup holder, headphone racks, cable grommets, and a full-covered mouse pad.
Big surface area
Gaming specific features like controller rack and mousepad
RGB lighting effects
Expensive
Design might be too loud for a professional environment
Height adjustment range isn't as wide as other options
This content is created and maintained by a third party, and imported onto this page to help users provide their email addresses. You may be able to find more information about this and similar content at piano.io
Advertisement – Continue Reading Below
Most Related Links :
reporterwings Governmental News Finance News