Tech
The Best Car Toys for Kids of All Ages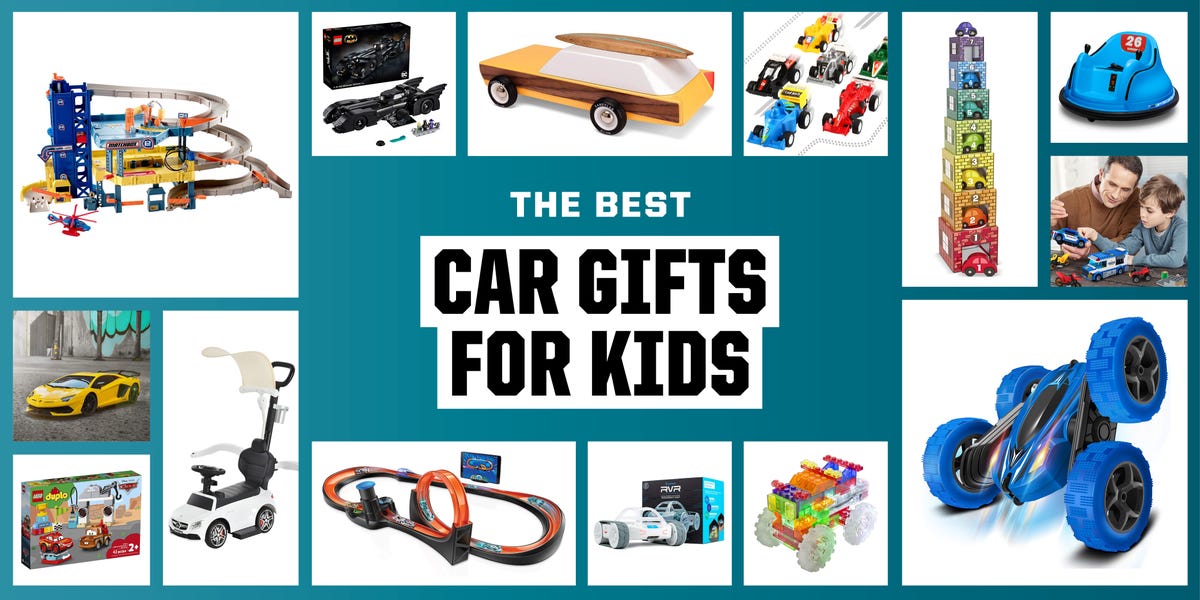 The toy business was transformed by the pandemic. Parents and kids increasingly sought out ways to stay safe and entertained at home, without relying too much on screens. Old-fashioned toys (with modern upgrades) soared in popularity, with sales of toys like cars up by 16%, according to reports.
Car toys are easy options to play with indoors or outside, at a restaurant or at grandmas house. Plus, they'll help get out some energy too if you kid can run around with them as well. If you're looking for the perfect vehicle for a car-obsessed kiddo, here are 30 of the best car toys that also make great gifts, from basic to extremely complicated.
For more gifts for kids, check out our guides on gifts for boys and robot toys.
Advertisement – Continue Reading Below
1
Lake Babe
Candylab Toys Pioneer Aspen with Canoe
Candylab Toys
amazon.com
$39.00
This classic Pioneer-style car is made from solid beech wood, with nontoxic paint detailing, real walnut veneer paneling and a magnet embedded on a roof with a canoe that snaps on and off. The Pioneer also features real rubber tires, making it a toy that's almost as good as the real deal.
2
Best Build-Your-Own
Think Gizmos Take Apart Car
Think Gizmos
walmart.com
$12.95
Best for kids ages 3 to 5
Racing cars is fun, but kids will be even more invested in the game when they can build—and dismantle—the racers themselves. This car kit includes 30 parts, a drill, screws, the batteries necessary to make it go and clear instructions. It also helps kids gain a basic understanding of mechanics and math, while also being a blast.
3
Best Police Set
City Police Set
Exercise N Play
walmart.com
$27.76
Best for kids ages 6 to 12
This Exercise N Play STEM building block set includes 362 pieces so kids can create an entire "cops and robbers" set. Included in the package is a material for a jail cell, mini figures, two motorcycles, a police car, trailer, prison car and ATV. Kids will delve into imaginative play while also flexing STEM muscles.
4
Best Race Portal
Hot Wheels Smart Track Kit
Hot Wheels
amazon.com
$105.99
Best for kids 8 and up
This Hot Wheels id track offers a next-level of play that combines the exhilaration and old-fashioned fun of yore, with 21st century connectivity. The Smart Track Start Kit comes with three Hot Wheels id die-cast cars, premium track pieces and a Race Portal. 
 The cars can be launched at 900 mph scale-speed, and they can count laps and play games on the track through the app, which connects to smartphones and tablets. The more they play with the toys, the more they level up in the video game.
5
Best Car Coaster
Up and Down Roller Coaster
Step2
wayfair.com
$139.99
Best for ages 3-4
Your kids will be thrilled (and you'll be tempted) to ride on this ATV-style coaster car. Preschoolers can board the ride on the high-backed car and cruise down the 10.25-foot gently rolling track. Kids will have the fun of the ride, but they'll also acquire gross motor, balance, and hand-eye coordination pushing the coaster to the platform and riding it down.
6
Best for Budding Engineers
Playroom Rug with Pullback Cars
GuangMing
wayfair.com
$99.99
Best for ages up to 7
If your kiddos are obsessed with construction sites, or love to build, this set is a great bet. The 67 x 35-inch game carpet would look great in a play or bedroom, and it features driving roads, traffic crossings and intersections that make playtime fun for one to five kids. 
The rug also features 3D Effect city buildings and construction sites. Also included are six construction vehicles (including a bulldozer and excavator) that are made to last.
7
Expands from Car to Pool
L.O.L. Surprise Car Pool Coupe
L.O.L Surprise!
walmart.com
$26.99
Best for ages 3 and older
This kitschy pink Corvette-style car features a surprise pool and dance floor, plus a L.O.L. doll. The pop-up black headlights can be used to reveal more surprises. To convert the car into a pool, flip the back off to reveal the pool. The liner of the pool is removable and can be filled with real water. The adjustable seats are compatible with L.O.L. and O.M.G. dolls.
8
Best Nesting & Sorting Car Game
Melissa & Doug Nesting & Sorting Game
Melissa & Doug
amazon.com
Best for kids ages 2 to 4
This adorable and colorful car and garage game will keep toddlers busy for hours. The numbered and color-coordinated cars and garages will also help them learn their numbers and colors, and help them begin to understanding sorting and patterns. Seven stacking garages and seven wooden cars are included, and the options for play are endless.
9
Best Family Race Game
Racing Track Family Game
Mundo Toys
walmart.com
$11.97
Best for kids 2 and up
This racing set comes with 121 pieces, including bridges, two levels, lights, music and accessories for builders to create their own track. It's a great way to get the whole family (or a crew of friends) in the game, by setting up a fast two-level track and then racing against each other.
10
Best Toddler Ride-On
White 3-In-1 Mercedes Benz Ride-On Car for Toddlers
Best for ages 1-3
This Mercedes Benz serves as a push-car and ride-on for toddlers. The car is constructed from nontoxic and odorless PP plastic, features a footrest and steering wheel. There is also an easy-pull handle rod so caregivers can join the fun and control the speed of the cruise. The Benz includes a sunshade as well.
11
Electric Fire Truck Toy
Zetz Brands
amazon.com
$14.97
Best for ages 3 and up
This light-up fire truck features LED lights and siren sounds to help kids run with their imagination. The toy can run on its own (it can even change direction when it bumps into something), or can be used as a push toy.
12
Best Safari Truck
Melissa & Doug Animal Rescue Truck
Melissa & Doug
walmart.com
$16.68
Best for ages 2-4
To the rescue! This rugged safari truck comes equipped with two people who are ready to dive in and help out their furry friends. There is also an alligator, zebra, rhino, elephant, giraffe, hippo and lion that fit puzzle-style into the truck's side-through die-cut slots. This is a great toy for firing up your child's imagination and helping them with sorting, shapes, and fine motor skills.
13
Best How Wheels Set
Hot Wheels 50-Pack
Hot Wheels
walmart.com
$48.99
Best for kids ages 3 years and up.
Car enthusiasts of all ages will shriek with delight at this 50-pack set of Hot Wheels. The set of 1:64 scale die-cast vehicles includes old favorites and new models, with classic decorations and hot designs. 
Each one is packaged individually and can be distributed at parties, or kept together as the foundation of a mega-set. 
14
Best Farm Set
John Deere Farm Collection
John Deere
walmart.com
$79.85
Best for kids ages 3 years and up
This 70-piece die-cast set includes everything your little ones need to set up a faux farm. The set is built to 1:64 scale and includes tractors, trucks, a machine shed, animals, and fencing. This set is great for solo imaginative and cooperative group play. 
15
Best Ride-On Bumper Car
KidZone Electric Ride-On Bumper Car
KidZone
walmart.com
$184.96
Best for kids 2 years and up
This 6-volt ride-on bumper car is fully rechargeable. The ride-on car offers a full 360-degree spin, with simple joystick controls and a maximum speed of 0.75 mph. 
Built from durable plastic, the car also has a soft bumper to prevent crash landings. The tires are made to withstand serious wear and tear, and a safety belt is built-in. No assembly is required.
16
Best New Release
Matchbox 4-Level Garage
Matchbox
walmart.com
$52.49
Best for ages 3 years and up
This cute Matchbox garage is a one-stop wonderland with four levels of activity, including a spiral ramp and working elevator, a car "wash," service station and a Matchbox tow truck. It's a new product and will be available on Nov. 1, so you can pre-order now.
17
Best Construction Set
Jenlily Construction Set
Jenlily
amazon.com
$24.99
Best for toddlers
This construction set is made of high-quality ABS plastic and alloy, and is designed for small hands. Kids will love the wide range of construction vehicles here, and will be able to work on shape recognition, fine motor skills, hand-eye coordination and planning as they dig, push, and pull through sand and dirt.
18
Best Variety Gift Pack
Matchbox Gift Pack
Matchbox
amazon.com
$11.93
Best for ages 3 to 7 years
This assortment of vehicles will keep kids entertained, is great for parties and is a super foundation for a larger collection. 
This "fleet" of vehicles includes a wide variety of 1:64 scale die-cast cars, speedsters, specialty vehicles, and trucks. The set will keep them busy with imaginative play for hours, and will help them with sorting, and fine motor skills.
19
Best Pull-and-Go
Yeonha Pull Back Cars and Trucks
Yeonha Toys
amazon.com
$9.47
Best for kids ages 3 years and up
This pull-back-and-go vehicles are fun for kids who want to set up races on their own, or in groups. The 12-pack includes race cars and construction vehicles with joints that can swing. Kids will rev their imagination and language skills playing with these vehicles for hours. 
20
Best for Dino Enthusiasts
FUTOLIK Dinosaur Car Toy
FUTOLIK
amazon.com
$13.99
Best for kids ages 3 to 6 years old
Dinosaurs and cars? Yes please! This pull-back-and-release set of dinosaur cars doesn't make sense, and your kiddos will be fine with that. 
Kids will love naming and learning the different dinos (the eight-pack includes a T-rex, a pterosaur, and a gigantosaurus). The set is great for one dino-car nut or for handing out at a party. 
21
Best RC Car for Kids
Remote Control Stunt Trucks
Gold Toy
walmart.com
$39.50
Best for kids 4 years and up
This remote-control truck can go up to 7 mph and do stunts off-road without flipping over. The big wheels allow the truck to drive even if it does flip over. The truck runs on two powerful motors with a four-wheel drive system, via remote control. Batteries are included. 
22
Best Light-Up Toy
Laser Pegs Monster Truck
Laser Pegs
amazon.com
$21.99
Best for kids ages 5 to 8 years old
This light-up Lego-style build-your-own monster truck set incorporates bright colors, LED lights and fun. The kit comes with six different truck designs, 66 tinted construction bricks, one laser peg, and a Zippy Do power base. 
The truck is a favorite among kids, parents and STEM enthusiasts.
23
Best Robot Toy
Sphero All-Terrain Coding Robot
Sphero
amazon.com
$249.99
Best for ages 8 years and up
This is a serious toy, and with its high price tag comes incredible power. The Sphero RVR is packed with a range of sensors that can be completely customized; best of all, it can be used immediately when removed from the box, no complex assembly required. 
The car features a powerful motor, all-terrain treads and a high torque that makes it suitable for on- and off-road use. Advanced hackers and creators will be able to leverage the SDK and API libraries.
24
Best Remote-Control Racer
Bezgar Remote Control Lamborghini
Best for ages 8 and up
This 1:24-scale licensed Lamborghini Aventador SVJ model race car is ideal for inside and gentle outside use. It features a delicate racing profile, a durable finish, and a fully functional remote that is easy to control; the car stimulates the powerful racing engine, and it maxes out at 4 mph. 
The remote control and car require a total of five AA batteries sold separately.
25
Best Transformer
FIGROL Remote-Control Car Transformer
Best for ages 8 years and up
This car-to-robot transformer will mesmerize children for hours, and is easy enough for younger kids to control. The police car features Xenon-style headlamps, realistic engine sounds, scratchproof design. 
It transforms between robot and car with one click. It can be operated via a robust 2.4G remote control from up to 45 meters away. Three required AAA batteries are included.
26
Best Monster Truck Set
Monster Jam Trucks
Monster Jam
amazon.com
$49.99
Best for kids ages 3 years and up
This 12-pack collector's set of monster trucks comes with 1:64 scale versions of classic toy trucks, including the Grave Digger and El Toro Loco. The die-cast series brings the action right to you, featuring BKT tires, styled chassis, and detailed graphics.
27
Best Lego Set
LEGO DUPLO Lightning McQueen Race Day
Best for kids ages 2 to 5 years old
Your toddlers will be racing toward fun with these Disney/Pixar Lightning McQueen racing cars. The set includes a Lightning McQueen racer, a Mater's tow truck, a toy repair workshop, and more. Kids are able to flex their imaginative role-playing and fine motor skills.
28
Best for Teens
LEGO DC Batman 1989 Batmobile
Best for ages 14 years and up
This 3,306-piece Batmobile model car is a stunning LEGO version of the iconic car from the 1989 Batman movie. It features a slide-open dual minifigure cockpit, and two hidden machine guns with a pop-up function. 
The set comes with a caped Batman figure, a Joker action figure, and a Vicki Vale figurine, along with a brick-built figure display stand.
29
A Fun Ride-On Toy
Big Dig and Working Excavator
The Big Dig
amazon.com
$54.99
Best for kids ages 3 years and up
The Big Dig ride-on excavator allows kids to pretend they're on a major construction or archeological dig. It features 360-degree swivel action, and digging and dumping power. 
This is a four-season toy capable of excavating sand, dirt, and snow. The crane arm reaches up to 33 inches, and you can dig 15 inches deep.
30
Classic Building Kit
LEGO Creator Ford Mustang
Best for kids ages 14 years and up
This build-your-own 1,471-piece 1960s-era Ford Mustang GT features dark-blue bodywork with white racing stripes, 5-spoke rims with rugged rubber tires, a detailed interior, V-8 engine, and a variety of add-ons—including a supercharger, rear ducktail spoiler, exhaust pipes, front chin spoiler, and nitrous oxide tank.
This content is created and maintained by a third party, and imported onto this page to help users provide their email addresses. You may be able to find more information about this and similar content at piano.io
Advertisement – Continue Reading Below
Most Related Links :
reporterwings Governmental News Finance News