News
The 10 Best Pillows for Neck Pain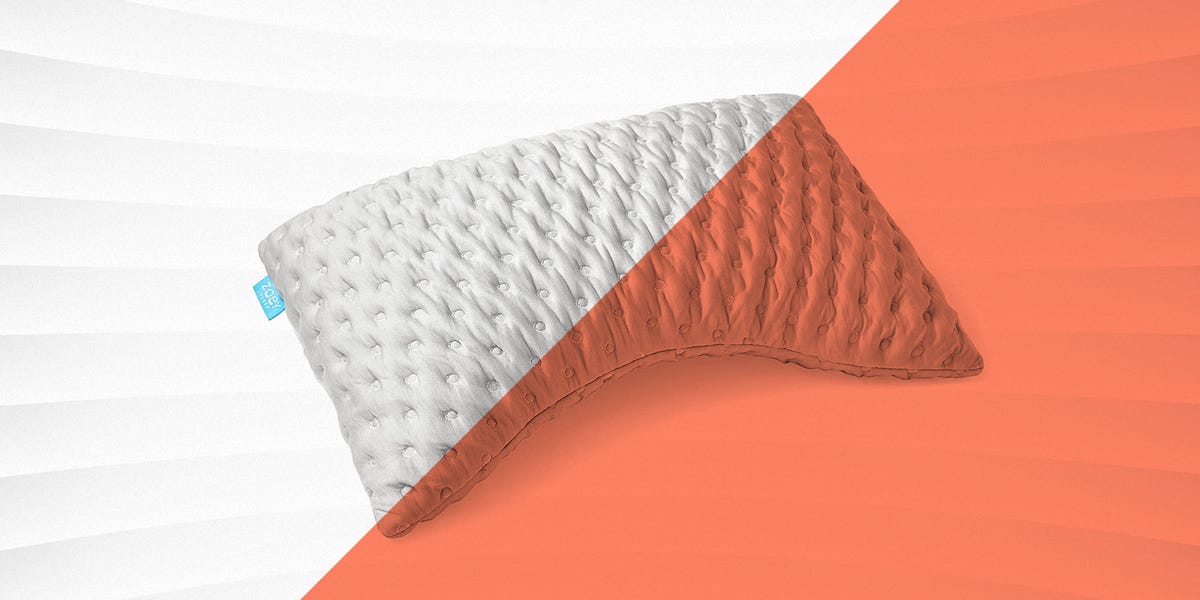 If you're waking up regularly with a sore neck, chances are you need a new pillow. If your pillow is too high or too low, your neck will strain to compensate for the poor support. Though you might think any new pillow will do, the kind you get should really depend on your sleeping style. Read more below on how you can select a pillow to help reduce neck strain, as well as our reviews on the best pillows to consider to support your neck.
How to Reduce Neck Strain at Night
The way you sleep may not be the only cause of neck pain during the day. Poor posture from sitting at a computer or a number of other injuries can exacerbate the problem. Neck pain is so common that about one in three people experience it at least once a year, according to the National Institutes of Health. The good news is you can help mitigate and prevent some strain by making sure your pillow provides you with the appropriate support. (But see your doctor if chronic neck pain persists!).
According to Michael Breus, Ph.D., known as the Sleep Doctor and a fellow of the American Academy of Sleep Medicine, your pillow thickness should keep your head, neck, and shoulders all aligned with your spine. For instance, side sleepers will need higher pillows to better fill the gap between shoulders and head, stomach sleepers need thinner pillows to not cause strain from the head tilting backwards, and back sleepers typically benefit from somewhere in between. "If you have neck pain and sleep on your back, look for a pillow that provides additional support while maintaining the softness that's comfortable for you," recommends Dr. Breus.
While any of the best pillows might work to keep your spine aligned, there are also some specialty pillows made specifically to support the neck, especially for those who chronically struggle with neck pain. Sometimes known as contour pillows or cervical pillows, they might have built-in contours or gaps to conform to your head shape while still supporting the neck.
When it comes to filling, almost any material can work. However, memory foam, whether solid or shredded, is better than most down or down alternative pillows for neck pain, because foam is firmer and maintains its shape better, which means you get more support. We especially recommend opting for an adjustable pillow with shredded memory foam, since you can remove or add filling to achieve the perfect height.
How We Selected
We started our research to discover the best pillows for neck pain by consulting the Sleep Doctor, Dr. Michael Breus, for his recommendations on how to choose a pillow to reduce neck strain. Then, we read reviews from seven expert sources, such as Good Housekeeping, Sleep Foundation, and Sleep Advisor, as well as considered consumer reviews from retail sites like Amazon.
---
Best Neck Pillow
Tempur-Pedic Tempur-Neck Pillow
Tempur-Pedic
tempurpedic.com
$99.00
If the standard flat pillows don't provide enough support for you, consider Tempur-Pedic's top neck pillow. Its solid, firm memory foam contours around the head and neck to provide optimal support for side and back sleepers. Though the solid foam isn't adjustable itself, this pillow is available in three sizes, including up to 4 inches, 4 to 6 inches, and 6 to 10 inches high. You can measure the space between your neck and shoulder to match the size that best fits your body. Tempur-Pedic's pillow also comes in a hypoallergenic, polyester knit cover that's removable and washable, and it comes with a five-year warranty.
Extra-firm solid memory foam
Contoured shape
Not suitable for stomach sleepers
Best Adjustable
Coop Home Goods Pillow
Coop Home Goods
amazon.com
$59.99
Coop Home Goods's popular shredded memory foam and microfiber pillow can adapt to all sleeping preferences. Its filling perfectly balances the support of memory foam with the plushness of down—and most important, the filling can be removed or added to plump it up or pair it down to reach your preferred height. Coop Home Goods also offers a 100-night sleep trial and a five-year warranty, so perhaps you can forget that ideal-but-somewhat-unrealistic rule about purchasing new pillows every year.
Adjustable with extra filling
Great warranty and trial period
No storage bag for extra foam
Cervical Pillow
Core Products Tri-Core Cervical Support Pillow
Core Products
amazon.com
$39.99
The Core Products Tri-Core Cervical pillow has a concave center to support the head for back sleepers. The top and bottom have varying cervical roll heights, depending on if you need more or less support around the neck. Plus, the raised sides are great for if you switch over to your side when sleeping. Be warned that it's made to be firm for more support, so it may take some adjusting if you're used to soft down, for instance.
Comes in three sizes
Supports multiple sleeping styles
May feel too firm for some
For Side Sleepers
Zoey Sleep Side Sleeper Pillow
Zoey Sleep
amazon.com
$79.99
Zoey Sleep's filling combines a great balance of a fiber blend with shredded memory foam, which results in a soft pillow comparable to a down alternative, but with more support and less deflating. Its design is meant to curve around the shoulders, which is great for side sleepers. Zoey Sleep even includes a storage bag to fill up with extra foam when you adjust the pillow's height to your liking. As we'd expect for its price tag, it comes with a machine-washable outer cover, 100-night sleep trial, and a five-year warranty.
Memory foam blend retains shape
Storage bag for extra filling
May have some off-gassing
For Stomach Sleepers
Belly Sleep Gel Infused Memory Foam Pillow
Belly Sleep
amazon.com
$49.99
Sleeping on your stomach is risky for neck pain, since the position often pushes the head up and out of alignment with your spine. However, much of this damage can be prevented with a thin pillow, such as the Belly Sleep gel-infused memory foam pillow. At only 2.5 inches deep, this flat pillow is designed for stomach sleepers, with a foam that contours well to your head to reduce neck strain. Plus, the bamboo-polyester cover is moisture-wicking and cooling for hot sleepers.
Balances softness and firmness
Not great for those who switch sleeping positions
Great Value
Xtreme Comforts Shredded Memory Foam Pillow
Xtreme Comforts
amazon.com
$44.99
Another adjustable shredded memory foam pillow, the Xtreme Comforts pillow comes at a more affordable price—under $50. It's worthwhile to spend a bit more to be able to adjust your pillow, but you also don't have to spend a fortune. Another bonus is its allergy-friendly, cooling bamboo, machine washable cover.
Adjustable and machine washable
May initially smell from off-gassing
Cooling
Layla Kapok Pillow
Layla
laylasleep.com
$17.00
Made from the fibers of Kapok tree seeds and memory foam, the Layla Kapok pillow is a unique, hypoallergenic, and supportive adjustable pillow. Combined with the copper-infused yarn for the cover, it's also more breathable and cooling than many other memory foam options. However, its luxurious materials also make this pillow more pricey than comparable alternatives.
Unique kapok fill and copper-infused cover
Cube Shape
Pillow Cube Classic
Pillow Cube
amazon.com
$69.99
It may not be for everyone, but it's not designed to be. The Pillow Cube's cube-shaped solid memory foam is meant to support the gap between your shoulders and head when sleeping on your side. The classic 12 by 12-inch cube is available in heights ranging from four to six inches to accommodate your preferred height. Plus, the Carbon Core is said to regulate temperature and ensure it maintains its shape for years.
Unique design and supportive memory foam for side sleepers
Expensive for size
Custom pillow cases needed
Water Pillow
Mediflow Fiber: The First & Original Water Pillow
Mediflow
amazon.com
$69.99
If standard foam or fiber filling isn't working for you, the Mediflow water pillow may be the solution for you. Because it's made with a fully sealed and insulated water pouch, it can adjust to cradle your head in any position—no fluffing necessary. The polyester fiber layer on top provides the softness of a regular pillow, and instead of adjusting messy filling, you can just change the water level for varying degrees of support. If it ends up not working for you, Mediflow offers a 30-day trial period.
Works will all sleeping positions
Can get heavy
Potential for leaks and mold
Travel Size
Sleep Innovations Contour Memory Foam Cervical Pillow
Sleep Innovations
amazon.com
$19.99
If you travel a lot, it might be worth investing in a smaller pillow to take with you to avoid waking up with neck pain from unsupportive hotel pillows. This affordable contour pillow by Sleep Innovations has two contour heights to choose from and is only 15 by 10 inches in size. The solid memory foam allows it to retain its shape without causing you to overheat, and the cover can be removed to wash. Sleep Innovations offers the same pillow in larger 20 x 15 and 24 x 15-inch sizes, so you can have the same pillow for your bed and when traveling.
Two contour heights
Solid memory foam with cooling gel
This content is created and maintained by a third party, and imported onto this page to help users provide their email addresses. You may be able to find more information about this and similar content at piano.io
Most Related Links :
reporterwings Governmental News Finance News