News
The 10 Best Projectors Under $500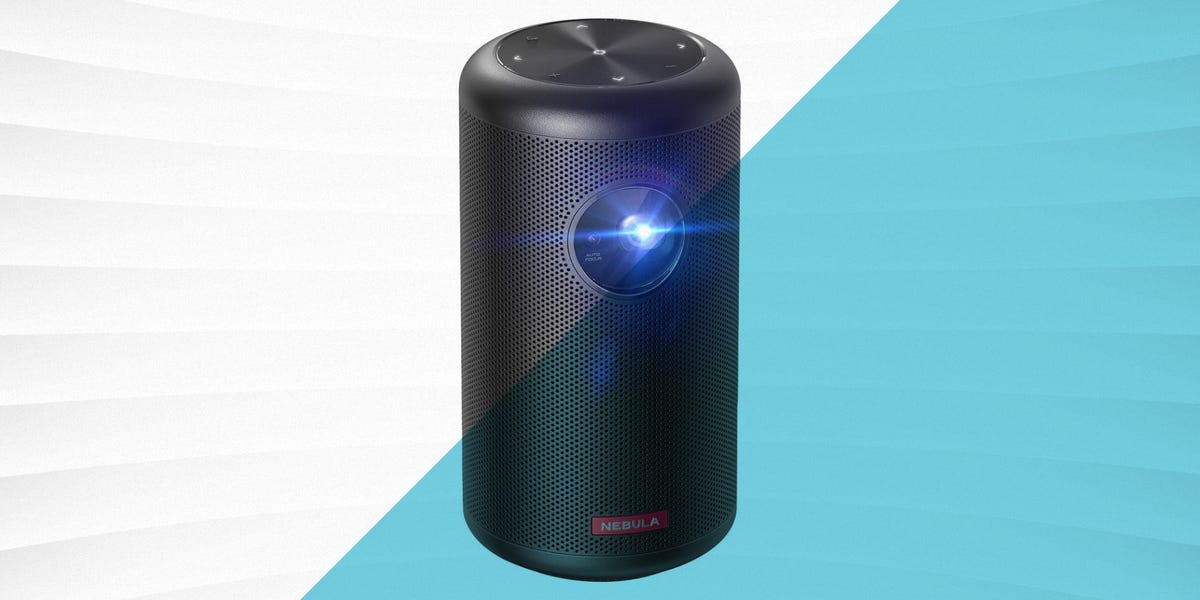 Staff, Courtesy of Nebula
A home theater projector can transform your entertainment system, allowing you to create an immersive, cinema-style viewing experience at a cost that's far less than a new LED or OLED TV. While you might need to spend at least $1,000 for a one of the best projectors, you can still find plenty of great projectors for less than $500. Most projectors in this range deliver impressive image quality, lots of connectivity options, portability options, and flexible controls.
But even in the sub-$500 category, there are important differences to consider. To help you find the right projector for a home, office, or on-the-go setup, we've compiled a list of the 10 best.
What to Consider
When looking for a projector that costs less than $500, keep an eye out for these specs and features: screen size, brightness/lumens, LCD versus DLP, resolution, throw distance, connectivity (HDMI, USB, Bluetooth, Wi-Fi). If you plan to take the projector with you, you'll also want to consider specs like size and weight.
Also, bear in mind that projectors as a whole have their limitations when compared with TVs; they simply cannot match the color, brightness, or contrast performance of modern HD or 4K LED TVs. A few more things to consider:
All projectors have a minimum or maximum screen size, which means you should know the size of the surface you intend to project onto before buying anything. You'll also want to have an idea of how far the projector will be from the surface—known as the "throw distance."
Brightness, measured in lumens, is extra important for projectors because it affects the quality of the image as well as its size. If you can, look for or convert the lumens rating to ANSI lumens, which is a more accurate reading.
LCD projectors generally deliver sharper, more colorful images, but DLP units are simple, cheaper, and more portable. Consider the difference when choosing between more expensive projectors.
How We Selected
Although the concept is simple enough, projectors serve a variety of purposes. In selecting the best models, we made sure to include something for everyone. Whether you're looking for a presentation tool, a portable gaming display, or a home theater setup, there's a projector here for you.
We combed through user reviews, independent reviews, and product specs to identify the most promising models. We then narrowed the list down based on the above-mentioned criteria: screen size, brightness/lumens, LCD vs. DLP, resolution, throw distance, ease of use, and connectivity. As for other features like lens shift, motorized zoom, and keystone correction—those are all nice perks, but they may or may not be available in this price range, so we didn't necessarily require them.
1
Top-Pick Projector
Nebula Capsule II Smart Mini Projector
Nebula
walmart.com
$519.99
• Resolution: 720p HD
• Max Screen Size: 100 inches
• Connectivity: HDMI, USB, Wi-Fi, Bluetooth, Chromecast
The Anker Nebula Capsule II is about the size of a soda can, but don't let its diminutive size fool you: This little gadget packs a ton of useful features for cinephiles, gamers, and casual viewers alike. In this tiny contraption you'll find Android TV, voice control, a built-in speaker, a rechargeable battery, and a bunch of connection options: HDMI, USB, Wi-Fi, Bluetooth, and Chromecast.
While it's a bit pricey for this category, the Nebula Capsuke's 200 ANSI lumens make it bright enough even for some outdoor environments. We'd also like to see Full HD quality for the price, but there's still a lot to like about this little gadget.
Lots of connections
Portable
Cool design
2
Great for Presentations
ViewSonic High Brightness Projector PA503W
ViewSonic
amazon.com
$379.99
• Resolution: XGA+ Wide
• Max Screen Size: 300 inches
• Connectivity: HDMI, VGA
If you're looking for a projector for an office, classroom, or any environment meant for presentations, we recommend the ViewSonic PA503W. It's very bright with decent image quality and adequate connectivity options (HDMI, VGA). With its WXGA resolution and 16:10 aspect ratio, the PA503W may even punch above its weight class.
It also includes automatic keystone correction, solid audio quality, and a three-year warranty. We noticed a steady trickle of user complaints about fan noise, which is something to consider before buying. For the price, though, the PA503W is a highly capable projector suited for most any presentation or work environment. Just don't expect it to wow audiences in a cinema setting.
Very bright
Impressive specs for the price
Many user complaints about fan noise
3
Best Budget Option
WiMiUS P18
WiMiUS
amazon.com
$159.99
• Resolution: 1080p HD
• Max Screen Size: 400 inches
• Connectivity: HDMI, VGA, USB, AV
The WiMiUS P18 is another projector that seems to punch above its weight class. Capable and affordable, the P18 offers Full HD (1080p) resolution, keystone correction, an impressive image quality with bright, high-contrast color (4000:1), and movie-friendly aspect ratios of 16:9 or 4:3. It can also support screen sizes of up to 200 inches, which is impressive for the price point; serious home theater enthusiasts, however, may crave something larger.
The WiMiUS P18 also doesn't include any Wi-Fi or Bluetooth connectivity options, although with HDMI, VGA, USB, and AV ports there are other ways to connect mobile devices.
Full HD (1080p)
Great image quality
Limited mobile connectivity
4
Best Portable Projector
Anker Nebula Mars II Pro
NEBULA
amazon.com
$549.99
• Resolution: 720p HD
• Max Screen Size: 100 inches
• Connectivity: HDMI, USB, Bluetooth, Wi-Fi, Screen Mirroring
Similar to the Anker Nebula Capsule, the Nebula Mars II Pro is highly portable and battery-rechargeable. It's also a bit cheaper. It packs many of the same impressive features in a similarly sleek design. Connect or load content via USB, HDMI, audio jacks, or Wi-Fi, and use the included remote to watch movies anywhere you travel—backyards, dorms, businesses, Airbnbs. This thing is built for travel.
But, because it's built for portability, the Nebula Capsule lacks some of the features—like Full HD—that you should expect from a fixed projector. And, also like the Capsule, it's not 4K- or HDR-compatible, and has a fixed lens (no lens shift).
Great for travel
Battery-powered
Easy to set up
5
Versatile and Reliable
LG PH550 CineBeam LED Projector
LG
amazon.com
• Resolution: HD (1280 x 720)
• Max Screen Size: 100 inches
• Connectivity: Wireless, HDMI, USB
With the Minibeam LED Projector (PH550), LG offers something for everyone. It's loaded with ports and connectivity options for any professional or entertainment setup. It includes a built-in TV tuner for set-top boxes or over-the-air antennas. And it has a rechargeable battery and lightweight design for easy portability.
While a bit pricey, this projector has everything you need—whether you're building a home theater, a backyard entertainment rig, or an office presentation room. The lack of Full HD image quality is disappointing, especially considering the price, but with the 30,000-hour LED, you can expect this thing to last ages.
Long LED lifespan
Built-in TV tuner
Battery-rechargeable
Pricey
Only 720p resolution
6
Cheap and Very Portable
Miroir M75 Micro
Miroir
amazon.com
$139.99
• Resolution: 640 x 360p
• Max Screen Size: 50 inches
• Connectivity: HDMI, USB, micro USB, Audio Jack
Roughly the size of a hamburger, the Miroir M75 Micro is about as portable as projectors can get. Its compact size and portability are the main points of attraction, but they make an ideal fit for on-the-go gaming or quick movie setups for travel or workspaces. The M75 includes four basic connections: HDMI, USB, micro USB (power), and an audio jack.
With such a tiny projector, you really can't expect this thing to stand in for a proper home theater rig—the maximum display image is 50 inches—but if you're in a pinch and want to project a movie or game from your iPhone, Nintendo Switch, or other mobile device, the M75 will surely come in handy.
Very tiny
Highly affordable
50-inch maximum screen size
7
1080P and WiFi
DBPOWER Projector
DBPOWER
amazon.com
$289.99
• Resolution: 1080p
• Max Screen Size: 300 inches
• Connectivity: HDMI, USB, VGA, AV, Screen Mirroring
An all-around versatile projector with everything you need to watch movies, stream content from a mobile device, or deliver a presentation, this DBPOWER Projector is fully capable. It includes built-in stereo speakers, a 100,000-hour lamp life, and a three-year warranty. 
For presentations or hard-disk media, you can insert a USB thumb drive directly into the projector and play content off of it. With a maximum screen size of 300 inches, the projector is best suited for a distance of 3.3 meters, which results in a 100-inch screen. 
That's not exactly home theater quality, but for the price point—not to mention the 1080p native resolution—it's probably more than enough.
1080p native resolution
USB drive access
8
Ultra-Portable and 3D
Vankyo Burger 101 Wireless Pico Projector
VANKYO
walmart.com
$99.00
• Resolution: 480p
• Max Screen Size: 110 inches
• Connectivity: HDMI, USB, Audio Out Port
Another great choice for traveling families or on-the-go individuals, the Vankyo Burger 101 Mini Projector is about the size of, well, a burger. It includes a suite of portability features: HDMI, a USB port for flash drives, 3D movie support, and a rechargeable battery of up to three hours.
It doesn't have any wireless connection support, and the native resolution is only 480p. But the Burger 101 is all about portability, and it has that in droves. Take it with you to a friend's house or hook it up at work for some after-hours play.
Cheap, compact, portable
3D movie support
9
Stylish Design and 1080p
Xiaomi Mi Smart Compact Projector
Xiaomi
amazon.com
$499.99
• Resolution: 1080p
• Max Screen Size: 120 inches
• Connectivity: Android TV
The Xiaomi Mi Smart Compact Projector is on the pricier end of the spectrum, but it delivers quite a punch. Despite its price, the Mi is compact, well designed, and capable of any modest home theater rig. It operates on Android TV, which makes it easy to set up and download apps. You can use a single HDMI port for your connection, but, unfortunately, you will still need to use Android TV for setting up the device.
Once you get it set up, though, you'll enjoy native 1080p resolution, up to a 120-inch projection screen, and an average brightness of 500 lumens. All those specs can surely be beat at a higher price point, but for the $500 range that's what you should expect. For what it offers, the Mi is still a highly capable little projector with a very sleek design to boot.
Native 1080p
Sleek design
10
For Well-Lit Rooms
Epson EX3240 SVGA 3LCD Projector
• Resolution: SVGA (800 x 600)
• Max Screen Size: 350 inches
• Connectivity: HDMI
The Epson EX3240 is another full-size projector suited for home theater setups. It boasts 3200 lumens of color brightness, HDMI compatibility, easy-to-use controls, and a 10,000-hour lamp life. It also uses 3LCD display technology, which makes for a brighter, more vivid image than projectors with comparable brightness ratings. Consider this model if you plan to install your projector in a bright, sunny, or well-lit room.
The EX3240 is a bit more affordable but lacks the native 1080p resolution of some competing projectors. Also bear in mind, there is no audio jack output, so you'll need to use an HDMI audio extractor to hook up any external speakers. Everything about this projector is basic, but it offers entry-level capabilities, a promising lifespan, and solid performance in bright rooms.
Bright color performance
Works great in well-lit rooms
No audio jack output
No 1080p resolution
This content is created and maintained by a third party, and imported onto this page to help users provide their email addresses. You may be able to find more information about this and similar content at piano.io
Most Related Links :
reporterwings Governmental News Finance News