News
The 10 Best Splash Pads for Summer Fun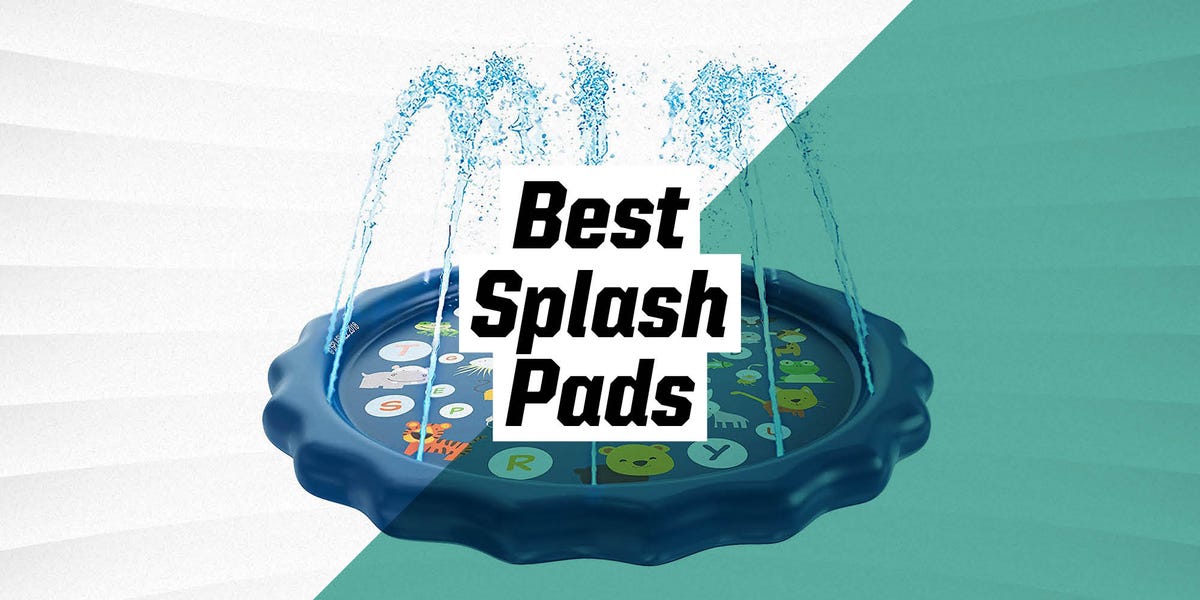 Staff, Courtesy of SplashEZ
Simply telling kids to "go have fun outside" rarely cuts it. But that doesn't mean care-givers have to overthink summer outdoor activities. Splash pads are a perfect, hands-off way for parents to create a safe space for kids of all ages to cool off, explore and spend hours of happy (screen-free!) time.
What to Look for
While a splash pad may seem like a fairly straight-forward buy, there are several important angles to consider. You'll want to look for the recommended age group for your splash pad. Some models may be too advanced for kids under a certain age. Beyond being age-appropriate, you'll want the splash pad to hold your kids' interest and be large enough to play on with friends. Our largest model, at 86 inches, is big enough for a couple of toddlers. Finally, splash pads need to be durable. Several of our recommendations are BPA- and/or phthalate-free PVC material. We made a note when the pads are BPA- or phthalate-free.
How We Selected
We reviewed hundreds of splash pads to find a range of sizes and styles, at several different price points. We also consulted both professional assessments of splash pads and customer reviews, to find the best range of products that perform well on technical points and in real life. Finally, we only included splash pads with overwhelmingly positive ratings from well-regarded companies. Happy splashing!
Advertisement – Continue Reading Below
1
Best Educational Splash Pad for Toddlers
SplashEZ Learning Splash Pad
SplashEZ
amazon.com
$19.99
This 60-inch splash pad will please parents and kids alike, with its approach to squeezing in a little book-learnin' midsplash. The BPA- and phthalate-free pad was created by parents with a learning mat for a base. It features colorful animals and letters. 
Studies show that when kids learn through play, they experience cognitive and emotional growth. It is also a splash pad that doubles as a shallow wading pool. 
Reviewers praised the easy setup. Best for ages 12 months and up.
2
Best Pre-K Splash Pad
Growsland Wading Splash Pad
Growsland
amazon.com
$18.99
This 67-inch splash pad is perfect for toddlers and bigger kids, and the size allows for multiple kids (and adults) to join in. The splash pad is made with environmentally friendly PVC, and is BPA- and phthalate-free. The setup is easy, and reviewers say the toy is durable enough to withstand serious play. Best for ages 3 and up.
3
Best Big Splash Pad
Splashie Inflatable XXL Splash Pool
Splashie
amazon.com
$38.95
This 82-inch splash pad provides enough room for the whole family, even the dogs. The pad doubles as a shallow wading pool; made from thick PVC materials, it is almost twice as thick as other splash pads. 
The inflatable splash pad comes with two pairs of sunglasses, a repair kit, a hose adapter, and a six-month warranty. Reviewers say its size gave their outdoor play space a "waterpark" vibe. Best for ages 24 months and up.
4
Best for Map Lovers
DecorX World Map Splash Pad
DecorX
walmart.com
$43.71
This 68-inch splash pad also features a fantastically engaging and well-illustrated world map that will please cartophiles of all ages. The pad is made of PVC, and is durable enough to withstand enthusiastic play for more than a single season. 
The splash pad is large enough for two to four kids, and will keep your busy bees happily splashing for hours. Best for ages 1 and up.
5
Best Budget Splash Pad
Gagertown Inflatable Elephant Splash Pad
This absurdly cute Gagertown inflatable elephant splash pad will be a hit with toddlers especially. Water shoots from the sides of the splash pad—which also doubles as a shallow wading pool—and the trunk of a friendly looking elephant. 
The 68-inch-long pool is made from durable PVC- and BPA-free material. Reviewers love the pool for babies and toddlers, but older kids will probably not love the cartoonish design.
Ages 10 months and up.
6
Best Princess Splash Pad
Princessa Mia 4-in-1 Splash Pad
PRINCESSEA
amazon.com
$24.98
If you have a princess fanatic in the house, this is the splash pad for you.
The 70-inch diameter splash pad has a colorful princess themed bottom, a bright pink border, and it doubles as a wading pool. It also comes with crowns and wands for the full princess experience. The pool is constructed from durable BPA-free materials. 
Reviewers love the size and say their princess-obsessed kiddos spend hours of happy playtime in their pads.
Best for ages 12 months and up.
7
Best for Baby
Hoovy Infant Splash Pad with Stacking Rings
This 30-inch splash pad is designed with babies in mind. The pool offers a built-in backrest for the ultimate lounge experience, with an inflatable stick that baby can stack three colorful rings on. It also comes with an extra sticker patch in case of a puncture. 
Hoovy donates 10% of their profits to charity, making it a great option for caregivers who like to give back. Reviewers praise the toy for being a great option for introducing babies to the water. 
Best for babies 6 to 18 months.
8
Best for Space Cadets
PerkyPack Space Splash Pad
This 68-inch PerkyPack splash pad comes with a patch kit, and is big enough for two to four kids to play in. The splash pad features a black hexagonal frame and a brightly colored galaxy space design, and it's made from BPA-free PVC, making it durable and nontoxic.
Reviewers love how easy it is to transport—it can be folded into the size of a magazine—making it a great option to bring on trips and to the beach.
Best for kids ages 3 and up.
9
For Shark Lovers
Jasonwell Shark Splash Pad
This 68-inch Jasonwell splash pad will be especially appealing to toddlers. Kids will love to sit, jump or lay in the big mouth of a printed shark, and you'll love to see them splash and play for hours outside. The splash pad is big enough for two to four kids, and doubles as a shallow wading pool.
Reviewers love this splash pad for their kids, and some have bought an extra for their four-legged friends. Easy setup. The durable PVC pool is BPA-free. Best for ages 3 years and up.
10
Best Hopscotch Splash Pad
Fzoihy Numbers Splash Pad
This 86-inch-long, 40-inch-wide rectangular splash pad features a numbered hopscotch game with zoo animals and bright colors. Parents love the opportunity to learn paired with play, and kids embrace the extra game alongside the splashing fun.
The splash pad is best for kids 3 years and up.
This content is created and maintained by a third party, and imported onto this page to help users provide their email addresses. You may be able to find more information about this and similar content at piano.io
Advertisement – Continue Reading Below
Most Related Links :
reporterwings Governmental News Finance News