News
The 6 Best Microphones for Streaming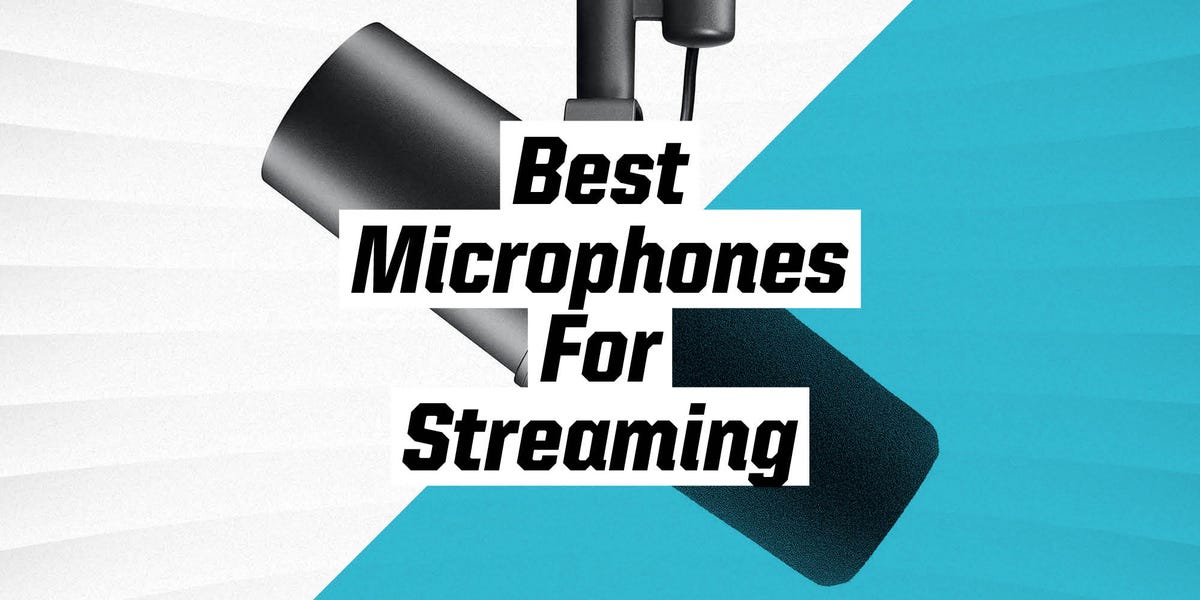 No matter what you're streaming, a quality microphone makes a world of difference. While mics on phones, laptops, and webcams have improved over time, they are still miles behind the quality found in even the most basic stand-alone mic. With the rise of livestreaming and working from home, the demand for clear, quality sound is stronger than ever. Luckily, these top rated mics deliver on sound, usability, and design.
What to Look For
If you're used to using your phone, laptop, or webcam for recording audio, basically any stand-alone mic is going to sound leagues better. But amongst mics, the competition is fierce, and the offerings are varied. The main thing to consider before searching for a great mic is what you'll be using it for. Depending on your needs, the best mic for you will vary drastically.
Terms to Look Out For
Buying a microphone, even a simple one, can quickly turn into a blur of technical terms involving waveforms, frequency response, and concepts usually relegated to audio production. While certainly intimidating, there are only a few basic concepts beginners need to know before deciding to buy. Here's a summary of a few of those terms to know.
Condenser Microphone: One of the two most common microphone types. Condenser microphones are generally sensitive, accurate mics that are great for capturing normal speech.
Dynamic Microphones: One of the two most common microphone types. Dynamic mics are great for music, capturing loud sounds like instruments, amps, and live performances with ease and clarity.
Polar Pattern: Indicates which direction audio will be picked up by your microphone.
Cardioid: The most common polar pattern. Captures audio in a cone-shape directly in front of the microphone. Perfect for anything involving one person speaking.
Bidirectional: Captures audio directly in front of and directly behind the microphone. Great for across-the-table interviews.
Omnidirectional: Captures audio 360 degrees around the microphone. Great for group conversations.
Stereo: Captures audio in front of the microphone, in dual-channel, aka stereo, format. Great for recording vocal harmonies or autonomous sensory meridian response (ASMR) speech.
Frequency Response: The range of sounds a microphone is able to pick up. Generally speaking, the human ear can hear frequencies between 20 Hz and 20 kHz, so most mics encompass at least this range.
How We Selected
We strive to rigorously test every product we recommend. For those products we can't test ourselves, we perform intensive research, reviewing content from expert sources like PC Gamer, Eurogamer, IGN, Tom's Guide, Soundguys, and others, as well as thousands of consumer reviews from online storefronts on Amazon, Best Buy, and Walmart. As for the products themselves, we evaluated them on sound quality, features, design, accessibility, and cost.
1
Best Overall
Blue Yeti Microphone
Blue
amazon.com
$129.99
$108.08 (17% off)
Key Specifications
Microphone Type: Condenser
Polar Pattern(s): Cardioid, Bidirectional, Omnidirectional, Stereo
Connection Type: USB
Whether you're looking to improve the production quality on your Fortnite stream or sound clearer while interviewing podcast guests across the table, the Blue Yeti delivers. The Blue Yeti has been a stalwart microphone recommendation for years, and for good reason. With a solid metal construction, simple setup, great sound, and important functionality like polar pattern, gain, mute, and headphone monitoring physically on the microphone, the Blue Yeti is a surefire way to improve your audio.
The original Blue Yeti is sufficient for most folks, but if it's within your budget, the Blue Yeti X provides a few feature improvements, namely improved software and a front facing digital LED to monitor audio levels.
Great sound in a myriad of contexts
Solid metal construction
Easy to use, physical dials
2
Best Budget
HyperX SoloCast Microphone
HyperX
argos.co.uk
£64.99
Key Specifications
Microphone Type: Condenser
Polar Pattern(s): Cardioid
Connection Type: USB
For anyone on a tighter budget but who's still seeking clear, quality sound, the HyperX SoloCast is our favorite budget pick. A compact, no-frills design combined with a very high quality, full frequency microphone make it a simple, accessible mic at an affordable price point. While it lacks many higher-end features, the cardioid polar pattern, combined with a tap-to-mute sensor that syncs with the front-facing LED, make the HyperX SoloCast a solid choice for most streamers.
Portable design
Excellent sound for the price
3
Best for Gaming
HyperX QuadCast S Microphone
HyperX
bestbuy.com
$159.99
Key Specifications
Microphone Type: Condenser
Polar Pattern(s): Cardioid, Bidirectional, Omnidirectional, Stereo
Connection Type: USB
Unlike most of the mics on this list, the HyperX Quadcast S is flashy. Fully embracing a "gamer aesthetic," the Quadcast S features fully programmable, customizable RGB lighting and a unique design, sure to blend in with any mood light or colorful gaming rig. 
In terms of features, the Quadcast S is loaded with a full-range frequency response, four polar patterns, gain control dial, mute button, and a built-in shockmount and pop filter. Combined with HyperX's solid software, the Quadcast S is a favorite amongst gamers, for good reason. 
Deeply customizable RGB lighting
Robust feature set
Built in shockmount and pop filter
Better-sounding mics at this price range
Aesthetic is not for everyone
4
Best Software
Elgato Wave 3 Microphone
Corsair Elgato
amazon.com
$155.15
Key Specifications
Microphone Type: Condenser
Polar Pattern(s): Cardioid
Connection Type: USB
For someone running a robust online stream with multiple audio sources, software is a crucial, and complicated, part of the process. If you are looking for an easy way to manage your increasingly complicated livestream, the Elgato Wave 3 may be your solution.
A solid mic in its own right, with physical volume, gain, and mute controls, it's the software that puts the Wave 3 above the competition. The Wave Link software works as a digital audio mixer, allowing you to mix up to eight channels of audio within your stream. Especially for streamers using software like OBS or XSplit, the Wave Link software can be a lifesaver.
Excellent Wave Link software
Clear, crisp audio, with above-average sample rate
Only one polar pattern
Not as versatile as other mics
5
Best for Music
Shure SM57-LC Microphone
Key Specifications
Microphone Type: Dynamic
Polar Pattern(s): Cardioid
Connection Type: XLR
When it comes to streaming music, the requirements for a great microphone change completely. While most popular condenser microphones are great for speaking, interviews, and podcasts, they are subpar for loud musical performances. For great music mics, look no further than the Shure SM57.
The SM57 are classics: amazing, affordable mics that have been used by musicians for decades. It features a flat-top design, and is perfect for recording instruments like guitars, drums, and more. A similar model, the SM58, with its round steel head, is an iconic vocalist mic, recording vocal performances of all kinds with ease and clarity.
Excellent, affordable sound for musicians
Lightweight, portable, durable design
XLR input requires extra equipment and audio know-how
No mic stand
6
Best Professional Mic
Shure SM7B Microphone
Key Specifications
Microphone Type: Dynamic
Polar Pattern(s): Cardioid
Connection Type: XLR
If you're looking for the best of the best, a microphone used by brand names, radio hosts, celebrities, and musicians alike, the Shure SM7B is it. This mic is all about great sound, and is the best sounding mic on this list. 
Unlike its condenser USB counterparts, the SM7B features almost none of the built-in dials and controls seen on other mics in this list. That's because the SM7B is targeting professionals, who likely have dedicated audio mixers and mixing software offering much more fine tuning than a single mic dial. 
If you are already a veteran streamer with audio equipment and know-how, the Shure SM7B could bring your stream to the next level.
Incredible, high fidelity sound
Excellent build quality
Tight polar pattern and pop filter shut out background noise
Expensive
No mic stand
Not for beginners
This content is created and maintained by a third party, and imported onto this page to help users provide their email addresses. You may be able to find more information about this and similar content at piano.io
Most Related Links :
reporterwings Governmental News Finance News