News
The 9 Best Misting Fans to Buy Right Now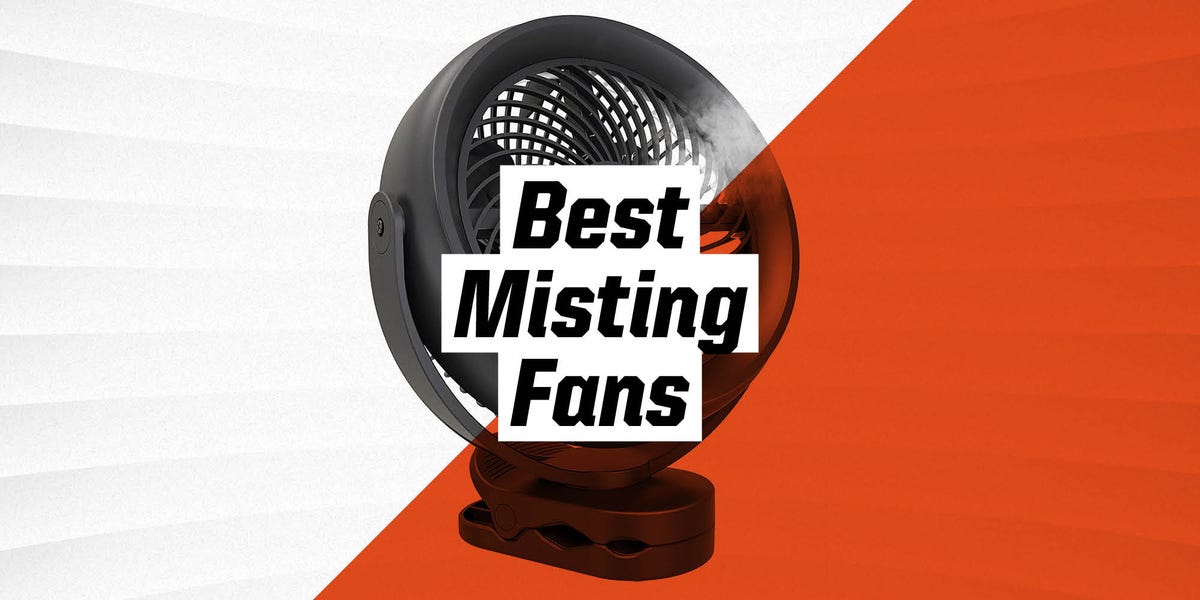 Staff, Courtesy of Koonie
Rather than simply blowing around warm air, misting fans add moisture for extra cooling, and they're particularly effective in arid climates. Options are as varied as any regular fan you might buy, including corded, battery-operated, and rechargeable fans, and styles such as pedestal, wall-mounted, and ground fans. There are even mini handheld misting fans that are great for the beach, and models with clamps to attach to a desk or exercise equipment. Whether you're looking something affordable that'll get the job done or want a high-end misting fan for your patio, read on for our top recommendations.
What to Consider
The first decision to make when shopping for a misting fan is whether you want one that attaches to a garden hose or has a reservoir. You'll want to look at specs that include square feet of cooling space, the number of cubic feet per minute, or CFM, of airflow, and, in some cases, the maximum distance of mist emitted. Fans typically have three speeds and some feature adjustable mist settings whereas others are fixed. Depending on their design, some oscillate or pivot vertically.
How We Chose
All of the misting fans we selected have average ratings of four stars or more. We selected options in a range of styles as mentioned above, and cover price points ranging from budget to splurge-worthy. Features are often specific to a particular fan's style, but we highlight the most important for every fan we review, including specs like area of coverage, dimensions, weight, and runtime for models with reservoirs.
Advertisement – Continue Reading Below
1
Editors' Choice
Geek Aire Rechargeable Misting Fan
Geek Aire
amazon.com
$189.99
We love the Geek Aire for its reasonable price point, good performance, and lineup of convenient features. The 16-inch cordless rechargeable fan has a 15,000mAh detachable battery, plus three nozzles to spray cool mist more than 11 feet away and an airflow of 2,300 CFM.  
You can pivot it nearly 360 degrees vertically on its stand—making it ideal to mist plants in your garden in addition to cooling off dining space on your patio—and it's said to run up to 10 hours on a fully charged battery. 
The fan connects to a standard garden hose and is made of coated ABS plastic, so it's waterproof, rustproof and fade-resistant, plus it's lightweight for its size, weighing in at 13 pounds.
2
Our Value Pick
SPT 18-Inch Oscillating Misting Fan
SPT
amazon.com
$159.00
$141.02 (11% off)
If you're looking for a basic, affordable misting fan, this one is an excellent choice. The 18-inch oscillating pedestal fan features five blades, with a hub of three rust-resistant brass nozzles and three speeds, and connects to a standard garden hose. The control panel is on the front and it has a wide base, and the fan stands roughly four-and-a-half feet tall and weighs about 17 pounds. Several customers say that the misting function works well and that the fan is easy to assemble.
3
A Step Up
NewAir Pedestal Misting Fan
NewAir
walmart.com
$232.27
With a bit more to spend, this 18-inch misting pedestal fan offers 2,800 CFM of power to cool off spaces up to 600 square feet. It features wide-angle oscillation, elegantly curved metal blades, and three fan speeds, plus it's said to lower the temperature by 10 degrees in arid environments. The fan connects to a standard garden hose, stands about 4.5 tall, and has a built-in GFCI plug for extra safety. 
4
Our Premium Pick
Cool-Off Oscillating Misting Fan
Cool-Off
amazon.com
$699.00
This high-end oscillating misting fan features a sturdy wheeled base with a safety break, plus it can hold 12 gallons of water and is said to have a 12-hour runtime. You can adjust the amount of mist it puts out and it features three speed settings, along with automatic water pump shutoff and built-in power overload protection. Another highlight is its copper motor, which runs smoothly to cut down on noise and vibration, and several customers say that it's quiet. The fan is a whopping 6.5 feet tall and has a 10-foot power cord. 
5
Best Portable
XPOWER 3-Speed Misting Fan
XPOWER
amazon.com
$213.87
It may be small, but this compact misting fan is mighty, with four misting nozzles that are said to cool down arid climates by 25 degrees. It features three speed settings and 135-degree rotation, plus it generates 600 CFM of airflow and runs off 1.2 amps. It also has a sealed motor that prevents moisture and dust from getting in. The compact misting fan weighs about 10 pounds and is roughly 15 inches tall, with a seven-foot-long cord. 
6
Best for Desks or Exercise Equipment
Koonie Misting Fan with Clip
Need a little cool-down while you work or break a sweat on your treadmill? This misting fan has a two-inch-wide clip to attach to your desk or exercise equipment. The cordless misting fan features a continuous and intermittent mode, with a tank that holds roughly seven ounces of water and a detachable 10,000mAh battery that can be used to charge other devices. It also has three speed settings and rotates 360 degrees horizontally, plus it's easy to clean, as the front grate pops open. 
7
Best Handheld
HandFan Portable Handheld Misting Fan,
This handheld misting fan will keep you cool at the beach or on the dance floor—and it's a customer favorite, with an average 4.6 stars from nearly 2,000 reviewers. There are three speed settings, with  a button to activate the mist. 
I'll automatically stop after 10 minutes, which is a good thing since it only holds a half an ounce of water, plus there are seven different nightlight colors for fun in the evening. Another highlight among features is that it's foldable, so you can throw it into your bag or prop it up on a table.
8
Best Wall-Mounted
HydroMist 18-Inch Wall-Mount Oscillating Fan
HydroMist
amazon.com
$279.00
With an average 4.8 stars, this fan also gets rave reviews for the quality of its materials and overall performance. The 18-inch oscillating outdoor misting fan has an appealing, industrial-chic design and features four blades and three speeds, with a tilt ratchet on the fan head. It has all-stainless steel construction with a black finish, and a handheld controller on the cord for easily switching speeds, plus it comes with mounting hardware. The only drawback is that the misting kit is sold separately.
9
The Splurge
Hurricane High Velocity Misting Fan
EcoJet by Joape Misting Fans
wayfair.com
$1,799.00
This granddaddy of a misting fan stands at about six-and-a-half feet tall, with an airflow of 7,100 CFM that effectively cools areas up to 1,500 square feet. It's encased in durable, weather-resistant plastic, with a tank that holds 26 gallons of water said to run up to 10 hours depending on the misting level, which can be adjusted incrementally from low to high. 
Another major highlight is that the mist is created from a spinning disk in the center that runs at 3,500 rpm, so there are no nozzles that could potentially clog. Also, any extra water that isn't dispersed into the air gets recycled and flows back into the reservoir.
This content is created and maintained by a third party, and imported onto this page to help users provide their email addresses. You may be able to find more information about this and similar content at piano.io
Advertisement – Continue Reading Below
Most Related Links :
reporterwings Governmental News Finance News