News
The Best Barn Door Hardware to Mount Your Doors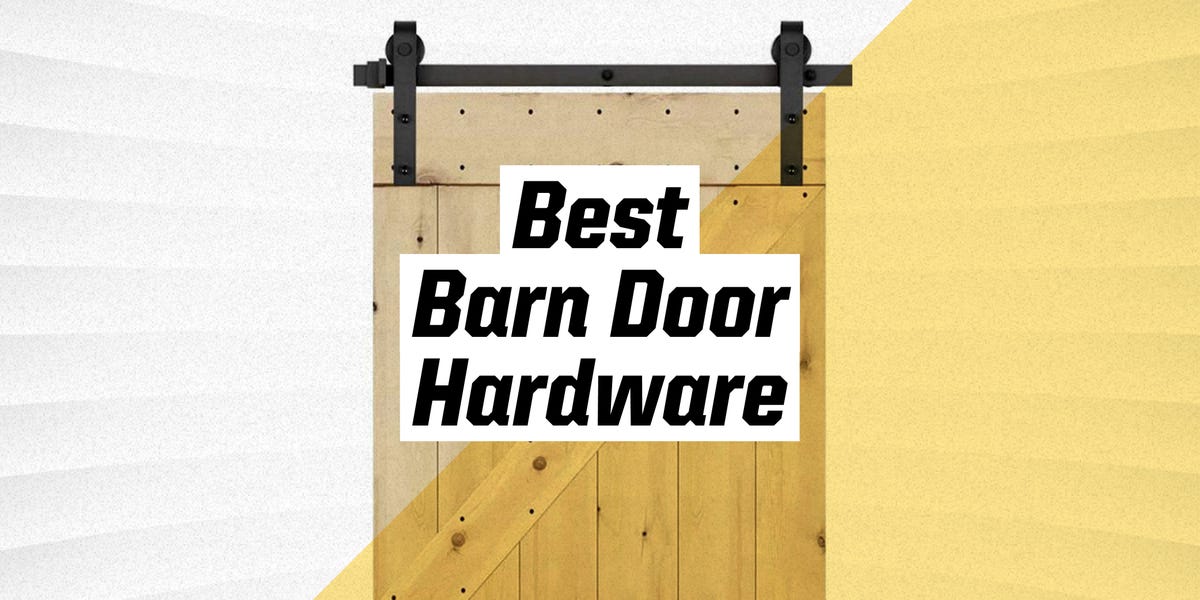 By sliding out of the way—instead of swinging open—barn doors save you a considerable amount of space, while still allowing you to maintain a certain amount of privacy. While they're usually not ideal for bedrooms and bathrooms, they're a great option for closing off an office, living room, kitchen, or pantry. Whether you're replacing an existing door, or placing it in an existing doorway, they can also be a cost-effective substitute for the similar, but more expensive, pocket door. It's worth noting that none of the options we've listed here include the doors themselves—that will have to be a separate purchase.
What to Consider
When selecting your barn door hardware, you should first make sure it's going to work with the size and shape of the door panel that you're planning on using. If your doorway is larger than standard, you may want to consider choosing an option that can accommodate either dual doors, or an extra-wide single door. It's also important to make sure your hardware matches your door, stylistically. If you're not comfortable doing this kind of installation work yourself, feel free to hire a professional. It may cost more, but the peace of mind you get knowing that your door is hung securely is probably worth the price.
How We Chose
Since we don't know what kind of door panel you plan on using, we made an effort to include a list of options that could work for a variety of door shapes and styles. Whether you have a pair of doors you want to slide together, or an extra-large panel to cover a wide room opening, we should have you covered. For those who are looking for more of a high-end feel, we also included a soft-close option, which prevents the door from slamming, and instead pulls it open and closed with a soft-smooth motion.
Advertisement – Continue Reading Below
1
Best Stainless Steel Option
SMARTSTANDARD Stainless Hardware
SMARTSTANDARD
amazon.com
$90.99
The hardware in this kit, including the floor guides, are all matching stainless steel, making for a clean, modern aesthetic. 
If you do decide to install it yourself, this option includes fairly detailed instructions, with helpful illustrations and straightforward directions. The rail in this kit is pre-drilled for use on homes with 16-inch studs—which should be suitable for the majority of users—but you may want to use a stud finder to make sure, since older homes may be built with 24 inches between studs. 
This option is more expensive than most other models, though, so keep that in mind.  
Anti-jump block
Can be used with a range of door sizes
Requires router or circular saw for installation
2
Best Industrial-Look Option
SMARTSTANDARD Bigwheel Hardware
SMARTSTANDARD
amazon.com
$64.99
For those looking to add a rustic, farmhouse-y look to their home, this option might be just what they're looking for. It's also robust enough to hold doors weighing up to 220 pounds, and from 1 3/8 to 1 3/4 inches wide. It includes the hex key needed for tightening up some of the hardware, although you'll still need quite a few other tools, including a router and power drill. 
Anti-jump discs keep the door sturdy and in place while being slid back and forth, and prevent it from coming off the track, even if lifted by accident. 
Affordable price
Straightforward instructions
Not suitable for panels over 40 inches wide
3
Best Light-Duty Option
U-MAX Basic Barn Door Hardware
If you're looking for a basic, no-frills kit, this U-Max option could be a great choice. It's not designed to support especially heavy doors—it's limited to 200 pounds—but should still suffice for the majority of panels. Its 1/4-inch-thick steel construction is nice and durable, and with a matte black finish, is neutral enough to be a good match with a variety of door styles. 
A pair of door stoppers can be tightened at any point in the main rail, and use two set screws to allow you to stop the door wherever you like.
Rubber caps make for a quiet close
Solid construction
4
Best For Wide Doors
WinSoon Sliding Barn Door Roller
WINSOON
amazon.com
$165.00
This kit is designed for extra wide doorways, capable of stretching its track across 18 feet in length. This could be a great option for those who want to turn their living room into a separate bedroom, or just want a little more privacy in their home. 
Unlike most models that require you to create a groove in the bottom of your door, this option has two installation options, and includes the hardware necessary to install two floor guides that don't require extra cutting. It allows for a maximum weight capacity of 230 pounds, and its door stoppers keep the door in the track at all times.  
Anti-jump pad
Durable steel construction
More expensive than most options
5
Best Affordable Option
Arrow J Barn Door Hardware
YAHEETECH
amazon.com
$59.99
If you're interested in adding a barn door to your house, but don't have the budget for higher-end options, this affordable kit could be a great choice. 
Waterproof and rust-resistant, it's not only suitable for indoor use, but also outdoor applications like garages or barns. It's designed to be used with doors from 36 to 40 inches wide, and just like more expensive options, its J-shaped design can support up to 220 pounds of weight. The rails are made to break down into two separate pieces when not in use, making them easy to store or transport to a new house. 
Durable iron construction
Only weighs 14 pounds
Too short for wide doorways
6
Best Heavy-Duty Option
Heavy Duty J Hardware
SMARTSTANDARD
amazon.com
$83.99
This heavy-duty option provides sturdy and robust support for your barn doors, and is designed to fit versions up to 1 3/4 inches thick. This would be a great choice for those who have a pair of double doors, and want to ensure they're hung securely. Its rail support can be mounted to either wood or concrete, and are also pre-drilled to work with standard 16-inch wall studs—so regardless of wall material, you shouldn't run into any issues while installing. 
An included floor guide is anchored in place, and it protects your baseboards from scratching and scuffing over time. 
Wide 10-foot width
Also comes in 8- or 12-foot versions
Heavier than most options
7
Best Single-Track Bypass Option
Bypass Hardware for Barn Doors
This bypass model is designed for two panels to be stacked on one side of the doorway—with one sliding behind the other. This makes it convenient for areas in your home that might not have the wall space to fit a standard double-door design, like a kitchen pantry, or the entrance to the laundry room. This would also be great for larger areas where you would prefer not to sacrifice wall space that could otherwise be used for art or picture hanging. We love its 10-year money-back guarantee, and the fact that it's advertised to have passed 150,000 opening and closing tests. 
Can be used on doors as heavy as 265 pounds
Carbon-steel construction
8
Best Soft-Close Model
DIYHD Soft Close Hardware
Similar to high-end kitchen cabinets and drawers, the soft-close mechanism of this kit allows your barn doors to close softly and quietly. 
Best of all, the design of this model hides the extra mechanism behind the track itself, so you'll still maintain the smooth, clean lines of standard models. The steel construction is durable, and the brushed nickel finish would be a great choice for anyone who finds black hardware not as stylish as they would like. The 170-pound weight capacity is lower than most, but should still be fine for the majority of door panels.
Heavy-duty fasteners
Can hold two door panels
This content is created and maintained by a third party, and imported onto this page to help users provide their email addresses. You may be able to find more information about this and similar content at piano.io
Advertisement – Continue Reading Below
Most Related Links :
reporterwings Governmental News Finance News