News
The Best Framing Nailers for Any of Your DIY Construction Projects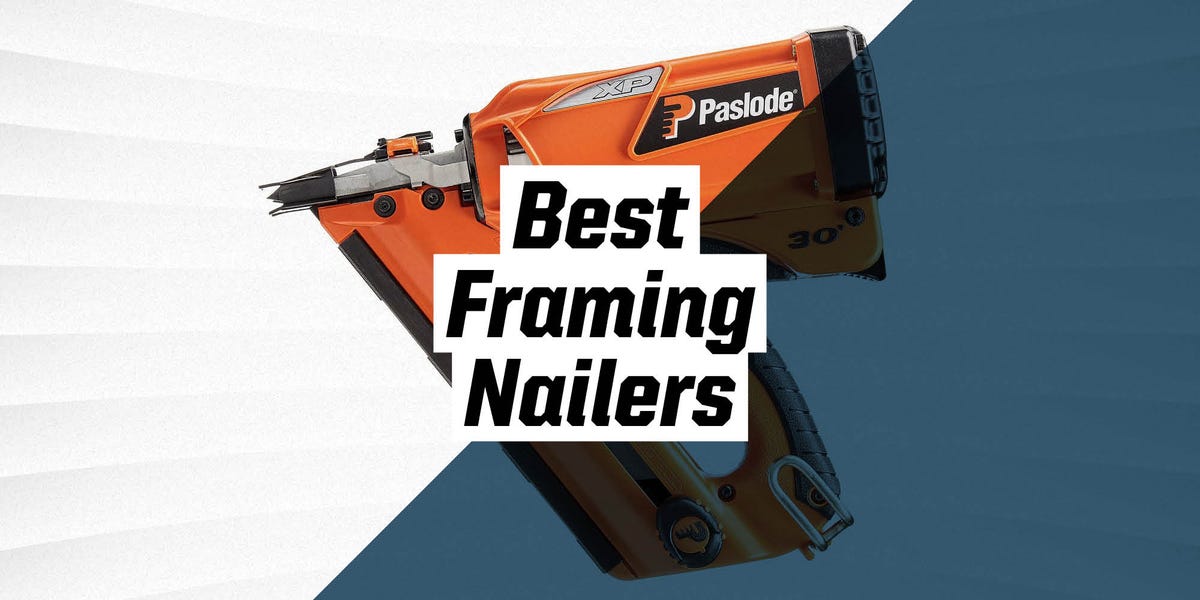 The heavy-duty sibling of smaller finish and brad nailers, framing nailers are essential if you plan on tackling any kind of structural remodeling to your home. They're also designed for maximum durability, allowing them to stand up to the rugged environments of busy work sites, and use a long, angled magazine that helps to streamline their body for maximum maneuverability. They're not suitable for delicate projects or material, but if you're adding an addition to your home, putting in a deck, or assembling a tool shed, a reliable framing nailer is worth its weight in gold.
What to Consider
Since all framing nailers are going to perform the same task—sinking framing nails—the biggest factor to take into account is their individual power source. While pneumatic nailers have a practically unlimited runtime, it can be a hassle to drag around a compressor and air hose. Paslode models that use a gas fuel cell are more convenient while you work, but you'll need to keep a supply of cells on hand, and these models are also very expensive. Battery-powered options also allow you to be more mobile, but their high price and limited runtime may not be practical for some users.
How We Selected
Our experiences as residential and commercial carpenters, as well as time spent on a variety of construction projects, have given us a lot of insight into what makes a great framing nailer. We used this experience — in addition to online research and other expert opinions — to populate our list with the most trusted names in framing nailers, like Metabo, Paslode, and Bostitch. It's worth noting that if you notice a lack of Hitachi products in our picks, that's because Hitachi nailers are now sold under the Metabo name, and we've found no evidence to suggest that the quality of their products has suffered.
Advertisement – Continue Reading Below
1
Best Overall
Metabo HPT NR83A5 Pneumatic Framing Nailer
Metabo HPT
amazon.com
$269.00
The Cadillac of framing nailers, this Metabo model is designed for maximum productivity with minimum user effort. The selective actuation trigger allows you to quickly switch from either contact or sequential nailing, which is not only convenient to use, but will also save a lot of time over the course of a project. 
The non-slip rubber grip is one of the most beneficial features of this nailer, and combined with the balanced weight, makes for a surprisingly comfortable operation for such a powerful tool. The five-year warranty alone makes this model stand out from the rest of the pack. 
Tool-less depth adjustment
Well-balanced body
2
Best Fuel Cell Option
Paslode 905600 Cordless XP Framing Nailer
Paslode
amazon.com
$593.52
If you're looking for maximum mobility without sacrificing power, this Paslode model is probably your best bet. Its fuel cells eliminate the hassle of dealing with noisy and cumbersome air compressors, and they're efficient enough to last for about 1,200 nails per cell. 
We're also big fans of the bright orange color, making it difficult to misplace or get lost in a busy job site. At 7.2 pounds, it's lighter than almost any other framing nailer on our list, making it easier to maneuver into tight and awkward spaces while you work. It's also rated to work in cold temperatures, as low as 14 degrees.
Eliminates tripping hazard of air hose
Full one-year warranty
3
Best Lightweight Option
BOSTITCH F21PL Round Head Framing Nailer
Bostitch
amazon.com
$191.97
Our favorite feature of this nailer is definitely its lightweight design which, at just 4.17 pounds, is the lightest option on our list. Its comfortable rubber grip—combined with this light weight—makes this option great for reducing the hand and shoulder fatigue that can occur during long projects. 
It's also able to use 1½-inch nails, a smaller size that most framing nailers aren't designed to accept. An additional nose piece also allows you to use this option on metal framing hardware, a task that can be frustrating with a regular tip. 
Rafter hook
Depth adjustment guide
4
Best Pneumatic Paslode Option
Paslode 501000 Pneumatic Framing Nailer
Paslode
amazon.com
$249.00
This powerful Paslode model is a great option for those who need a heavy-duty nailer, but don't want to sacrifice convenience. It features a multifunctional trigger that allows you to choose between manual or sequential firing options, and is capable of sinking up to 12 nails per second.
It's also designed for simple depth adjustment, so you can easily calibrate the depth of your nails. This model is also perfect for toe-nailing, thanks to a spiked nosepiece that allows you to securely bite into wood as you fire. At 8.4 pounds, it is a bit heavy, so keep that in mind.
Includes safety glasses
Rafter hook
5
Best Value Option
Metabo HPT NR90AES1 Framing Nailer
Metabo HPT
amazon.com
$149.21
For a high-quality nailer at a price this low, you really can't beat the value of this Metabo option. Its 7.5-pound weight is relatively light, and the tool-less depth adjustment allows you to quickly and easily sink nails to your desired depth. It also comes with a pair of safety glasses, which is always a plus. 
This nailer can also be purchased with a pancake compressor, so if you're just starting out, this could be a great kit to get you started right away. Just like other Metabo nailers, it's covered by a five-year warranty.
6
Best Coil Nailer
Metabo HPT NV83A5 Coil Framing Nailer
Metabo HPT
amazon.com
$379.00
Even though this nailer is the heaviest pneumatic option on our list, its high nail capacity might make this Metabo option worth it to the right user. 
Plus, the shorter canister-style magazine allows it to fit into areas that would otherwise be inconvenient with a longer stick magazine. Its heavy-duty tip is designed to stand up to wear and tear during use, and also has a nice claw shape for quick and easy toenailing. 
It's probably not the best option for a beginner, but if you have strength and experience to handle it, this nailer could be a perfect fit. 
Selectable trigger action
Heavy-duty construction
7
Best Low-Budget Model
Freeman PFR2190 Pneumatic Round Head Framing Nailer
Freeman
amazon.com
$139.00
It probably wouldn't be ideal for everyday, heavy-duty use, but this Freeman nailer could be a good fit for those who need to do occasional framing, and also aren't ready to make a large investment. It does have many of the useful features of higher-end models though, like a tool-free depth adjustment, and a no-mar tip that can be removed if you'd prefer to use the teeth for a better grip on your wood pieces. 
Plus, an anti-dust cap prevents any debris or contaminants from entering the tool when not in use.
Air exhaust can be adjusted 360 degrees
Heavier than most options
8
Best Battery-Powered Option
Metabo HPT NR1890DRS Cordless Framing Nailer Kit
Metabo HPT
amazon.com
$401.80
Although this nailer costs significantly more than the competition, its cordless mobility and high-quality construction could be worth it to the right customer. Its 3.0Ah battery can fire up to 400 nails on a full charge, and the control panel allows you to quickly switch from sequential to bump-fire mode, and also provides a light-up battery level indicator. 
It's also designed to prevent dry-firing, adding to the nailer's overall durability. We would have preferred a hard-sided carrying case for a tool this expensive, but if you handle it with care, you should be all right.
Very heavy
Not as rugged as pneumatic options
This content is created and maintained by a third party, and imported onto this page to help users provide their email addresses. You may be able to find more information about this and similar content at piano.io
Advertisement – Continue Reading Below
Most Related Links :
reporterwings Governmental News Finance News