News
The Best Inflatable Standup Paddleboards Combine Capability and Portability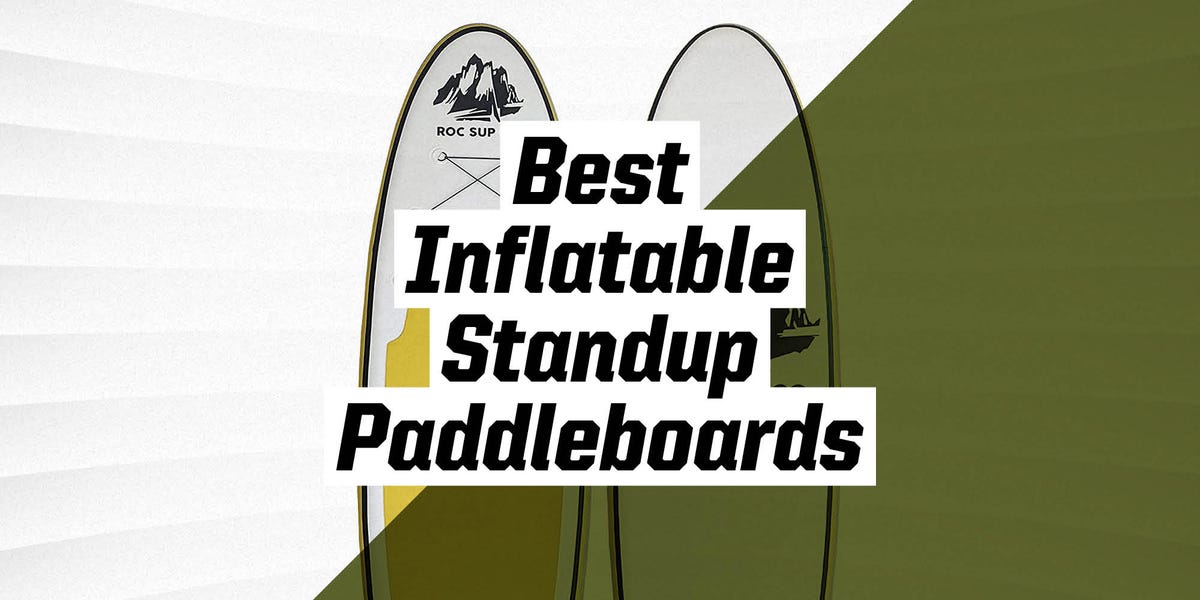 Standup paddleboards (SUPs) are fun, accessible watercraft for those who like to stay on their feet as they drift around glassy lakes, tour on the open ocean, or meander down rivers. The rise of inflatable boards has further added to the accessibility, since they're easier to carry and store. And recent design improvements mean that they're closing the gap in performance to their rigid brethren and aren't just blow-up afterthoughts.
Though these oblong inflatables may seem similar on the surface, a few inches of length or width can have a huge impact on performance. It's crucial to fit the right length, width, and volume for you, because balancing atop the right board can make the difference between having a great time and, well, literally sinking. Here's the checklist of things to keep in mind as you're buying an inflatable paddleboard, followed by our reviews of the best.
What to Consider
Length: Perhaps the most prominent spec on standup paddleboards, length has the greatest bearing on overall performance. Generally, the longer a board is, the better it glides and the greater its capacity to carry heavier loads. Long-distance racers will often ride boards 14 feet or bigger, while surfers use boards as short as 7.5 feet. For most recreational paddlers, lengths should fall between 10 and 12 feet.
Shape: Inflatable standup paddling equipment is often designed for different activities, whether you plan on tackling whitewater or going fishing, practicing yoga or leisurely touring. This is most evident in the shape of the board. Usually manufacturers will make this clear in the description. Generally, touring boards will be longer (12 to 14 feet) and narrow, while river-specific or surf boards will be shorter (often less than nine feet) and wider.
Capacity: When considering how much weight a board can effectively float, the specification you want to look for is volume. Measured in liters, it is dictated by the board's dimensions. Basically, the bigger the board, the more volume it will have and the heavier the weight it can carry. There is no ideal volume-to-weight ratio, but look for a board with liters somewhere between 1.1 and two times your body weight in pounds. Some brands also list the weight capacity directly in the description.
Weight: There's been a big push in the SUP industry to make inflatable boards lighter. The issue with this is too light of a board can mean it's made of poorer quality or less durable material. Cheaper boards will often have a single-layer PVC outer shell with a linear drop stitch inside to give the board its firmness. More expensive boards can have layered PVC, welded seams, and a more complex system to make them stiffer.
How We Selected
For our list, we looked at size, weight and a variety of shapes. We also considered portability, accessories, and the factory warranties. I personally have been standup paddling for 12 years and testing boards and equipment for seven years.
Best Overall
Bote Breeze Aero
• Length: 11 feet, 6 inches
• Capacity: 315 lb
• Weight: 22 lb
An excellent combination of portability, sturdiness, and versatility, the Breeze Aero is a great match for paddlers who are looking for an entry-level board that can handle mellow day trips or heavy loads and long expeditions. The 11-foot 6-inch board is rated for weights north of 300 pounds, offering most paddlers a lot of options for cargo. And at 22 pounds itself, it's easy to port to and from the water. Bote offers a Travelink shoulder strap, which is sold separately but worth investing in for how convenient it makes hands-free carrying. Paddle, pump, and backpack are included.
Stable
Versatile shape
2-year warranty
• Length: 10 feet
• Capacity: 300 lb
• Weight: 17.5 lb
A quick Google search will reveal the countless number of generic inflatable SUPs available at bargain prices. But remember, you're trusting this board with a lot, and reliability shouldn't be taken lightly. Fortunately, over 4,400 five-star Amazon reviews are hard to argue with. Roc's basic setup comes with everything you need to get on the water. The ten-foot length and 33-inch width will accommodate paddlers and cargo up to 300 pounds. The all-around shape will offer versatility, working equally well on slow rivers as flat water. The board comes with a one-year warranty.
Best for Outfitting
Tahoe SUP Tahoma
• Length: 11 feet
• Capacity: 450 lb
• Weight: 35 lb
Need a platform to act as a floating home base for adventures ranging from scuba diving to fishing? The Tahoma is ready. The 35-inch-wide design is built to be supremely stable but still has a nice glide due to the catamaran-like outer hulls. With a 450-pound cargo capacity, the board can handle fishing rod holders, coolers, a kayak seat, or even a trolling motor, though additional accessories are needed for each and will add to the cost. Though it's heavier than other 11-foot inflatables, the platform-like board was stable in bumpy ocean conditions and glided easily on flat water.
Stable
Variety of accessory mounting options
Versatile
Large capacity
Heavy
Accessories not included
Best for Rivers
Hala Atcha 96
coloradokayak.com
$1,299.00
• Length: 9 feet 6 inches
• Capacity: 275 lb
• Weight: 26.2 lb
Paddling down streams and rivers generally demands a different type of paddle board than flat water. Shorter, wider boards with a lot of rocker tend to perform best in whitewater scenarios. These shapes allow paddlers to navigate currents, eddies, and rapids while remaining standing. Hala created the Atcha—with a 36-inch width and a fin box that gives the center fin room to retract into the board if it collides with a rock—just for the challenges of fast-flowing rivers. Based in Colorado, the company is well known for its rugged river boards.
Stable
River-specific shape
Rugged
Best for Long-Distance Touring
Starboard Touring Inflatable
sup.star-board.com
$1,399.00
• Length: 14 feet
• Capacity: 265 lb
• Weight: 29 lb
For long paddle trips, efficiency is key. You want a board that glides well with every stroke. Starboard has refined its inflatable shapes to get maximum performance. Available in widths from 28 to 32 inches, the Touring model can be fit to paddlers who want either better glide (narrower) or greater stability and capacity (wider). There are also three different lengths, from 11.5 to 14 feet, for smaller or larger riders.
Exceptional glide or stability, depending on the dimensions you choose
Available in a range of lengths and widths
Best for Traveling
Red Compact
redpaddleco.com
$1,999.00
• Length: 11 feet
• Capacity: 240 lb
• Weight: 18.6 lb
At just over 18 pounds, the lightest 11-foot inflatable SUP is the Red Compact. This board is ideal for hiking into mountain lakes or jumping on a flight to remote waters. Red spent years designing the travel-friendly model, incorporating a new system of interior stringers that add rigidity and allow the board to fold into an extra-small package. The Compact comes with a five-piece paddle (also among the smallest pack paddles on the market), Red's travel bag, fin, leash, and dual-chamber pump. Though they're pricier than many others, all of the company's boards are backed by a five-year warranty.
Lightweight
Compact when uninflated
5-year warranty
Best for Multiple Riders
Isle Megalodon
islesurfandsup.com
$1,395.00
• Length: 15 feet
• Capacity: 1,050 lb
• Weight: 50 lb
Families or friends that want to get on the water together will need a big board. Multi-person SUPs can often accommodate from two to six (or more) paddlers. Isle's aptly named Megalodon comes with two paddles, a pump, and a fin and in 12- and 15-foot lengths, great for 650 pounds and 1,050 pounds, respectively. At 34-pounds and 50-pounds, obviously the big boards are nowhere near the weight of lighter single-person SUPs. You might want to opt for the electric pump, as inflating the two chambers with a hand pump will take a while.
Multi-person capacity
Stable
Plenty of carry handles
This content is created and maintained by a third party, and imported onto this page to help users provide their email addresses. You may be able to find more information about this and similar content at piano.io
Most Related Links :
reporterwings Governmental News Finance News