News
The Best String Trimmers for Keeping Your Yard Tidy and Well-Kept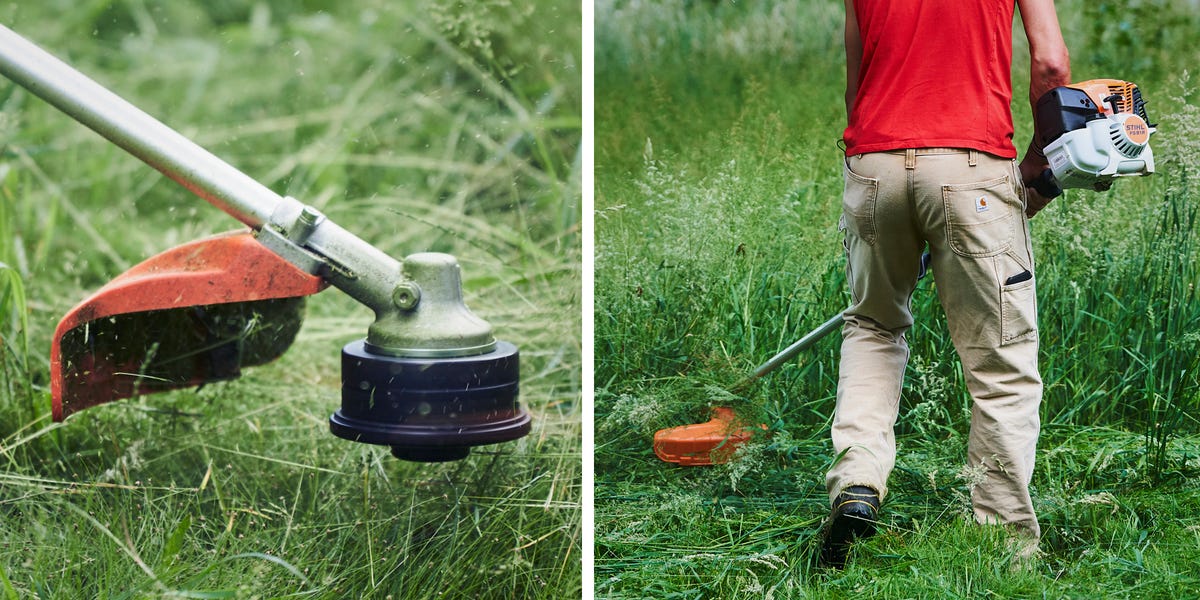 In testing string trimmers, we assembled them, charged their batteries or filled them with fuel, adjusted their handles, and then paused briefly to admire their shiny, well-fitted surfaces. A few hours of testing later, the machines were a mess­–dirty and scratched from slashing through grass and weeds.
That describes the life of the string trimmer, a hard-working tool that doesn't stay pretty for long. Consisting of a shaft with a motor or engine on one end and a whirling propellor of plastic line on the other, it puts the finishing touches on a mowed landscape and scythes down tall grass and weeds. Cordless models are quiet and effective and have narrowed the lead once held by gas-engine trimmers. The cordless trimmers here are a blend of professional-grade and homeowner-grade equipment. Each is powered by a Lion battery, a convenient power source that can also be used in other outdoor power tools, such as a blower.
The gas-engine machines here are pro duty and take the 50:1 gas/oil fuel mix commonly used in two-stroke gas engine equipment that has better-quality engines (they run leaner and cleaner, too). Whether it's powered by a gas engine or a battery and brushless motor, every machine in this report gave a good account of itself. You should find something here to satisfy your trimming needs.
How We Test
We did most of our testing at our laboratory, to call it that: a sand-floor drainage basin in southern New Jersey that measures 100 yards long and a couple of hundred feet across. Its sloping bank (until we started on it) is covered with grass, weeds, wild flowers, and small trees. Above it is a lawn consisting of perennial ryegrass and fescue that runs to a concrete curb. This forms a perfect line for us to test edging where the lawn meets a parking lot. There's also a spooky-looking culvert that we can trim against. We tested at a number of miscellaneous areas, too: farm fields, and brushy border areas around a commercial office building.
Best Lawn Edgers for a Crisp Landscape
Our test was simple but demanding as we sought to find out whether the machines can handle typical cutting conditions, but also those well outside what would be considered normal. Our primary goal was to assess power and run time, but we also wanted to see if each machine was comfortable and well balanced, and whether its line feed was finicky or robust. For cordless trimmers, we charged each trimmer's battery and inserted it, put on face and hearing protection and work gloves, and waded into the worst of it and slashed ahead. In the process, we trimmed grass that ranged from normal lawn height to six inches deep, and also felled giant foxtail, dried tubular stalks from last year's wildflowers, prickers, golden rod, and weeds that only a horticulturalist could name. The thickest growth took an immediate toll on the trimmer line. To feed out fresh line, we made repeated use of the trimmer's bump-feed mechanism, calling for fresh line at a rate two or three times what you would normally need. In itself that was a tough test. Gas-engine trimmers were tested in identical fashion.
After that, we took the trimmer head apart and examined how much dirt got in, if any. Past tests have taught us that a head full of dirt will stop line feed dead in its tracks. We also evaluated how easy it was to load fresh line into the head; every machine needed it after its session. Finally, we stepped back and took a deep breath as we surveyed what we had cleared. The trimmers took a beating. And so did we.
How We Selected
Gas engine and battery powered tools are represented here, and all of the machines are priced in the mid range of this product category and higher. Everything you see here can be repaired. Many bargain-priced trimmers are, basically, junk waiting to happen. When something on those trimmers goes kaput, the cost of the repair may exceed the cost of the machine. We have no interest in testing those or in recommending them. The machines here are substantial and should provide years of service, which is why we've selected them. Only one tool here was not tested, but it's very similar to the gas-engine machine that preceded it, so we included it here in an effort to be complete.
Sophisticated Cordless
Makita XRU15 PT1
Makita
homedepot.com
$389.00
Weight: 10.4 lb. | Voltage: 18 | Battery: (two) 5 Ah
The lightest pro trimmer in this test and the one most nicely featured is the Makita, which racked up points for good industrial design and a host of features from its solid steel drive shaft to its three speed settings. Its specially designed, high-torque motor has an external rotor and is extremely smooth running and quiet. It also provides a surprisingly high power-to-weight ratio. When coupled with the machine's solid steel drive shaft, it creates one of the few trimmers that operates almost entirely without vibration.
All of the Makita's speed settings provide enough power for average jobs. The lowest sips current from the battery and provides great control, particularly when the trimmer is turned vertically like an edger. The low-speed setting also extends string life. We also love the momentary reverse feature. Push its switch and the head briefly counter rotates to clear grass and weeds that are wound around it. Now speaking of that, the Makita excels in grass. It's got enough oomph to cut weeds, but if you do a lot of that, the Husqvarna, DeWalt, or Echo would be better choices. 
Powered Rewind
EGO ST 1521S
Weight: 10 lb. | Voltage: 56 | Battery: 2.5 Ah

The industry's first trimmer with powered string rewinding is a pretty remarkable machine. EGO calls this functionality Powerload: You feed a precut length of string through the head and press the rewind button at the end of the shaft. The string zooms into the head in seconds. A gimmick? Maybe, but it could prove handy for preventing misfeeding and other problems associated with loading the line. The trimmer cuts well and is a shade less aggressive than the similar Greenworks GT161 below, but it's still more than enough for residential purposes. In other respects, it has nice balance and comfortable front and rear handles—and it's robustly built.
Cuts Through Thick and Thin
Milwaukee M18 Quik-Lok
Weight: 9.85 lb. | Voltage: 18 | Battery: 8 Ah
We're diehard gas-engine people at Popular Mechanics, but we were impressed by the Milwaukee. Simply slip in a battery and pull the trigger. In the thickest of the thicket, we did see a slight lack of power compared to the gas trimmers. But the machine still handled it, just not quite with the savage intensity of a gas-engine machine. This is a serious, pro-duty trimmer, not a toy or an experiment in engineering outdoor power equipment. For all but the heaviest of applications, the M18 Quik-Lok is plenty of machine and would certainly be more than enough trimmer for all homeowner purposes and light commercial use.
Simple and Powerful
Echo SRM-2620
Echo
homedepot.com
$359.99
Weight: 11.7 lb. | Engine: 25.4 cc
Echo built its reputation on making a first-class trimmer, and when you use this professional-duty machine, you see why. Its design is familiar. Anybody who has used a gas-engine trimmer can pick it up, purge the carburetor, choke the machine, and start it with a couple of pulls. Its strong suit is two-fold: It offers outstanding throttle response and torque, in part due to a great engine, but also a 2:1 gear reduction that multiplies that torque output. When combined with the rigid twisted-nylon line, it provides almost explosive cutting power.
Other well-designed features are a translucent gas tank that lets you see your fuel level and a semi-wrap skid plate that protects the tank and holds it upright when laying it down. The trimmer's handles are comfortable and the machine is well balanced, enabling long trimming sessions.
Optimal Cordless Power
Husqvarna 325iLK
Husqvarna
saffordequipment.com
$369.95
Weight: 10 lb. | Voltage: 36 | Battery: 7.5 Ah
The leader by a slight edge in terms of raw weed-slashing power is the Husqvarna. In those terms, it comes close to the power afforded by a gas-engine trimmer. The Echo, DeWalt (DCST972X1), and Makita tied in the next closest tier in terms of power equality with gas. Our trimmer was equipped with a massive 7.5 AH battery ($249.99, weighing 4.2 pounds, the heaviest in the test), but you also get tremendous run time. Keep in mind that if you spend more time trimming tall grass and tough weeds, chances are pretty good that you'll run out of string before you run out of battery. That was our finding. If you're trimming ordinary grass, chances are that massive battery will see you through most of a day's work, especially if you use the SavE setting; that reduces speed of the output shaft from 5,800 rpm to 4,640 rpm. We found the SavE setting delivers more than adequate speed for standard trimming work.
Keeps it Simple
Echo CST-58V
Weight: 12 lb. | Voltage: 58 | Battery:  2 Ah
The Echo is a model of simplicity. Its safety latch and trigger are easy to squeeze, and the rabbit/tortoise icon on the speed-control switch nearby is clearly visible and easy to move. These features are more than an exercise in good industrial design; they made the trimmer less tiring to use, especially given that we always wear work gloves and safety glasses in our tests. The Echo was in line with the DeWalt, in terms of weed-slashing power, and was equal to the Husqvarna, DeWalt, and Makita in that it is equipped with a robust line head that feeds readily. We do think the alignment arrows on the line head cap (necessary for installing fresh line) could be more visible. Black arrows on black plastic are hard to see. It was the only demerit, and a small one, that we could find on this fine machine.
Most Powerful
Stihl FS91R
Stihl
Ace
Weight: 12.1 lb. |Engine: 28.4 cc
This Stihl operates at an almost monotone rpm. All you have to do is move along, relentlessly and explosively cutting just about anything that stands in your path. For all its power, it has slightly better vibration damping than the Echo and is a bit heavier. The FS91R is a highly developed product for professionals (or the homeowner with a large property). Set its rotary-dial choke and pull the recoil start. It may start, in which case you press the throttle lever and the choke dial automatically moves to the run position. If it doesn't start on a couple of pulls, move the dial to the semi-choke position and pull again.  
Perfect for Contractors
DeWalt DCST972X1
DeWalt
The Home Depot
$299.00
Weight: 14.2 lb. | Voltage: 60 | Battery:  3 Ah
DeWalt's 60-volt Max power tools—encompassing machines as different as a track saw, a chain saw, and a joist drill—are well-regarded for their brute strength and adaptability. This string trimmer nestles nicely into that line  as a hard-charging trimmer that slashed through the tough stuff almost as readily as the Husqvarna. Because it's so aggressive, we appreciated the large deflector shield behind the line head­–the largest in the test, and we think the safest, especially when you're cutting down fibrous stalks and the debris starts to fly. If you're plugged into DeWalt's FlexVolt system, the large 60-volt battery that comes with the trimmer also works in its circular saw, big drills, pavement breakers, power cutters, and more. And a final entry in the Like column for the big yellow trimmer is its high-low speed switch. On High, the DeWalt handles thick and tough growth. Low helped us trim with greater finesse and conserve its battery charge.
Heavy-Duty Homeowner Grade
Ryobi RY40290VNM
Ryobi
The Home Depot
$229.00
Weight: 10 lb. | Voltage: 40 | Battery:  4 Ah
Many homeowners find a good fit in the prosumer product category, tools and machines that are heavier than what a homeowner typically needs but are not quite beefy enough to suit a contractor. Ryobi specializes in this category and its newest string trimmer is a case in point. It's got more than enough power for normal grass, but knowing its prosumer features, we reserved a stand of dried milkweed stalks and some light briers to test its power. It sailed through. Aside from a motor that produces decent torque, its string head is wound with a good quality twisted .095 line–stout stuff, we learned. Rewinding that line is simplified by a crank that the company provides with the trimmer. Slip the gadget over the bump feed button on the bottom of the line head and crank it. The machine's light weight makes it easy to handle and is achieved in part due to a carbon fiber tube that houses the drive shaft–the only trimmer so equipped.
Suited to the Suburbs
Stihl FSA90R
Stihl
Ace Hardware
Weight: 9.9 lb. | Voltage: 36 | Battery:  2 Ah
We realize that our drainage basin test might have been a bit much for the Stihl, a US-built light-duty trimmer but one that gave a surprisingly good account of itself in some pretty thick stuff. Although it's most at home in the pleasant suburbs, it definitely has enough punch to slice a tall weed. Its balance, a shaft that extends and retracts two inches to suit user height, an easily adjustable front handle, and a line head that's a snap to rewind make it a pleasure to use. Its fold-down line guard (removed in the picture nearby) is mounted on the housing above the trimmer head and acts as a bumper–we find that it does prevent you from moving too close to a vertical surface and striking it with the spinning line. Given the amount of line damage we see on trees, walls, fence posts, and garage door jambs, the guard is a great idea. 
Rural Persuasion
Craftsman WS2400
Weight: 12.24 lb. | Engine: 27 cc
We haven't tested this, but it's so similar to the predecessor model that we did test, we feel comfortable including it here. Our hunch is that this is a capable machine that's a good fit for Craftsman owners, particularly those who shop at Lowe's and Ace stores that stock Craftsman equipment. Its bump-feed string trimmer head is wound with .095 line, and its 27-cc full-crankshaft engine should put that head to work in a serious way. Note that the engine takes a 50:1 fuel/oil ratio, the same type of two-stroke fuel reserved for professional chainsaws and leaf blowers. If you own professional-duty equipment, you won't need a separate (40:1) blend for this machine. Our advice is that the Craftsman is really best suited for rural properties, maintaining fence lines, keeping brush at bay at the pasture's edge, and the like. It might be a bit too much trimmer for the average residential yard. 
This content is created and maintained by a third party, and imported onto this page to help users provide their email addresses. You may be able to find more information about this and similar content at piano.io
Most Related Links :
reporterwings Governmental News Finance News