News
The Best Swim Goggles for Pool Laps and Ocean Swims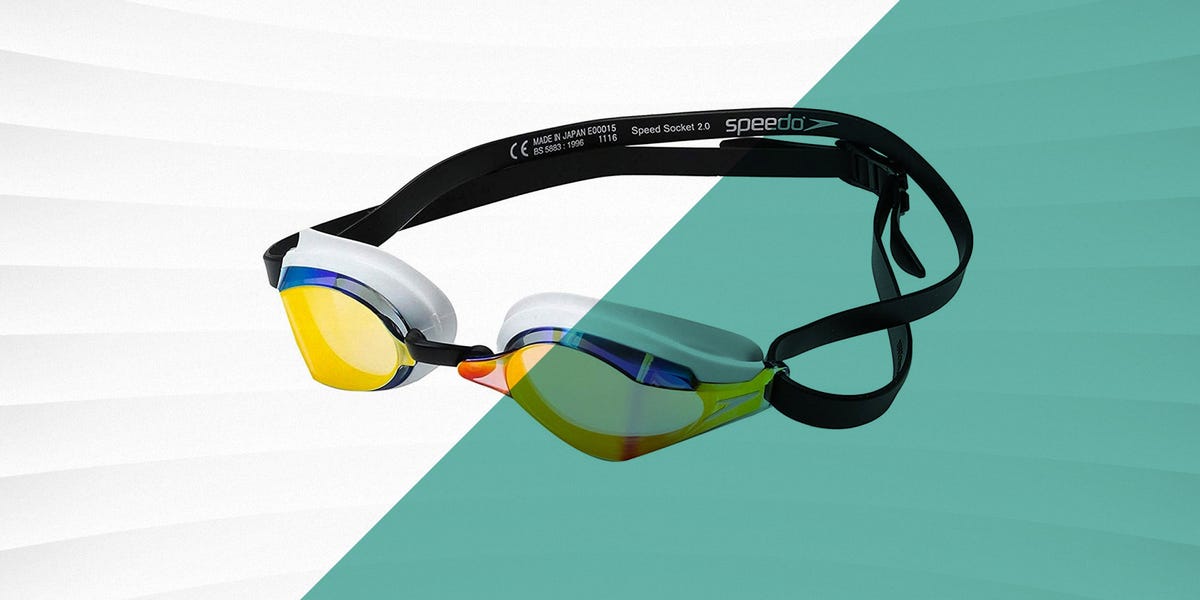 Staff, Courtesy of Speedo
Swim goggles can often be the key between a great swim and a frustrating one. When goggles are clear and comfortable, you'll hardly notice they're there. But when they leak and fog, you might be reaching for your towel earlier than planned. Here's what to look for when choosing your next pair.
What to Consider
Finding a coveted pair of swim goggles can feel like trying on Cinderella's slipper. A pair that fits one swimmer perfectly might cause pain for another. If you're buying googles for the first time, Kinver Nicholls, a swim coach at Babale Swim Club in Fiji, has a few suggestions.
"Look for goggles that have a reasonably soft seal around the eye socket area," Nicholls says. This will help minimize eye irritation and prevent leaks. Consider the nosepiece of the goggles, too; some are adjustable, allowing you to tailor the distance between lenses to ensure a comfortably snug fit.
Nicholls also recommends choosing a lens that suits the setting you'll be swimming in most often. Clear and lightly tinted lenses work well in low-light situations, like a dimly lit pool or outdoor swim at dawn or dusk. For daytime swimming under bright sunlight, opt for lenses with a dark tint or reflective properties. UV protective coating on the lens is also essential to prevent sun damage. Polarized lenses will help cut down glare, easing tension on the eyes. Swim goggles are safe to wear with contact lenses. But for swimmers who prefer to wear glasses, many major swim goggle manufacturers sell swim goggles with prescription lenses.
Competitive swimmers will likely want a low-profile pair of swim goggles that stay taut and won't create excess drag in the water. Recreational swimmers can afford to opt for comfort as their highest priority—if that sounds like you, look for wider lenses that offer better peripheral vision.
Once you have a pair of swim goggles in hand, check for an initial fit by placing the lens sockets over your eyes, pressing lightly, and then pulling the strap over the back of your head. Pulling the strap too tight or having it too loose might cause the goggles to leak. A good pair of swim goggles should stay clear, leak-free, and comfortable even as you turn or dive into the water from the starting block.
How We Selected
As a surfer, I train in the pool with my local swim club whenever the waves are flat. I also have 20-plus years of swimming experience. To compile this list, I factored in anti-fog properties, leak-proof construction, durability, value for money, and comfort. I asked recreational and elite swimmers for their top picks and researched the best-selling models from trusted brands. I also consulted popular swimming magazines, websites, and forums to see which pairs of swim goggles consistently rank above the rest.
---
Best for Pools
Speedo Speed Socket 2.0
The Speedo Speed Socket 2.0 focuses on the essentials with its UV-protected lenses, soft inner eye seals, and easily adjustable strap. An upgrade from the original Speed Socket, the 2.0's curved lenses offer more peripheral vision than its predecessor. There is a range of color options, and lenses come in mirrored, non-mirrored, and polarized variations.
Curved lens improves peripheral vision
Several lens types and many colors
Some people might want more socket padding
High-Tech Option
Form Smart Swim Goggles
Take tech into the water with Form's Smart Swim Goggles that display metrics—including swim speed, pace, distance, heart rate, stroke rate, and time—in real time as you swim in the pool or open water. Data junkies will love the ability to adapt their strokes instantly while training and then peruse the data through the Form Swim App once their sessions are over.
Real-time metrics to track performance
Best Mirrored Goggles
Speedo Mirrored Vanquisher 2.0
The Mirrored Vanquisher 2.0 is a low-profile pair of swim goggles popular among competitive swimmers. Its wide UV-protective lenses improve peripheral vision, and the silicone eye seals makes it comfortable to wear for longer trainings. The silicone adjustable head strap stays flush against a swim cap. Swimmers can choose between multiple color variations, including jet black and rainbow.
Low-profile build
Affordable
Some customers report durability issues
Best for Avoiding Dark Eye Circles Post-Swim
Aqua Sphere Vista
The Aqua Sphere Vista uses a wide silicone skirt that lies across your face to hold the lenses in place, so you can avoid the signature racoon eye look many swim goggles with separated lenses create. The thick silicone strap is sturdy, easy to adjust, and comfortable to wear. The UV-blocking lenses offer plenty of peripheral vision and come in tinted, mirrored, and clear options. This is a great choice for swimmers who've tried the traditional two-socket swim goggles and have yet to find one that fits.
UV-blocking lenses
Comfortable
Some people will prefer smaller goggles
Expensive
Best for Open Water
Roka R1
Frequently seen pulled over the swim caps of Iron-distance triathletes, the R1 excels in open-water swimming. Retroscopic UV-protected lenses, where the bottom of the lenses rotate away from the face, offer a wide field of forward vision without creating extra drag—and come in clear and mirrored options. Recreational swimmers might want more peripheral vision, but if your focus is swimming forward, the Roka R1 is certainly worth a gander.
Decent optics without creating extra drag
Field of view might be too narrow for some people
A bit pricey
Best Swedish Style
Malmsten AB Original Swedish Goggles
Malmsten AB
amazon.com
$9.25
Swedish goggles, often called swedes, have lens sockets that rests directly on your face without a silicone gasket as padding. Like most swedes, this pair comes unassembled, so you can adjust the nosepiece to create a custom fit. With their lack of bells and whistles, swedes are on the more affordable end of the market. 
Customizable nosepiece
Very affordable
Most Comfortable
Snake & Pig The Basilisk
Snake & Pig Sports
amazon.com
$35.00
A smaller swim brand—based in Austin, Texas—that's quickly appearing in local swim clubs is Snake & Pig, and its Basilisk goggles are earning a reputation as one of the most comfortable pairs available. An air cushion around the lens sockets provides more padding than your typical swim goggles, and each set comes with three adjustable nosepieces for a personalized fit. There's also a junior version made for kids.  
Extra cushioned lens socket
Comes with three adjustable nosepieces
Best for Larger Faces
TYR Special Ops 2.0 Polarized Goggle
The TYR Special Ops 2.0 scores high marks among swimmers with medium to large faces, thanks to the wide fixed-length nosepiece. A comfortable silicone gasket pads oval lenses, somewhat blocking peripheral vision. The polarized lens coating cuts down glare and makes this pair ideal for swimming on sunny days at the pool or out on open water.
Nosepiece isn't adjustable
Best for Recreational Swimmers
Aqua Sphere Kayenne
Aqua Sphere
amazon.com
$31.99
The Kayenne has wide lens sockets made to disperse pressure over the outer edge of your eye socket, on the brow and cheek bone, rather than the interior eye socket. This makes for a more comfortable fit and helps keep post-swim dark eye circles at bay. Because of its large profile, it might cause a bit too much drag for sprint races, but it's a great pick for long training sessions in the water.
Wide lens sockets for a comfortable fit
Competitive swimmers might not like the extra drag
This content is created and maintained by a third party, and imported onto this page to help users provide their email addresses. You may be able to find more information about this and similar content at piano.io
Most Related Links :
reporterwings Governmental News Finance News