News
The Best Water Coolers for Your Home or Office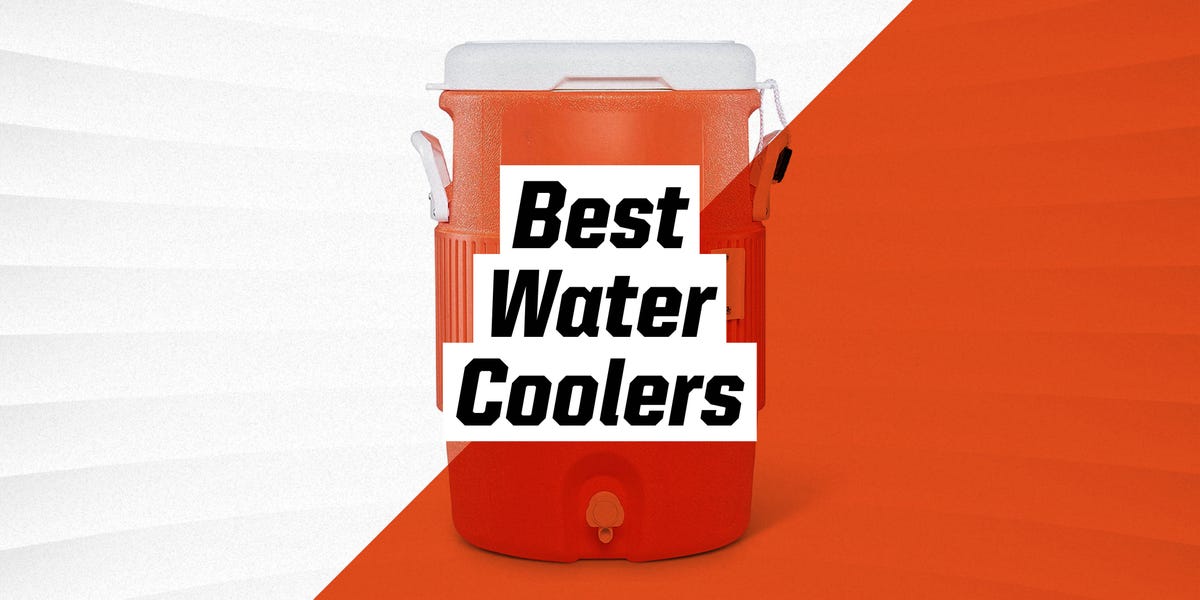 While water coolers might have a reputation for being the spot where coworkers stop to chat, they're also a functional fixture in any office space, ensuring fresh, clean water is always available to employees. Some people even choose to have water coolers in their homes, as the dispensers can come in handy in a garage, play space, or other area where there's no tap available.
There are several different styles of water coolers available today, including freestanding units, countertop models, and even wall-mounted designs. You'll be able to select from coolers that offer just room-temperature water or can dispense water at different temperatures, allowing you to find an option that fits your needs.
What to Consider
Water coolers might seem fairly straightforward, but there are a few things you'll want to think about as you shop. Most water coolers dispense water from either 3- or 5-gallon jugs, and these containers are typically loaded into either the top or bottom of the cooler. Bottom-load coolers are much easier to use, but top-load coolers are typically more affordable, as they have a simpler design. Alternatively, there are point-of-use water coolers, which connect to the building's water supply, saving you from having to replace water jugs. The downside here is that installation is much more complicated.
Other factors to consider include whether you want a cooler that dispenses room-temperature, cold, or hot water (or some combination of the three), as well as if it needs a filtration system or other features, such as a child lock or self-cleaning mechanism.
How We Selected
To help you find the right water cooler for your needs, we searched for top-rated models from reputable brands like Avalon and Brio. We selected a variety of different styles and sizes for this list, aiming to provide options for both home and office use. Many of the water coolers selected offer useful features, and they span a wide price range, helping you to find one that fits your budget.
Advertisement – Continue Reading Below
1
Best Overall
Avalon Bottom-Loading Water Cooler
Avalon
amazon.com
$193.99
The Avalon Bottom-Loading Water Cooler has a sleek, easy-to-use design, and it can dispense cold, room-temperature, and hot water. It can accommodate 3- and 5-gallon water jugs, which are loaded into the stainless steel cabinet at the bottom of the unit, and it has an empty bottle indicator light that lets you know when to change the jug. 
The unit is Energy Star-approved, and its high-contact surfaces are treated with BioGuard antimicrobial coating to prevent bacterial growth. Plus, the cooler has a night light that makes the spouts visible in low lighting and a child lock on the hot water button. 
Three water temperatures
Easy to load
Anti-microbial coating
2
Best Value
Vitapur Countertop Electric Water Cooler
vitapur
wayfair.com
$85.71
This water cooler from Vitapur is a simple, budget-friendly option that's designed to be placed on your countertop. Its top-loading design can hold both 3- and 5-gallon water bottles, and it dispenses either cold or room-temperature water via push-button controls. 
A removable drip tray makes it easy to clean, and it's Energy Star-certified, as well. LED lights illuminate the power and temperature indicators, and its semiconductor electric cooling module works quietly to minimize disruptions in your home or office. 
3
Best Top-Loading
Avalon A1 Top-Loading Water Cooler
Avalon
amazon.com
$179.99
$141.98 (21% off)
One of the downsides of top-loading water coolers is that it can be cumbersome and messy to change the water bottle on top, and the Avalon A1 Water Cooler helps make it easier thanks to its spillproof design. The cooler features a built-in puncture rod that allows you to use spillproof caps when changing its water jug, minimizing the risk of spilling. This top-loading cooler can dispense either hot or cold water, and it fits 3- and 5-gallon water bottles.
The unit is operated via push paddles, which makes it convenient and sanitary to use in a high-traffic setting, and the overall design is slim, allowing it to be tucked into small areas. 
Touchless design
Hot and cold water
Spillproof
4
Best Self-Cleaning
Brio Self-Cleaning Bottom-Loading Water Cooler
The inner workings of appliances can become dirty over time, which is why this Brio Water Cooler has a self-cleaning feature. It uses ozone, an odorless gas, to disinfect the valves of the cooler, ensuring your water is always free from hazardous contaminants. The Brio Water Cooler has an attractive stainless steel finish, and it conceals the water jug in its base.
There are spouts for cold, hot, and room-temperature water, which are activated by push buttons, and switches on the back of the unit allow you to turn off the hot or cold water, if desired. The unit has a removable drip tray, night light, and child-safety lock, and it's Energy Star-certified, as well.
Three water temperatures
Self-cleaning
Attractive design
Noisy when dispensing cold water
5
Best Countertop
Avalon Touchless Countertop Bottleless Water Cooler
Avalon
amazon.com
$149.69
The Avalon Countertop Water Cooler has a compact design—it's just 19 inches tall—that you can easily display on a counter. However, this small form is partially thanks to its bottleless operation, which means it needs to be connected to a water line for operation. (All the pieces needed for installation are included with the cooler.)
The countertop water cooler dispenses cold and hot water via push paddles, minimizing the spread of germs, and it comes with a multi-layer sediment and activated carbon filters to help remove chlorine, lead, odors, and bad taste from the water. It has a built-in child lock and night light, and there's even a leak detector that monitors the flow from the water source into the machine.
Compact
Touchless operation
6
Best Portable
Igloo 5-Gallon Portable Sports Cooler
For a product you can take camping or tailgating, consider the Igloo Beverage Cooler, which has a compact, no-frills design. It can hold up to 5 gallons of liquid, and its insulated form can be filled with ice to keep your drink cool for up to three days.
The cooler has a push-button spigot at the bottom to dispense water, and it's angled in a way that prevents dripping. The cooler itself is bright orange with a pressure-fit lid, and it can even double as a stool in a pinch. Keeper cords hold the lid tightly in place to keep dirt out of your water, and the cooler has reinforced handles that make it easy to move around.
No heating/cooling mechanism
7
Best With Ice Maker
COSTWAY Water Cooler with Built-in Ice Maker
COSTWAY
amazon.com
$359.99
The Costway Water Cooler has a unique design that features a built-in ice maker in its base, allowing people to scoop out cubes to cool down their drinks. The top-loading cooler dispenses cold, hot, and room-temperature water, and its ice maker holds up to 4 pounds of ice and can make up to 27 pounds of ice per day. 
This 2-in-1 water cooler has a user-friendly control panel, and each of its water temperatures has its own push button. There's a child safety lock on the hot water spout, and a removable drip tray makes it easy to clean. 
Built-in ice maker
Three water temperatures
Not Energy Star-certified
Expensive
8
Best Design
Vitapur Freestanding Bottom- Loading Electric Water Cooler
vitapur
wayfair.com
$250.90
The Vitapur Electric Water Cooler has an attractive stainless steel design that's less of an eyesore than other more utilitarian water coolers. This unit has a bottom-loading design and can accommodate 3- and 5-gallon water jugs, and it offers cold, hot, and room-temperature water, each with its own water spigot. 
The Vitapur Water Cooler has an adjustable cold water thermostat that goes as low as 46 degrees, and LED indicators let you know when hot and cold water are available. There's also a low water level indicator, as well as a child safety lock and night light. Plus, the unit can be equipped with a compatible filtration system, which is sold separately. 
Attractive exterior
Three water temperatures
Adjustable cold water thermostat
9
Best Filtration System
Brio Bottleless Reverse Osmosis Drinking Water
For those who are concerned about the quality of their tap water, the Brio Bottleless Water Cooler is equipped with a four-stage reverse osmosis filtration system that removes up to 99% of contaminants, including lead, fluoride, heavy metals, and more. This water cooler also has a self-cleaning feature that sanitizes the dispenser using ozone. 
The Brio Water Cooler is designed to be connected to your water supply, saving you from having to buy jugs of water, and it offers hot, cold, and room-temperature water at the push of a button. You can turn off the hot and cold water via switches on the back of the unit, and the user-friendly design makes it easy to replace the filters as needed. 
Four-stage filtration
Three water temperatures
Expensive replacement filters
This content is created and maintained by a third party, and imported onto this page to help users provide their email addresses. You may be able to find more information about this and similar content at piano.io
Advertisement – Continue Reading Below
Most Related Links :
reporterwings Governmental News Finance News