News
The Best Wood Clamps for Any Size DIY Project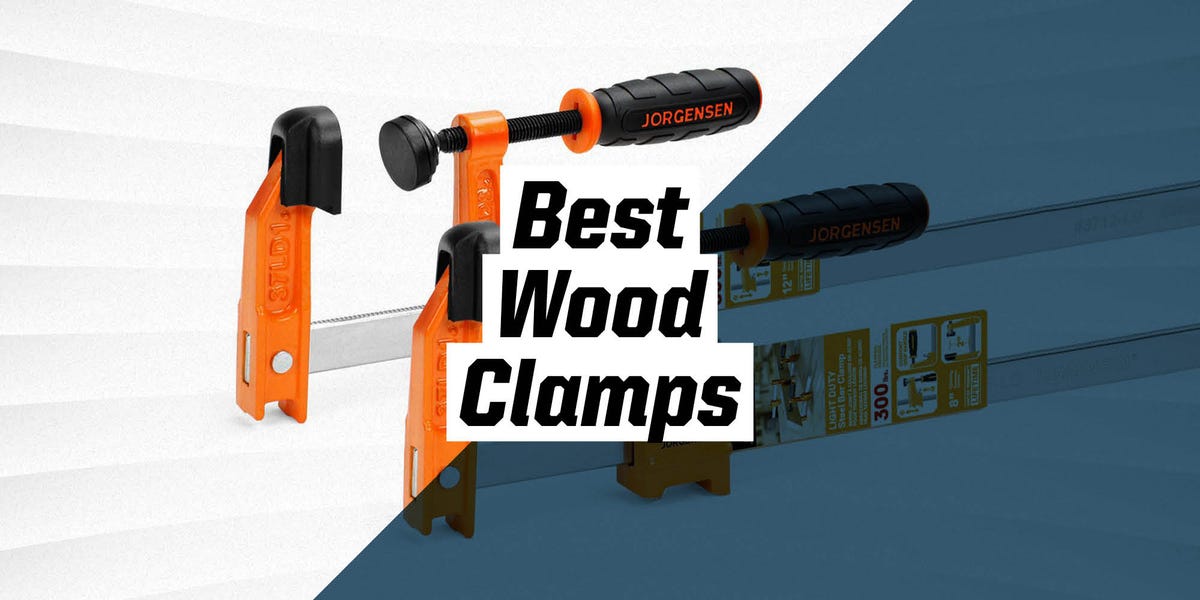 Staff, Courtesy of Jorgensen
Reliable wood clamps are a must for any tool collection, and make nearly all woodworking projects significantly easier than if you had to hold everything in place by hand. Whether you're assembling smaller items like drawers and cabinets, or larger pieces like doors and tables, clamps allow you to precisely position all your wood pieces exactly how you want them, ensuring that they won't shift while you glue, nail, or screw them in place. Their simple operation and impressive strength also allow a single person to handle large projects alone. With enough clamps, you'll be surprised at the kinds of projects you'll be able to tackle.
What to Consider
Wood clamps are not one-size-fits-all. Compact spring clamps will usually suffice for smaller jobs that simply need to connect two parallel pieces, while larger bar clamps are better suited for wider jobs like cabinetry or drawer construction. Pipe clamps are going to be for your extra-large projects, since their width is only limited to the length of the bar you decide to use. This makes them perfect for oversized tables and doors. Most clamps will clearly state their jaw width, so it shouldn't be hard for you to make sure they'll fit your workpiece.
Another factor to consider is the type of material you're going to be using your clamps on. If you're dealing with finished or delicate wood pieces, you'll want to make sure you're using a clamp with sufficient padding, so as not to mar or dent the wood. Larger spring clamps are also more likely to cause dents in soft wood, since their pressure is focused on a relatively small area, so keep that in mind. It's worth noting that you can also add your own padding to clamps, like wood shims or scraps, although it can be inconvenient and sometimes difficult to ensure nothing is slipping out of place.
How We Selected
I've utilized all varieties of clamps in my career as a furniture carpenter, and used this experience to assemble the list below. I know the importance of quality construction and comfortable operation, especially with larger bar clamps, and kept those factors in mind while choosing. I also made sure to exclude any brands or models that I feel aren't up to par with Popular Mechanics' standards, and only included those that I know to be of high quality, which is why there are so many Irwin options, a brand that I have always had great experience with.
Advertisement – Continue Reading Below
1
Best for General Use
Irwin Quick-Grip Clamps 6-Inch
We're big fans of Irwin clamps like these, and in addition to woodworking, use them for a variety of different tasks around the house. Their textured handles and convenient trigger placement make them comfortable to operate one-handed, which is always a perk when dealing with awkward or complex projects.
This kit comes with four identical clamps, so you should have enough on hand for multiple projects, and rubber pads on the clamp faces also make these perfect for work surfaces that you want to keep protected from dents. Capable of applying 150 pounds of force, these should be perfect for the majority of basic household tasks. 
2
Best for Small Pieces
Workpro 16-Piece Nylon Spring Clamp Set
WORKPRO
amazon.com
$16.99
For those working with small or delicate pieces of wood, this set of Workpro spring clamps might be just what you're looking for. They're small, lightweight, and, by including three different sizes—16 pieces total—you shouldn't have any trouble finding the perfect one for your project. With the amount of pieces at such a low price, the value of this option is tough to beat. 
Their clip-style design also makes them useful for craft and other non-woodworking projects, although none of them would be ideal for heavy-duty woodworking jobs, so keep that in mind. 
Includes 16 clamps
Low price
Non-marring pads
Not rugged or strong enough for large projects
3
Best for Pocket Holes
Kreg KHC-Premium Face Clamp
Kreg Tool
amazon.com
$20.89
If you're interested in pocket hole joinery, you'll probably want to get your hands on a Kreg clamp. The large, flat face of this clamp serves two purposes, to securely hold two wood pieces in place while you drill and screw them together, and to spread out the clamp's pressure over a wider area, thereby preventing any dents while it's in place. 
The extra-wide jaws also allow you to use it on a wide range of wood sizes, unlike smaller clamps that may get in the way. We're also big fans of the rubberized handle, which provides a nice secure grip while you tighten it in place. 
Durable construction
Compatible with Kreg jigs
Not as versatile as other clamps
4
Best Pipe Clamp
PONY 50 Pipe Clamp for 3/4-Inch Black Pipe
Pony Jorgensen
amazon.com
$13.99
The cast-iron construction of this clamp makes it pretty much indestructible, and thanks to the multi plate design of the sliding portion, is easy to position and securely lock in place whenever you're ready. 
The length of this clamp is also entirely up to you, since the two pieces are totally separate, the only thing determining its size is whatever length of pipe you decide to end up using. The rotating handle is also well-made and simple to use, with a smooth and sturdy operation. It's a bit heavier than smaller plastic models, so this clamp won't be ideal for light-duty jobs. 
Durable construction
High-visibility orange finish
5
Most Versatile
Jorgensen 24-Inch EZ Hold Clamp and Spreader (Set of 2)
Jorgensen
amazon.com
$49.99
These Jorgenson clamps are light enough to be comfortable to use, and feature a 24-inch length that makes them useful for a nice range of project sizes. 
They're also extremely versatile, designed to be used either as two standalone models, or by joining together to create an extra-wide clamp. They can also be reversed and used as spreaders, which would come in handy for projects that require an extra set of hands, or just another level support surface. The large jaw pads will also offer a good amount of protection to whatever material you're working with. 
Lightweight design
Quick-release trigger
6
Best Heavy-Duty Option
Jorgensen 12-Inch Steel Bar Clamps (Set of 2)
Jorgensen
amazon.com
$27.99
The steel bar and robust plastic jaws of this clamp make it perfect for frequent heavy-duty use, and the high-quality Jorgenson craftsmanship should ensure you won't have issues with any of its components. We're also big fans of its wide, 3.75-inch jaws, which allow you to handle both small and extra-large clamping projects, like oversized cabinets and doors. This impressive depth also helps to spread out the overall pressure, increasing its effectiveness and reducing the chances of any workpieces slipping out of place.  
Textured rubber handles
Heavy-duty construction
7
Best Heavy-Duty Spring Clamp
Irwin Quick-Grip Metal Spring Clamp, 3-Inch
This 3-inch spring clamp is a great multipurpose tool to keep around, and is ideal for small clamping jobs that require a significant amount of strength. 
The rubber-coated handles make it comfortable to open and close, and its alloy steel construction make it nice and durable. Although there is a rubber coating on the tips, you probably don't want to use it on delicate or finished surfaces, since it could end up denting the wood. Because of these powerful jaws, its probably best to use this clamp on heavy-duty jobs and with rough materials, like plywood sheets. 
Also available in 1- and 2-inch versions
Heavy-duty construction
May be too difficult to open for some users
8
Best Corner Clamp
Wetols Right Angle Clamp
If you need to secure right-angled butt joints or miters, this corner clamp can save you a lot of time, and can be significantly stronger than using traditional bar or pipe clamps. It's designed to hold both pieces of wood at a perfect 90 degrees, you just need to tighten the handle to lock everything in place. 
It's also made of heavy-duty aluminum, so it should hold up well to the drops and falls that occur in workshops. Plus, the handle has a small cutout, which makes it easy to hang on a nail or pegboard hook. 
Rugged construction
Easy to use
Not as versatile as a standard wood clamp
This content is created and maintained by a third party, and imported onto this page to help users provide their email addresses. You may be able to find more information about this and similar content at piano.io
Advertisement – Continue Reading Below
Most Related Links :
reporterwings Governmental News Finance News