News
These Are the Best Pool Filters to Buy Right Now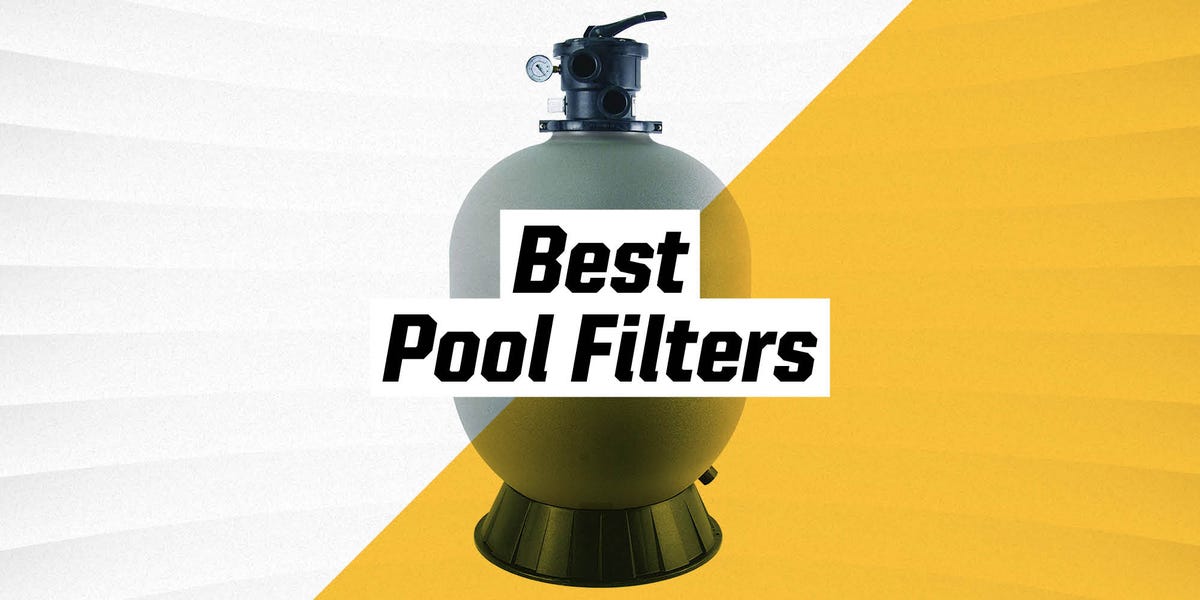 Staff, Courtesy of Hayward
There are plenty of decisions to make when buying a swimming pool, but you may be surprised to learn that there's also a lot to consider when shopping for a pool filter. There are three different types—sand filters, cartridge filters, and diatomaceous earth (DE) filter—and there are pros and cons for each. Everything from expense and maintenance to water clarity and energy efficiency are at play, and finding the right filter for you boils down to more than whether you have an in-ground or above-ground pool, or its size. Luckily, we've done the legwork and rounded up the best pool filters on the market, plus offer advice on what to consider while you shop.
What to Consider
Sand filters are popular, often affordable, and easy to maintain over the longterm. The downside is that you won't get the same level of water clarity as other option, they require backwashing, and the sand needs to be replaced about every 5 years. Cartridge pool filters are also popular but can end up costing more over time because the filters need to be replaced. That said, they do a solid job keeping your pool water clear and are fairly energy-efficient. DE filters do an excellent job with filtration and are very energy-efficient, but they tend to be pricey and require backwashing.
How We Chose
All of the pool filters we cover are rated four stars or more, and several have ratings of 4.5 stars or higher. We cover every type of filter from top brands, including Hayward and Intex, and cover options for above-ground and in-ground pools. We also offer filters across multiple price points, from models that are a great value to ones that are worth upgrading to if you have more to spend.
Advertisement – Continue Reading Below
1
Best Value Sand Filter for Above-Ground Pool
Rx Clear Radiant Sand Filter
Rx Clear
amazon.com
$268.96
This 16-inch sand filter is ideal for above-ground pools up to 16,000 gallons. The one piece blow-molded tank has a well-labeled six-way top-mount filter valve, with a pump and return that's clearly visible, and it's said to filter out particles down to 3 to 5 microns. The pump comes with a 1.5-inch threaded connection, along with a filter base. It holds roughly 110 pounds of sand, and it also comes with a 3-year manufacturers warranty against defects.
2
Best Upgrade Sand Filter for Above-Ground Pools
Intex 2800 GPH Sand Filter Pump
Intex
amazon.com
$549.99
$349.99 (36% off)
If you have a bit more to spend on a sand filter for an above-ground pool, this 14-inch model from Intex gets rave reviews, with an average 4.6 stars from 1,300 customers. 
It features a 2,800 GPH pump flow rate, with six function controls that include that allow you to filter and backwash, rinse and recirculate, and drain and close the system. There's also a 24-hour timer and an aeration system to increase circulation, plus a basket strainer that makes it easy to clean and helps the sand last longer.
3
Best Sand Filter for In-Ground Pools
Hayward ProSeries Sand Filter
Hayward
amazon.com
$871.90
This 24-inch-top sand filter is made for in-ground pools, with a weatherproof tank that's constructed out of a durable, fade-free polymer material. The multiport valve on top has six positions, with an easy-turn lever, plus there's a diffuser on top that allows the water to be evenly distributed over the sand. 
Other highlights include a self-cleaning drain, plus a slotted  piece that spins 360-degrees to push an even flow of water into the pool, which means more efficient backwashing. There's also a large sand and water drain on the side for servicing and winterizing after the season. 
4
Best Value Cartridge Filter for Above-Ground Pools
JLeisure 800 GPH Pool Filter
JLeisure
amazon.com
$129.99
If you're looking for an affordable above-ground pool cartridge filter, this will get the job done, priced at $130 at the time of this writing. 
The 800 GPH pool pump works with pools that have 1.25-inch-diameter hose fittings, plus there are two hoses thrown into the package. The filter pump is made of hard plastic and is easy to assemble, with a 25-foot-long cord and weighs nearly 5.5 pounds. The model is also available in a 1,000 GPH pool pump. 
5
Best Upgrade Cartridge Filter for Above-Ground Pools
Intex 2500 GPH Cartridge Filter Pump
Intex
amazon.com
$449.99
$295.01 (34% off)
This cartridge filter pump for above-ground pools is more expensive than the above option, but still fairly well-priced for what it delivers. It's designed with aeration technology that helps improve filtration, circulation, and clarity, plus increase the number of negative ions to help prevent pathogens in the water. 
The filter works with pools that have a 1.25-inch diameter hose fittings and a capacity up to 15,200 gallons. It features a double-insulated pump along with flush for sediment along with air release valves, plus there's also a built-in ground fault circuit, a strainer basket, and an automatic timer that can be preset in 2- to 12-hour cycles. 
6
Best Cartridge Filter for In-Ground Pools
Hayward StarClear Plus Cartridge Filter
Hayward
amazon.com
$539.00
If you have an in-ground pool and can invest in cartridge filter, this streamline option from Hayward is your best bet. The 120 square foot filter is made with glass-reinforced copolymer—and strong, durable plastic—and it has a large cartridge for greater durability and water flow. 
The filter is also injection-molded, which adds overall strength and prevents corrosion. It's a snap to clean, with a single knob connecting the filter head to the tank, which eliminates the need for clamps or bolts, plus the head rotates so the cartridge, manual air-relief valve, and gauge are within easy reach.
7
Best DE Filter for Above-Ground Pools
Hayward Perflex Diatomaceous Earth Filter Pump
Hayward
amazon.com
$659.00
Designed for above-ground pools, this filter system includes a filter clamp, pump, and a platform base, along with a union connection for easy maintenance and 1.5-inch hose package. The filter tank won't corrode inside, as its injection molded for heavy-duty use, and the system is said to filter out particles as small as 2 microns on the first cycle. 
It also features the brand's "Flex-Tube" design that works in tandem with diatomaceous earth to produce crystal-clear water and extends the filter cleaning cycles with zero backwashing required.
8
Best DE Filter for In-Ground Pools
Hayward ProGrid Diatomaceous Earth Pool Filter
Hayward
amazon.com
$879.00
This outstanding, high-capacity in-ground pool filter delivers top-notch water quality and clarity. It's additionally exceptionally efficient, with up-flow filtration and top-down backwashing, plus there's a manual air-relief valve that quickly bleeds air with the turn of a lever. Its large tank is made with glass-reinforced copolymer—and extra strong, durable plastic—which is built to last and ward off corrosion. 
The filter won't be tough to service and maintain, either, thanks to easy-access clamps. The model shown has a 36-square-foot filtration area, but it's also available in two larger sizes: 48 and 60 square feet, respectively. 
This content is created and maintained by a third party, and imported onto this page to help users provide their email addresses. You may be able to find more information about this and similar content at piano.io
Advertisement – Continue Reading Below
Most Related Links :
reporterwings Governmental News Finance News