News
These Are the Best Remote-Controlled Planes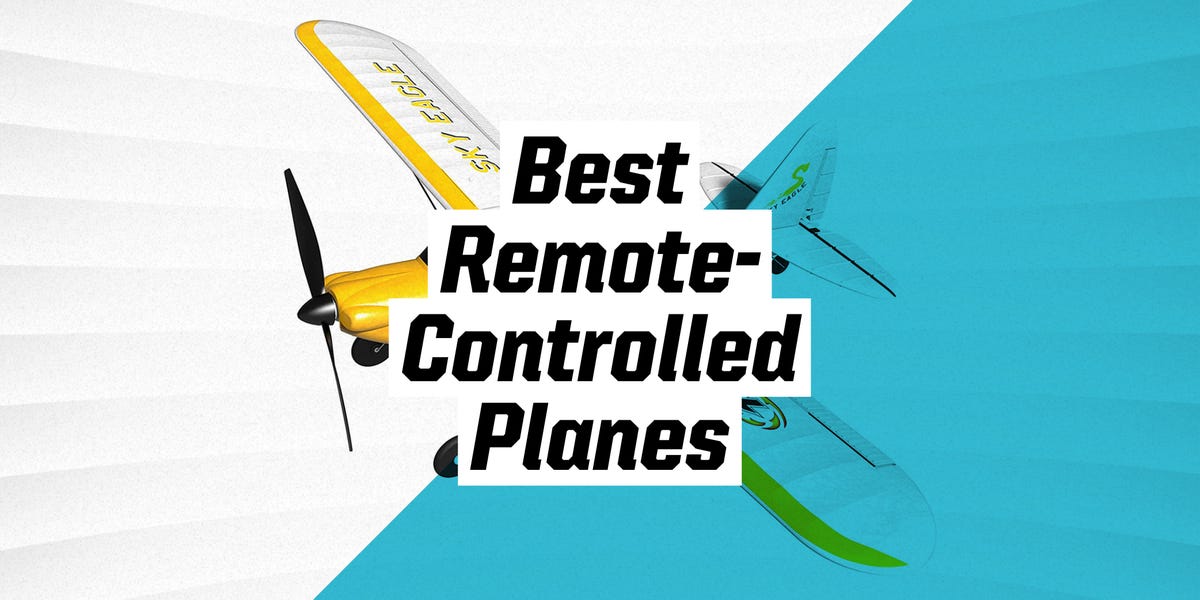 Remote-control planes have been around for decades now, but new technology has made them more affordable, more fun, and easier to fly. Some models are small enough to fit in the palm of your hand, and others take a DIY approach by transforming a paper airplane into a controllable aircraft. Experienced flyers can experiment with tricks and flips, while newbies and kids can learn to fly without crashing thanks to safety features. Here are the best RC planes available today (determined by our past experience and expert and customer reviews), good for reliving your childhood or feeding the interest of your own aspiring pilot. But first, some aspects to keep in mind while settling on which one to get.
How to Shop for a Remote-Control Plane
When buying an RC plane, you will want to consider some key details based on where you (or your kid) plan on flying it and the experience level and age of the pilot.
Safety features: Most RC planes will have some sort of built in precautionary features that can help keep them from crashing—or at least make them more damage-resistant if they do crash. Altitude hold is one of the most beneficial; it means that if you put down the controller, the plane will stay at its current height rather than plummet toward the ground. Should you hit something, most models will have parts that detach or stop spinning to prevent further damage.
Controls: If you're new to RC devices, there is a learning curve. With that in mind, many brands build in some level of flying assistance. Usually, there will be levels—say easy, medium, and hard, with easy having the most assistance and hard leaving you in complete control. Some also have single-button functions for taking off, landing, and even aerobatics.
Battery life: If you expect to fly your plane for hours on end, you'll be disappointed. Most planes can last up to 30 minutes tops on a single charge, but most are in the 8- to 20-minute range. This is important because you will want to be aware of how much battery you have—particularly if your plane has a wide range and you don't want it to die somewhere you can't reach it.
Range: Speaking of range, it determines how far away from the controller your plane can fly. Most range anywhere from 300 to 700 feet. If you plan on keeping your plane in a small area like your yard, a smaller range is sufficient. But to explore larger areas, you will want a longer range, though that can also increase the price.
How We Choose
To find the best options among the many remote-control planes out there, we used our decades of experience testing and evaluating the latest tech, our deep familiarity with trusted brands, and our understanding of what you should look for—and avoid—when making a purchase. We took into account their durability, battery life, ease of use, and cost. Then we researched more than 25,000 customer reviews on Amazon. Those customer reviews helped us calculate our Consumer Score, which represents the percentage of people who bought these planes and rated them at least four out of five stars.
TR-C285
Top Race
amazon.com
$89.99
Consumer Score: 86% gave it 4 stars or more 
This little plane is a great beginner option for both kids and adults. It comes out of the box ready to fly, which means no stressing about putting it together properly. The controller is small and easy to use, and has three modes of flying—easy, medium, and hard—so you can progressively take the training wheel off, so to speak, as you learn. It reaches a maximum distance of 320 feet and has a respectable flying time of 12 minutes on a single charge. 
3.0 Smartphone-Controlled Paper Airplane
PowerUp
amazon.com
$49.99
Consumer Score:  78% gave it 4 stars or more 
Never master the art of the paper airplane? Now you can live out your schoolyard dreams with this app-controlled flying device. Simply build your airplane around the central rod, which connects the propeller and brains, and you can control it from up to 180 feet away. It's compatible with both IOS and Android. As a bonus, the 3.0 comes with four sheets of special template paper and instructions, in case you need a little guidance on proper paper airplane-making technique.
F949S
Consumer Score: 67% gave it 4 stars or more
For those of us who have ever dreamt of flying a Cessna, this is the closest we'll get. While it isn't quite the same as piloting from the cockpit, this miniature model has identical proportions to the real aircraft. It has a 25-minute battery life and a working gyroscope, which helps to keep it stable. Turn that off however, and you can do trick your way through the air.
TR-C385
Top Race
amazon.com
$149.99
$119.99 (20% off)
Consumer Score:  78% gave it 4 stars or more
This little plane is designed for flips and stunts—and the occasional crash, which is why it comes with two extra propellers in case of an unplanned landing. The TR-C385 is great for beginners that want to be able to do some tricks like upside down loops and spirals, as the controller has a designated button for aerobatics. It's also very easy to fly thanks to a six-axis gyro system, and it has a 16-minute flight time.
S107G Phantom
Consumer Score: 84% gave it 4 stars or more
This dual-blade copter comes in five different color options, and it is one of the most affordable RC toys to make the cut here. Flashing lights on the bottom allow you to fly at night or around the house with better visibility, and the simplicity of the controller makes it easy to operate for newbies. As well as being built with alloy steel, the gyro blades will instantly stop when choked or caught, to prevent damage. The flight time is only around eight minutes, but the charging time takes under and hour (quicker than most RC planes).
Mini Mustang P51D
Volantexrc
amazon.com
$129.98
Consumer Score: 75% gave it 4 stars or more
Beginners and younger kids will want a plane that can hold up against some rough falls. And Volantexrc designed this one with durability in mind. The body is made from a lightweight yet flexible foam that can hold up against crashing, falling, and bending. And the front propeller releases on impact, which helps prevent it from breaking. It also has a whopping 656-foot range—almost twice that of comparable models.
S107H-E
Consumer Score: 83% gave it 4 stars or more
Though technically not a plane, this RC helicopter is easy to fly and exceptionally sturdy. It's made of tough but light alloy steel that can hold up against some nasty crashes, and it has safety functions—like one-key takeoff and landing, and height lock—to help keep you from crashing at all. This is a great option for younger children or inexperienced flyers who can overlook the very short five-minute flight time.
This content is created and maintained by a third party, and imported onto this page to help users provide their email addresses. You may be able to find more information about this and similar content at piano.io
Most Related Links :
reporterwings Governmental News Finance News